What is your favorite part about working for AEONMALL Vietnam?
Ngoc Suong: I appreciate working with my team. We are close to each other. We handle all tasks in a smooth and effectively way. We understand what we are doing in this specialization working environment.
Thuy An: At AEONMALL, everyone shares the same vision and is dedicated to the mission "Customer First". This truly creates a family environment where everybody is there for each other.
What do you find the most challenging at AEONMALL Vietnam?
Ngoc Suong: Challenging is what people think it is. I see difficulty is opportunity which I need to deal with to improve myself. Therefore, in my view point, there is nothing challenged
Hong Quyen: I have to prepare myself for many unexpected upcoming events, and quickly think of the solutions, and this is a challenge that I need to overcome day by day.
Le Tuoi: E-commerce is growing, therefore each individual need to learn what our strength is, then enhance and be more creative to give our customers the newest trend and the best service.
Hong Vu: I find the most challenging thing is we need to renew ourselves to catch up with the development of the company, group and adapt with customer's need. However, it is also one of the prerequisites for all AEONMALL's staffs.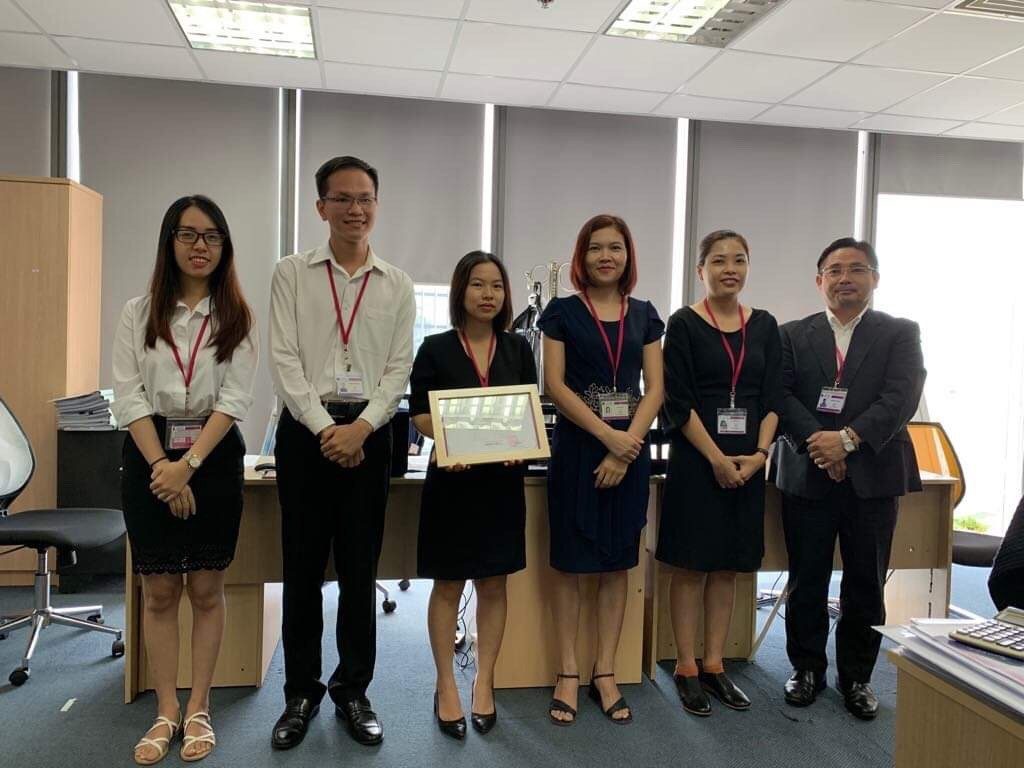 What has been your favorite project at AEONMALL Vietnam since the beginning?
Huu Duy: AEON MALL Tan Phu Celadon Renovation & Expansion project is the biggest and longest project I have ever joined since I started working at our company. The project has brought me a lot of experiences and emotional state.
Thuy An: The expansion project of AEON MALL Tan Phu Celadon is a chance for me to experience and learn many new things.
Hong Quyen: Obviously, the AEON MALL Tan Phu Celadon Renovation & Expansion project is the biggest and most interesting project I have ever joined, in terms of the scale, the value and the effort that every team had made to achieve the successful outcome.
Le Tuoi: The renovation period from June to end of 2016 at AEON MALL Tan Phu Celadon brings the most memorable experiences for me. During that time, we learnt how to make procedure and cooperate with other departments to control all related tasks & timeline, how to expand or split tenant lot, how to deal with tenants to extend or end the contract.
What have you gained from working at AEONMALL Vietnam?
Huu Duy: I've gained various practical experience when having opportunities to cooperate and work with external partners as well as internal departments.
Ngoc Suong: My composure and determination are built up. These factors are needed to negotiate and deal with tenants.
Thuy An: Through some training classes organized by company, I have more knowledge about shopping mall business, problem solving skill, teamwork skill.
Le Tuoi: Japanese customer service is what I learn from working at AEONMALL Vietnam. Everything we do we all do for our customers since our basic principle is "Customers First". Therefore each of us are trying our best to meet customer's satisfaction.
Hong Vu: The Code of Conduct by AEON Group gives not only me but also other staffs a lesson, a philosophy: Live & work not only for ourselves but also for humans, the community in a safe & peaceful environment.
What is on your wish list for the next 3 years with AEONMALL Vietnam?
Huu Duy: In the next 3 years, I hope that our company will keep growing constantly and maintain the leading position in the operating & managing shopping mall business field.
Hong Vu: I hope AEONMALL Vietnam would truly bring the development to the local community, especially the spiritual cultural life & consciousness for the local people.