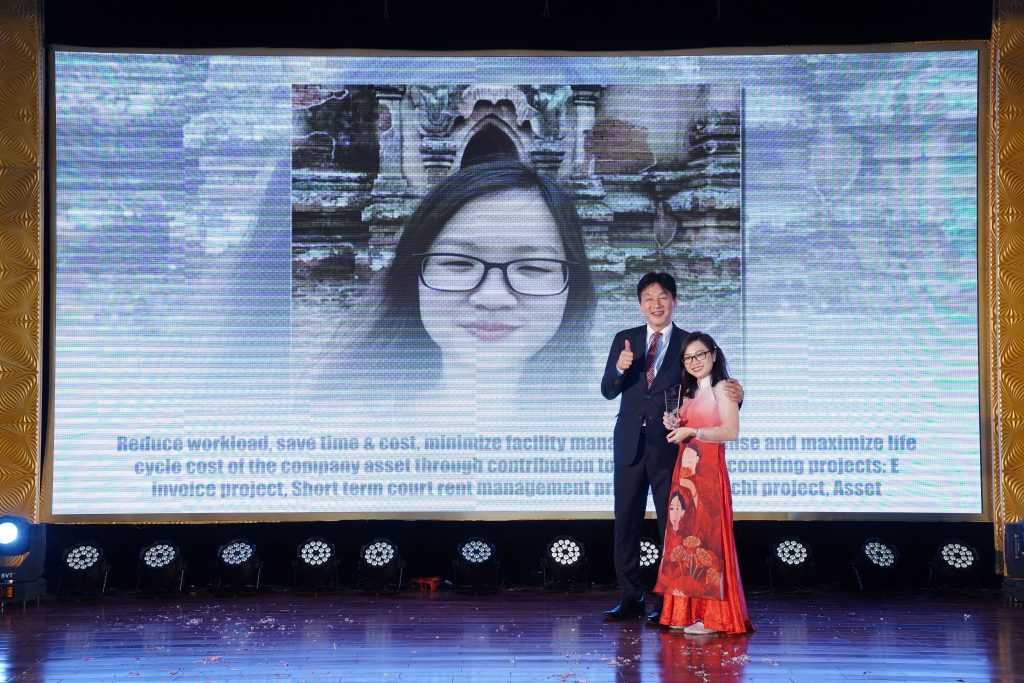 What is your favourite part about working for AEONMALL Vietnam?
This is a friendly but professional working environment, especially "Customer first" philosophy which inspires all staffs whenever we are on duty.
 What do you find the most challenging at AEONMALL Vietnam?
Our company is entering crucial development and expansion period, and apparently there is a need of comprehensive improvements in our operation. With my strong will to contribute to the success of the company, I am kind of having a race with the time to improve, to be a better me day by day as soon as possible and meet our company needs for competent personnel.
What has been your favourite working results at AEONMALL Vietnam since the beginning?
I am really grateful to have all the opportunities, assignments are given to me, all of which I always put my best efforts to complete and feel proud of the results. However, my most remarkable result is to co-operate with my colleagues in Finance & Account department, and all other departments to contribute for the successful grand opening of AEON MALL Ha Dong. Without hands-on experiences for opening a mall from the beginning, together with my Finance & Account co-workers, we figured out what need to do step by step and complete it well together.
 What have you gained from working at AEONMALL Vietnam?
My time in AEONMALL Vietnam is totally one of the most valuable period of my life, I learn from every details, I receive a lot of sharing and support; professional knowledge accumulated day by day, judgement in dealing any arisen issues improved case by case, and now I become "a really mature employee".
What is on your wish list for the next 3 years with AEONMALL Vietnam?
In the next 3 years, there might be a lot of issues incurred from our targeted expansion, so my desire is to keep being a part of AEONMALL Vietnam and together with my co-workers we will achieve our departments' goals.