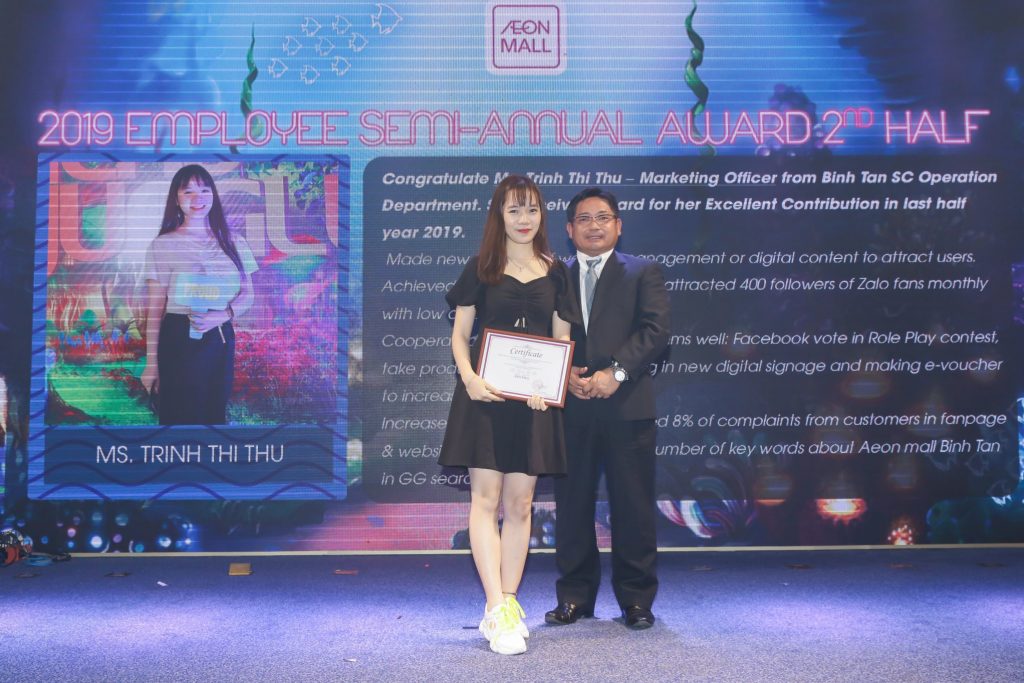 What is your favorite part about working for AEONMALL Vietnam?
It has been three years since I started working at AEONMALL Vietnam. The working style of Japanese is what I like the most. More than that, the environment and the atmosphere at office really suit me. I can also get along well with my colleagues.
What do you find the most challenging at AEONMALL Vietnam?
Up to now, the most challenging for me is I had to change my tasks between Event & Decoration team and Digital team in 2019. The sudden change among team took me a while to adjust and adapt new tasks. However, this is not only challenging, but also the opportunity for me to gain so much experience and knowledge at work.
What has been your favorite working results at AEONMALL Vietnam since the beginning?
Being a member of Sales and Marketing since the beginning, I am still excited and thrilled whenever AEON MALL Binh Duong Canary launches new campaigns. Beside reaching the target via commercial activities, I am very happy when organizing CSR activities which contributes to local society. It gives me excellent experience and memories.
What have you gained from working at AEONMALL Vietnam?
While working at AEON MALL Binh Duong Canary, I have learned and been taught countless lessons. Through Marketing campaign, I have gained specialized knowledge and accumulated knowledge of operating a shopping mall. Moreover, I have improved the carefulness, logical thinking and how to implement the procedure correctly.
What is on your wish list for the next 3 years with AEONMALL Vietnam?
For the next 3 years at AEONMALL Vietnam, I hope to improve my leadership skill the most. Also, now I'm working in Sales & Marketing division but I mostly focus on Marketing section, therefore I want to gain more knowledge in both Sales & Marketing. And I want to challenge myself with new projects at different positions.