How do you feel when working as a team?
Working as a team give us great opportunity to contribute idea, share personal experiences, receive honest advices and be mature day by day together. Each member has unique character so when working in a team, we usually have various opinions and ideas, teamwork makes us balance ourselves to get to the final target.
What makes your teamwork successful?
There was a saying: "If you want to go fast, go alone. If you want to go far, go together". Accordingly, our team is happily working together. We have become a cooperative and supportive unit. The connection among us bases on trust and support to fulfill our missions and also overcome obstacles.
What did you enjoy the most while working at AEONMALL Vietnam?
Thanh Hoa: Working with my beloved colleges and improving myself every day is what I enjoy the most.
Nhu Nguyet: I can do what I really love in AEON MALL such as making plan for new projects, improving my knowledge about retail market and brands. Moreover, I can meet many tenants with different points of view, listen many stories, and get much valuable experience that truly useful for my career and life.
Yen Thanh: AEONMALL Vietnam creates good working environment for staffs. We are able to learn, practice, and challenge ourselves while working at AEON MALL. Besides, AEON people are very friendly and supportive.
Giang Lam: I love the way how my team works really hard to reach our company target.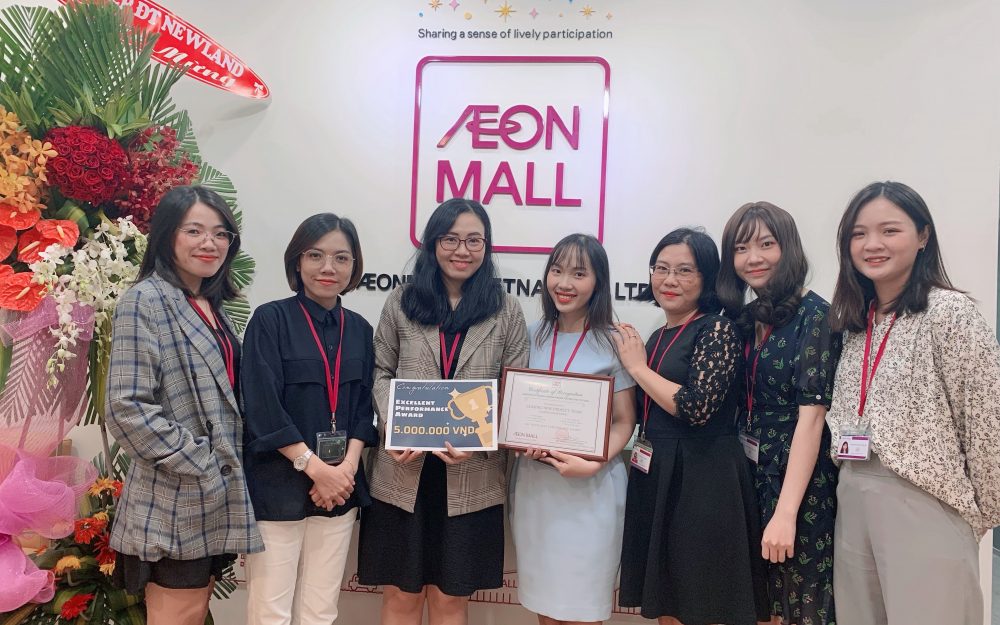 What do you find the most challenging at AEONMALL Vietnam?
Thanh Hoa: AEON MALL never stops moving forward. Even we have a long history of operating shopping malls but how to localize it and upgrade it at the same time is the most challenging which I can think about now. That is very interesting but challenging.
Yen Thanh: At AEON MALL, we have many new ideas and target to make it possible. It's challenging but also interesting tasks. We are urged to do and see it come true.
Giang Lam: Adapting and understanding retail market fluctuation maybe one of the most challenging things.
What has been your most memorable work results at AEONMALL Vietnam since the beginning?
Nhu Nguyet I always think our shopping mall are my "babies" and I'm really happy when I see each mall is growing up. I and my team check site every week before opening, see the mall filled up with beautiful stores and changed day by day with many impressive decorations.  Then after long-time waiting and big effort, our "baby" is open and attracts many customers. I cannot describe the feeling when I see the doors opened to welcome the first customers. This is truly a wonderful moment.
Quynh Nhu: I completed to lease all terminated lots for the renovation of Food Court AEON MALL Binh Tan in 2019 which is the work result I remember the most.
Yen Thanh: The moments shopping mall opened and get high traffic, customers are satisfied, and tenants have good businesses are my best memories.
Giang Lam: I would love to see our malls change positively through each project. We can bring modern, friendly, and amazing shopping experience for our customers.
What have you gained from working at AEONMALL Vietnam?
Thanh Hoa: AEON MALL is the specialist in shopping mall operation. Therefore, I have collected many knowledge related to this business field.
Nhu Nguyet: I have chances to work with almost managers of Leasing team so I can learn many experiences and strengths from them that helps me to be more mature, independent, and responsible.
Quynh Nhu: I learned how to make customers satisfy whenever they visit AEON MALL with the signature customer service from the heart.
Yen Thanh: Working at AEON MALL, we learned about teamwork and be responsible for our work.
Giang Lam: I take chances to learn from everyone during work. To be more detailed, I learn many valuable lessons from my leaders, my teammates, from our colleagues in company and from our partners.
What is on your wish list for the next 3 years with AEONMALL Vietnam?
Nhu Nguyet: In the next 3 years in AEONMALL Vietnam, I wish I could contribute to develop many impressive shopping malls in Vietnam.
Quynh Nhu: The company is now expanding, I hope our company will soon develop and open a new AEON MALL in southern area. To meet all customers' demands, in the future, hopefully AEON MALL can bring more special and convenient services to customers.