How do you feel when working as a team?
We find understanding and support each other in any tasks. We are not only good colleagues, but our team members are also good friends, we share all the ups and downs or experiences in both work life and real life.
What makes your teamwork successful?
As mentioned, we always find ways to understand, sympathize and support each other to fulfill all tasks in the best way. Whenever we encounter problems, we will always discuss, share information and experience together. Therefore, all difficulties have been resolved.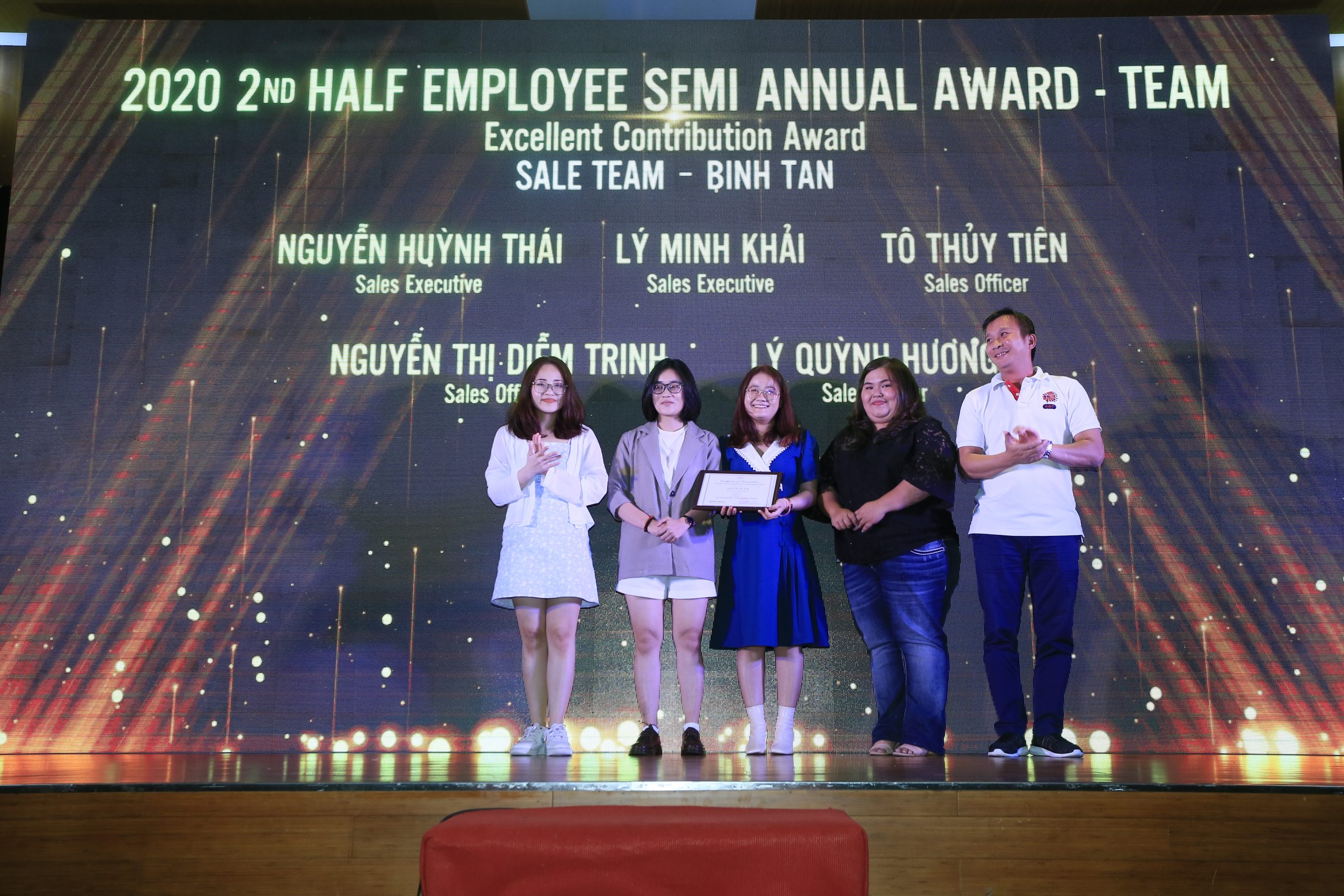 What did you enjoy the most while working at AEONMALL Vietnam?
Mr. Huynh Thai: I not only spend time working with my teammates in the Sales team, but also enjoy chatting and working with members of other Departments. The friendly working environment at AEON MALL helps me freely communicate and connect with everyone.
Ms. Quynh Huong: What I am really impressed and excited about working at AEON MALL is the extremely professional and progressive working environment. I have learned a lot while working here.
Ms. Diem Trinh: Everyone in our company is friendly and supportive to each other. We have always try our best to get the job done, share and listen to each other so that everything goes as smoothly as possible.
What do you find the most challenging at AEONMALL Vietnam?
Ms. Quynh Huong: I faced some obstacles while processing paperwork sometimes. However, recently, the company has launched the digital system, so paperwork process has been improved a lot.
Ms. Thuy Tien: Covid-19 has been the most difficult period since I joined AEON MALL. At that time, I tried to support tenants, especially anchor tenants. The process of negotiating and convincing them is very difficult.
What has been your most memorable work results at AEONMALL Vietnam since the beginning?
Ms. Thuy Tien: The most unforgettable memory for me is probably a storm in summer 2018. On that day, because the rain was too heavy, customers had to stay at the shopping mall very late. My colleagues and I then decided to stay behind to support customers so that they can feel comfortable and safe.
Ms. Diem Trinh: Since I started working at AEON MALL, I think that every event I participated din, every project I joined is memorable. As a member of the Sales team, I have always worked hard to deliver the best performance as possible. Especially, when I contributed to the completion of the AEON MALL Binh Tan renovation project in 2019, I was very excited and proud that I and my team have finally achieved the goals.
What have you gained from working at AEONMALL Vietnam?
Mr. Huynh Thai: I have achieved many things, but especially the great team spirit of our Sales team. We have been through many difficulties together, as well as achievements. I want my team to grow even stronger in the future.
Ms. Thuy Tien: At AEON MALL, I think the most important thing I have achieved is the great teamwork. I have been supported a lot in the process of handling my tasks. I also learned how to deal with unexpected situations. The communication skills while working with tenants has also improved over time.
Ms. Diem Trinh: I have learned how to work effectively with the team as well as communicate and build a good relationship with the other departments. At the same time, through the process of exchanging and working with colleagues, my problem-solving skills have also been enhanced.
What is on your wish list for the next 3 years with AEONMALL Vietnam?
Mr. Huynh Thai: In the next 3 years, I hope that AEONMALL will be a reliable and trust-worthy destination for all consumers. Whenever they think of going to a place to shop or relax, AEON MALL will be the first name to appear in everyone's mind.
Ms. Quynh Huong: In the next three years I hope that there will be more projects in the south. I believe that many people here also want to experience the convenience and great services of a Japanese style shopping mall like AEON MALL.
Ms. Diem Trinh: I will always try my best to accomplish all the goals set out. In the future, I will develop myself more, to dedicate and grow along with the company.