How do you feel when working as a team?
A successful team is one which everyone's unique skills and strengths help the team achieve a shared goal in the most effective way. Therefore, in our team, we share the same value, cooperate well with each other, and enjoy working in this environment.
What makes your teamwork successful?
We implemented a system to help organize the communication among coworkers to enhance our productivity as a team. It helped us delegate tasks more easily, which led to earlier completion dates.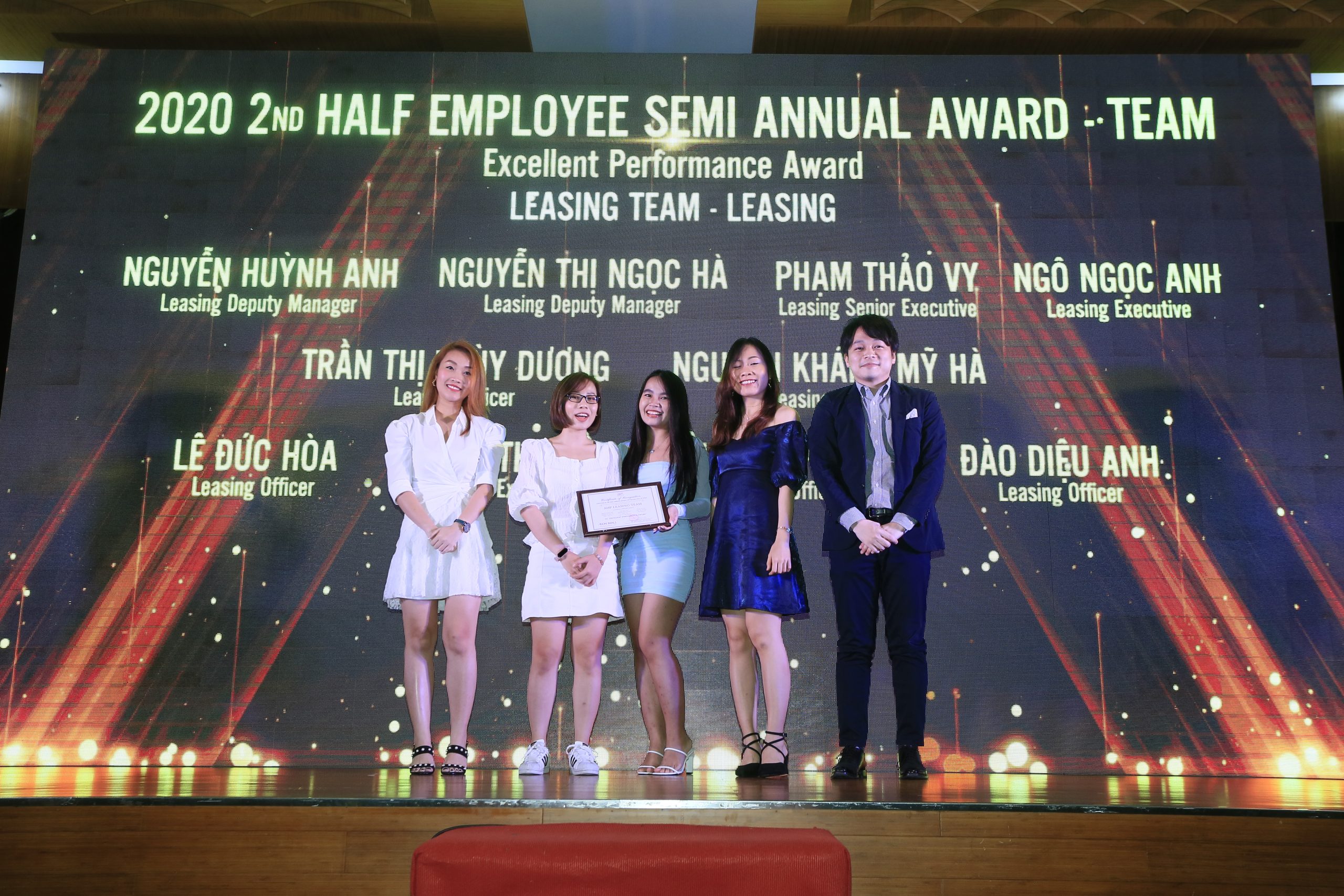 What did you enjoy the most while working at AEONMALL Vietnam?
Ms. Ngoc Ha: During my time working at AEONMALL Vietnam, I deeply appreciate the humanity of a company whose policies pay much attention to its employees.
Ms. Phung Kieu: I enjoy the teamwork of my team the most. We are close to each other and support each other. I am very proud of what we achieved together in the past and eager to witness what we can achieve in the future.
Ms. Thu Phuong: I receive great guidance, continuous support, and updated knowledge to complete all of my assigned tasks confidently. Also, I can proactively share my opinions to team members for effective teamwork.
Ms. Thao My: I have the opportunity to work with many brands in the retail market. I get to know better about their business model and stories of each partner. Thereby, I keen on working in retail market and improving my negotiation skills for leasing.
What do you find the most challenging at AEONMALL Vietnam?
Ms. Dieu Anh: AEONMALL Vietnam has opened new malls consecutively since I started working here 2 years ago, therefore I find it quite challenging to strengthen working skills and self-development to achieve the same goal at such fast pace.
Ms. Phung Kieu: Every staff have to be always prepared to catch up with unexpected changes. I think this is the most challenging but also the most interesting part in our job.
Ms. Thao My: All jobs need high requirements. Although it causes pressure, it also brings the motivation for me to improve myself and complete the job better.
Ms. Ngoc Anh: The most difficult thing is to be creative constantly. In order to fulfill tasks from the company and make partners and customers satisfied, we have to come up with new ideas and concepts always.
What has been your most memorable work results at AEONMALL Vietnam since the beginning?
Ms. Ngoc Ha: I have experienced many projects together with Leasing team, but I still remember being so emotional when working until mid-night when opening the 1st AEON MALL , it is such a beautiful memory for me.
Ms. Dieu Anh: Joining at the last phase of AEON MALL Ha Dong project but I felt so proud of Leasing team to create an ideal zoning and tenancy mix for a whole new mall. And I also admire the strong corporation spirit amongst my team members.
Ms. Phung Kieu: The successfully opening of AEON MALL Hai Phong Le Chan is really an outstanding highlight point in the time of Covid-affected in 2020, leasing in this period was the most challenging tasks ever, thus it became my most favorite work result.
Ms. Thao My: AEON MALL Hai Phong Le Chan reached more than 90% of the stores when opening is my most memorable work result. I was able to participate in this project from the beginning. This project took place during the Covid-19 period, we could not foresee or follow the original plan, so all this job was so much harder than any projects I did before.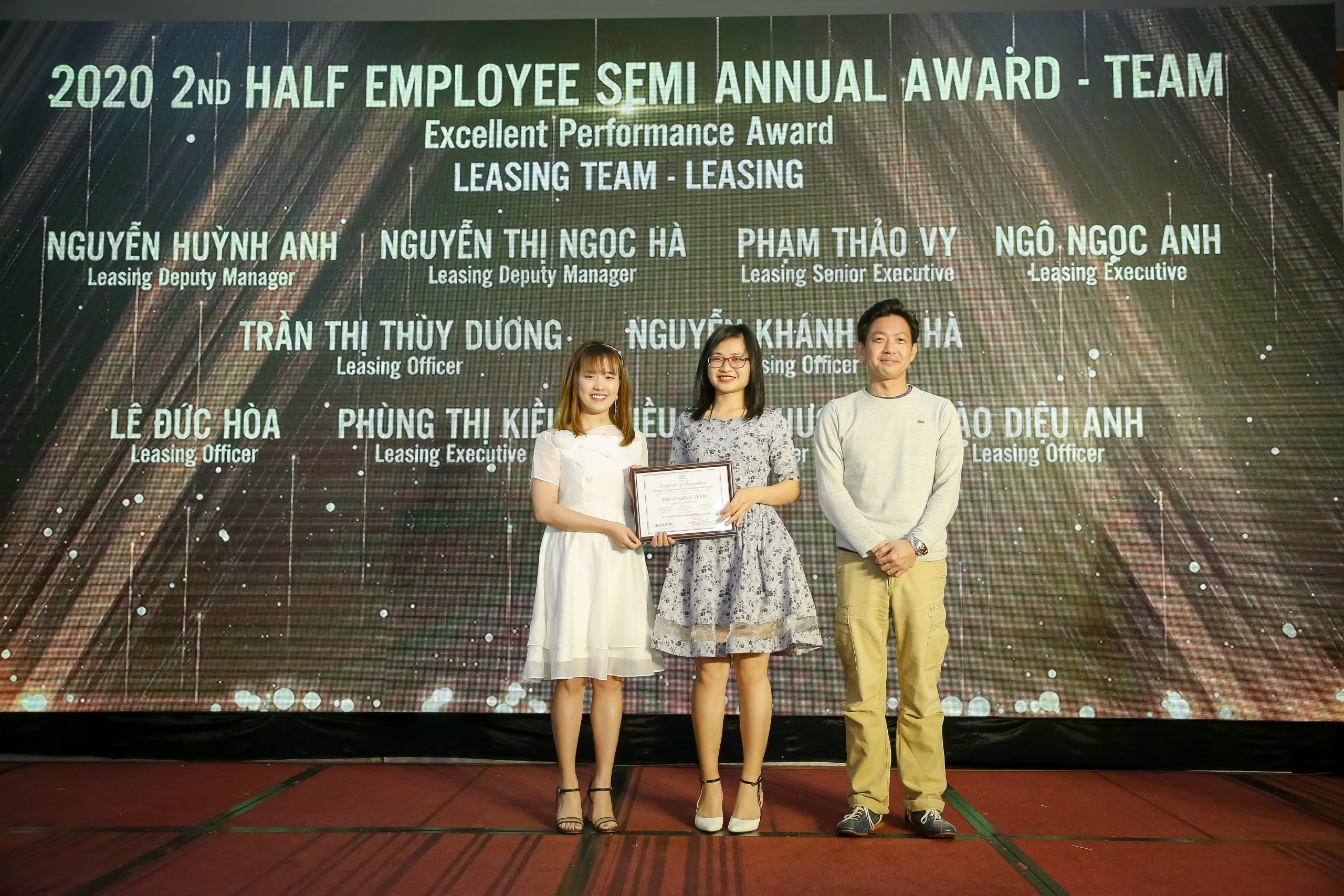 What have you gained from working at AEONMALL Vietnam?
Ms. Ngoc Ha: I have gained a lot during the time, especially experience of professional retailer and human management. These are precious knowledge in both profession and daily life
Ms. Dieu Anh: Working in this field encourages me to be consistent in decision making, flexible in new plans and lastly be more patient.
Ms. Phung Kieu: Shopping mall business is a really challenging and interesting area to work on. I have learnt to listen, to analyze, to support internal team as well as our company's partners.
Ms. Thu Phuong: AEONMALL Vietnam is the first Japanese company I have joined. Thanks to the enthusiastic guidance and support from my managers, leaders, and colleagues, I can learn to be more professional, and cooperate effectively with my team to gain best results.
Ms. Thao My: I have learned to anticipate problems happening, think of ways to solve them, instead of relying on others.
What is on your wish list for the next 3 years with AEONMALL Vietnam?
Ms. Ngoc Ha: I want to have chance to create new and meaningful values for retail in Vietnam. In the future, AEONMALL Vietnam can develop and manage a new pattern of shopping mall.
Ms. Dieu Anh: I wish there will be more new brands corporate with AEONMALL and tenants have high sales result at our malls.
Ms. Phung Kieu: I wish to build my leadership skills. I believe that by being a leader, I can contribute more to our company and support more to the partners and team members. I also hope that AEON MALL will overcome all the difficulties and move forwards with our big plan, my team is working hard every day to get ready for many upcoming projects.
Ms. Thao My: I hope in the next 3 years, I can be assigned to be a Project Leader of a project. Then I will have the opportunity to learn more about the retail market.
Ms. Ngoc Anh: I will challenge myself in new areas where AEON MALL will set foot in the future, then constantly learn to bring meaningful values to the company and the community.