How do you feel when working as a team?
We enjoy working as a team with our utmost sincerity. The synergy among members is the greatest thing we can experience. Each member has their own unique skill sets and their own perspectives. Those attributes can help the team being more productive. Also, the working environment is the thing that we are highly proud of as all members have a good work ethic and a strong sense of sharing. It is important to us to feel that we can trust our team members to always do their best.
What makes your teamwork successful?
A good team is not made of any accidents. Instead, it is about every single person in our team putting their best effort with the highest responsibility to achieve one common goal: getting the tasks accomplished legally and suitably to ensure the smooth business operation of our company. Moreover, communication is what happens regularly during teamwork. Everyone interacts with other members frequently, shares their ideas/experiences behind each task to achieve the best approach and overcome all difficulties together.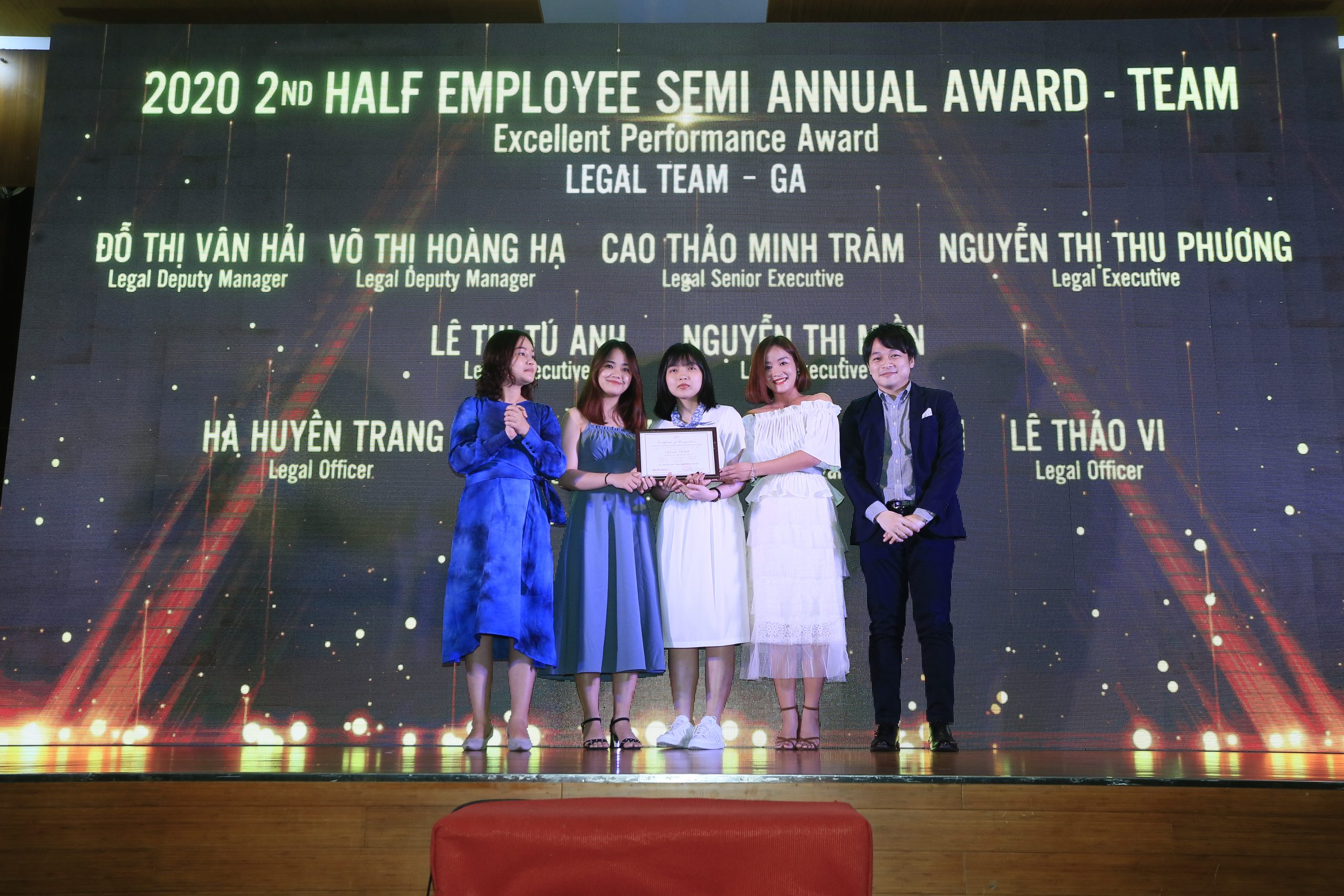 What did you enjoy the most while working at AEONMALL Vietnam?
Ms. Van Hai: It is no doubt that it is working environment. Fortunately, I have a lot of friendly, supportive, and funny co-workers. We are not only willing to give any favor at work but also share our feeling about daily life to each other. We spend almost time at the office, and our colleagues, somehow, like our family members.  They have made my every single day happy indeed.
Ms. Huyen Trang: Working at AEON MALL is full of joyful, enjoyable moments. With me, collaboration with team members and other colleagues shall be the most enjoyable time.
Ms. Khanh Tam: It was the collaborative atmosphere. The surrounding colleagues with a great knowledge were always willing to share, support and spread what they knew as much as possible, hence, I could learn more working here than I ever did at university. 
Ms. Thao Vi:  Working at AEONMALL Vietnam brings a lot of joy to my personal experiences.  With Legal Department, there's no obstacles between Ho Chi Minh and Hanoi since the spirit of collaboration in the team is something we proudly praise.
What do you find the most challenging at AEONMALL Vietnam?
Ms. Van Hai: Our company is now expanding in a fast way. Following that rapid growth, many new things have come, and the workload has increased as well. The improvement in productivity and management is a must. Furthermore, each person, in my opinion, should keep learning and sharpen his/her skills to adapt to the development of the company.
Ms. Tu Anh: The most challenging at AEONMALL Vietnam is a difficult task that puts me outside of your comfort zone such as when perform the tasks relating the technology, e-commercial…, however it is the valuable experience I have to overcome.
Ms. Thu Phuong: Every staff in AEON MALL have to be always prepared to catch up with unexpected changes. So, I think this is the most challenging but also the most interesting part in our job I think the most challenging task of any legal staffs in any companies is to balance the compliance of laws with the needs of the company operation.
Ms. Hoang Ha: The most challenging thing is how to adapt to the strict working style and the high-standard requirements. But provided that we could satisfy all company's requirement, no difficulty has chance to discourage us.
Ms. Vi Uyen: Currently, AEONMALL Vietnam develops and innovates quickly, so, many new issues arise every day that require me as well as each company's employee to improve constantly to catch-up and deal with such issues. However, I think this is not only challenging but also the opportunity for each person to grow up and develop personal abilities.
What has been your most memorable work results at AEONMALL Vietnam since the beginning?
Tu Anh: My most memorable work result at AEONMALL Vietnam is contribution to the opening of AEON MALL Ha Dong and AEON MALL Hai Phong Le Chan.
Thu Phuong: I still remember the first working day at AEONMALL Vietnam. My first task was not really "a task", it's to read carefully all the forms and procedures updated until that date and raise any questions/concerns that I may have. The task seemed to be simple, but it set the basic understanding of mine about the legal inhouse job at AEONMALL Vietnam, and I was so impressed by the way my supervisors instructed me, so carefully and in detail. Thank you so much.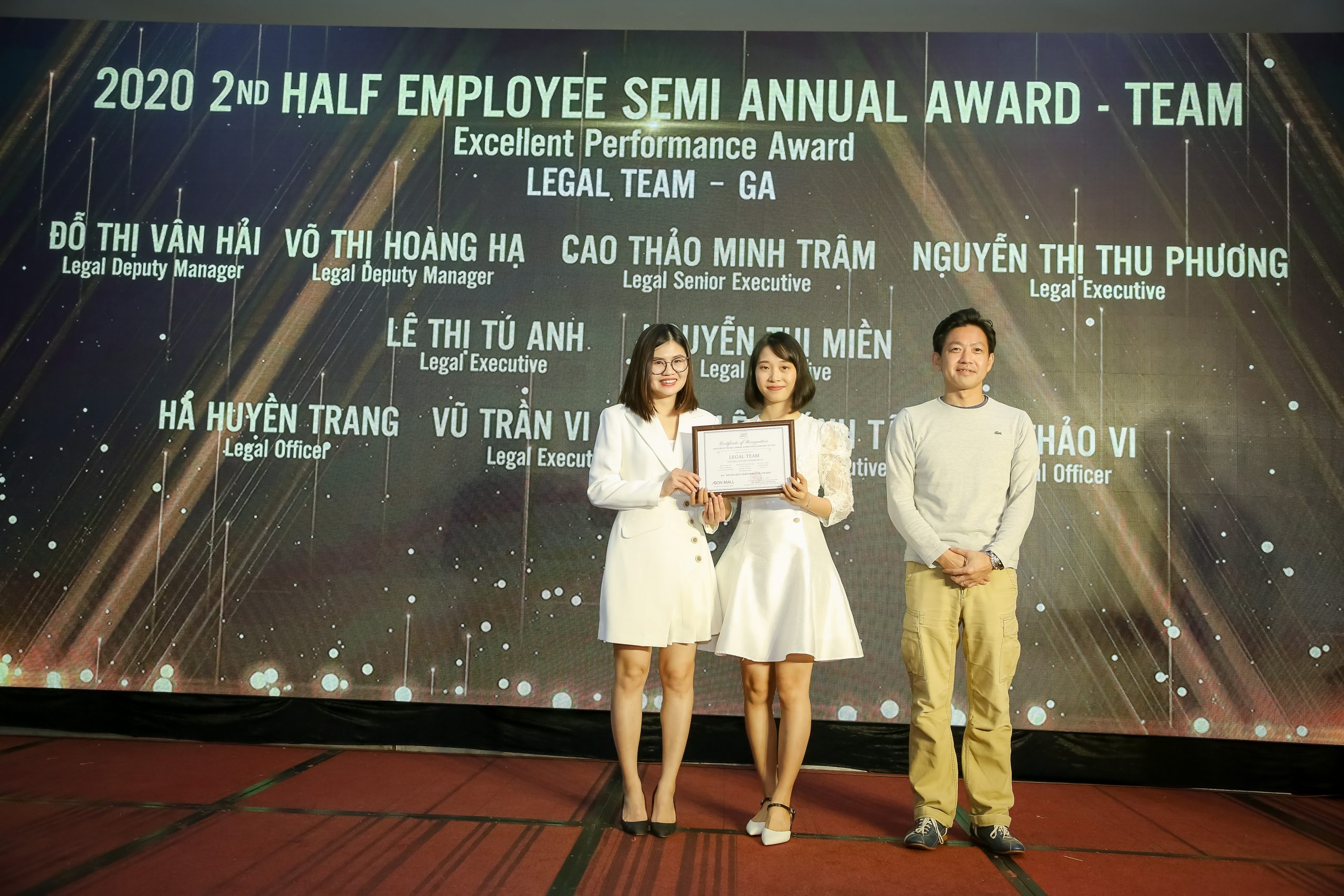 What have you gained from working at AEONMALL Vietnam?
Thu Phuong: I have learned a lot from the company's training programs as well as from colleagues, especially the working styles and soft skills. I also gain experiences from me of yesterday, and I believe that me of tomorrow will also learn something from me of today.
Huyen Trang: I have learned lots of precious things from working at AEONMALL Vietnam but I'm so impressed by working spirit, responsibility and sharing of AEON people.
Vi Uyen: During working period at AEONMALL Vietnam, I have become more self-disciplined, learnt how to work well with the other people as well as got more working experience – which are very important to grow personally.
Khanh Tam: It turns out that I have gained so many great things, the good bosses, kind and supportive colleagues, successful projects, wider knowledge and experience, and especially the belief in me when I was assigned important projects. I am so grateful and feel a sense of accomplishment looking back on the nearly past 5 years working here.
Thao Vi: For myself, I have gained for my own a fascinating team guided by a good leader. They shared not only their enormous amount of knowledge and experiences but as well all difficulties during my work or something I faced in my daily life.
What is on your wish list for the next 3 years with AEONMALL Vietnam?
Van Hai: In the next 3 years, I want to try new tasks in legal areas, run legal team well and develop my staffs.
Tu Anh: For the next 3 years with AEON MALL, I expect that I can challenge myself in variety of task and be an expert in my field.
Thu Phuong: I want to be the best version of myself at work, who is a specialist in my field and who can contribute more to the legal team's as well as the company's growth
Vi Uyen: For myself, I wish I will be more confident, independent and continue to get good result at work to contribute to company.
Khanh Tam: As a legal staff, keep improving myself to be a high-qualified employee and contributing to the sustainable development of Legal team and the company as well.