What did you enjoy the most while working at AEONMALL Vietnam?
At AEONMALL Vietnam, I am exposed to a wonderful working environment with diversified professional fields and skills development goals. Thereby, it helps me to improve myself in each working day. I personally feel great and honored to be working at AEONMALL Vietnam.
What do you find the most challenging at AEONMALL Vietnam?
AEON MALL is a company which always concerns to local development and community supporting activities. Following that business philosophy, we find that the most difficult thing is how to support and launch meaningful activities to contribute to the local community and bring common value, at the same time increase revenue for tenants and boost brand image for AEONMALL Vietnam.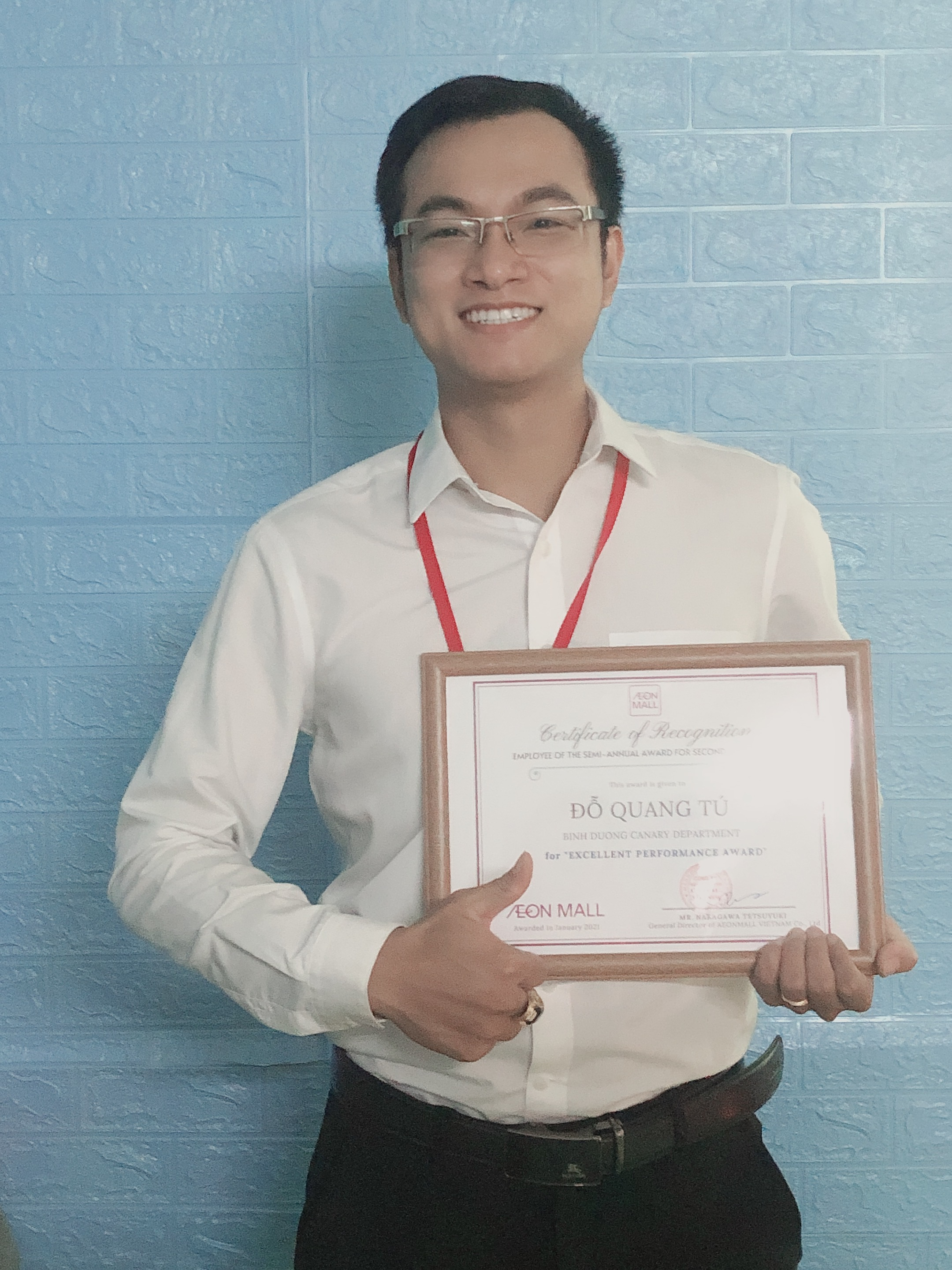 3. What has been your most memorable work results at AEONMALL Vietnam since the beginning?
It seems like we are all affected by the COVID-19 pandemic in 2020. Sales and Marketing Team of AEON MALL Binh Duong Canary, in the meanwhile, also encountered many obstacles in convincing tenants to renovate, extend the contract and increase the value of the contract, according to the company's general targets. However, thanks to the good teamwork, we worked together to solve the problem, then completed the AEON MALL Binh Duong Canary Renovation in 2020. I think this is the most memorable work result I have achieved.
     4. What have you gained from working at AEONMALL Vietnam?
During the years working at AEONMALL Vietnam, I have been trained a lot and improved more and more in terms of both knowledge and skills. AEONMALL also creates opportunities for me to improve my management skills and teamwork skills.
      5. What is on your wish list for the next 3 years with AEONMALL Vietnam?
I do not have a specific and huge desire for myself, but I hope that my colleagues in Sales & Marketing team will be together for a long journey, develop together with AEONMALL Vietnam. I hope that we could all become team leaders or future talents.