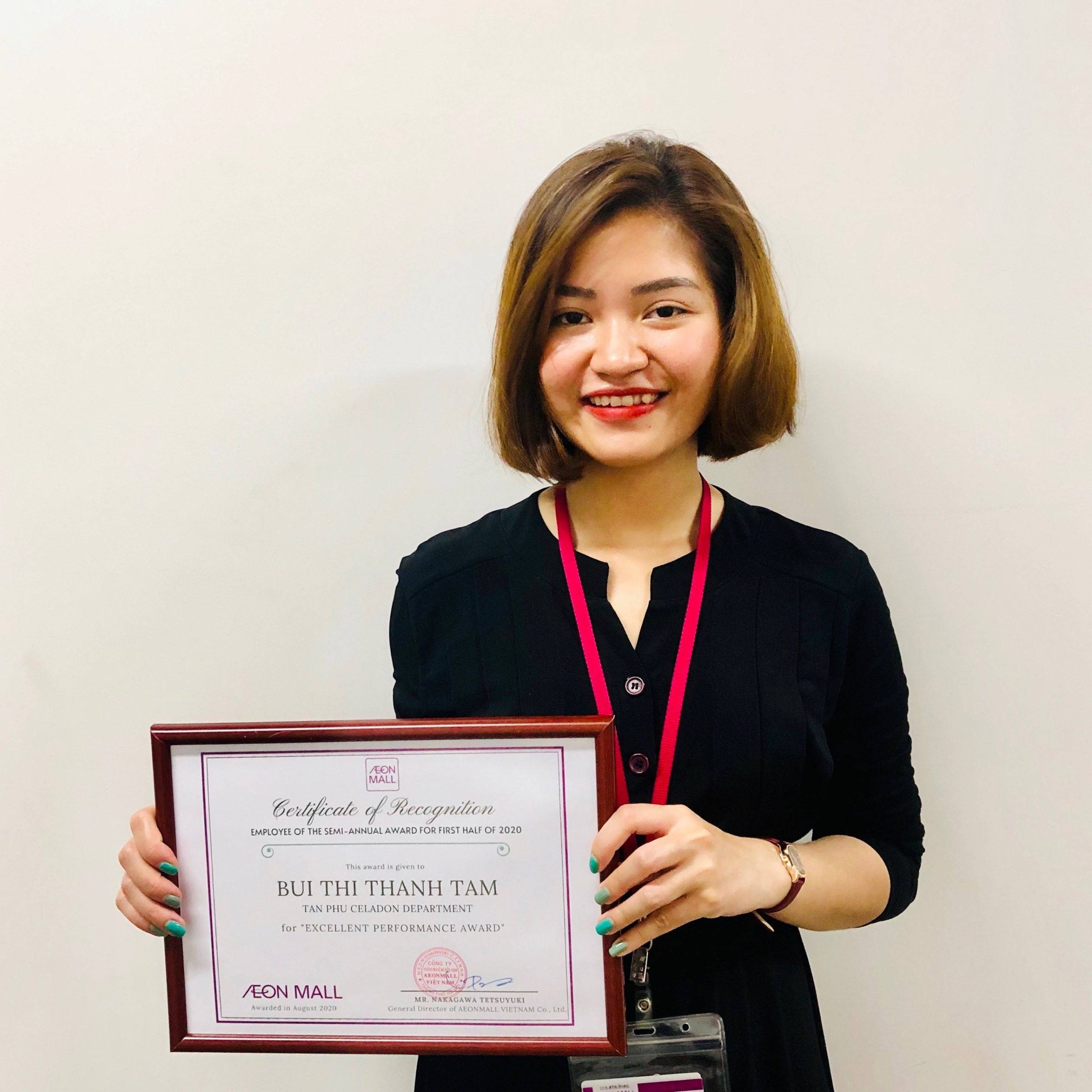 What did you enjoy the most while working at AEONMALL Vietnam?
During almost two years being a part of AEONMALL Vietnam, I have been very impressed to realized that everyone shares the same vision and is always dedicated to the mission they have. This truly creates a healthy environment where everyone is able to perform their best skills and contribute to the growth of our company.
What do you find the most challenging at AEONMALL Vietnam?
As an event marketing officer, one of my big challenges is how to adapt to new trends and create thriving campaigns to attract customers during the year. I am planning to keep observing and earning more experiences from diversified channels (both offline and online). And it is such a pleasure for me when receiving many advices from my colleagues and supervisors for the best results.
What has been your most memorable work results at AEONMALL Vietnam since the beginning?
I am very delighted to improved myself day by day during the long time working at AEONMALL Vietnam. I was well-trained by my leaders and supported by my colleagues to accomplish all the given tasks and target. Therefore, I am able to achieve the good increase in customer quantity and better marketing campaign quality. I suppose the Halloween 2019 campaign – Jackalloween is one of which that I am satisfied the most.     
What have you gained from working at AEONMALL Vietnam?
AEONMALL Vietnam has given me a good chance to prove my ability while I am working. I have been offering a fair promotion path and a good environment to gain precious experiences. Consequently, I have improved many essential skills for my career.  
What is on your wish list for the next 3 years with AEONMALL Vietnam?
In the future, I plan to enhance all my skills and knowledge better and faster, and I hope to receive good evaluation for campaigns which I take part in by both customers and company. Furthermore, I want to share my own experiences to other colleagues if possible.