AEON MALL Ha Dong ("mall"), the 2nd shopping mall in Hanoi by AEONMALL VIETNAM Co., Ltd., will open on 5th December 2019. The Grand Opening Ceremony will be held on the same day from 18:15~.
Ahead of the grand opening, the mall's anchor tenant, General Merchandise Store & Supermarket AEON – Ha Dong (1F~3F) opened since 26th November.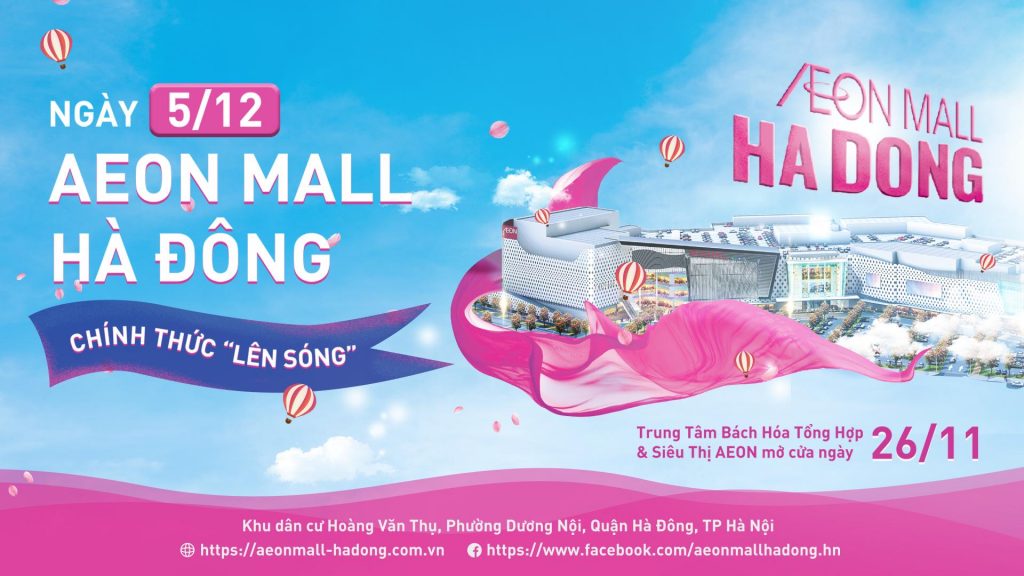 5 Features of AEON MALL Ha Dong
Bringing various "firsts" to the people of Ha Dong
Approximately 221 stores of both local and overseas brands are gathered at this site of approximately 150,000㎡. Of which, brands which are a "first" in Vietnam, "first" in Hanoi city, "first" in shopping centers makes up 40% of the 221 stores.
The Region's Largest Dining & Entertainment Space
There are a total of 80 F&B tenants in the whole mall, with the 3rd floor Food Park boasting a total of 1,000 seats in a 3,000㎡ area. Entertainment facilities such as "Cinema", "Kids Playground" and "Game centers" are also congregated here, providing customers with the largest entertainment zone in the region.
Nature-themed greenery filled space
AEON MALL Ha Dong has planted trees throughout the building to create spaces filled with greenery, and offers customers a lifestyle that is conscious of coexistence with the natural environment.
LED Screen / Digital Signage
Starting with a 12m x 7m large digital screen, a total of 86 digital signages are installed in the mall. Aside from using the signages to disseminate the latest store news and event information, they are also our new communication tools to enhance our customers' shopping and entertainment experience.
Comfortable spaces in pursuit of convenience
Facilities such as "Kids Toilet", "Baby Room", "Powder Room", "EV charging area" and "Free Wi-Fi" etc., are available to improve the convenience and satisfaction of our customers.