The establishment of AEON MALL Binh Tan has been a great opportunity to bring our best effort to create the best services closer to our customers. As compared with the time of the foundation of AEON MALL Binh Tan, 3 years is not a long time but a journey for AEON MALL Binh Tan to look back and follow forward the way to fathom and conquer the customers' hearts.
New Look to spark New journey in the 3rd birthday party
Decoration inside AEON MALL Binh Tan is updated with the attractive cover color in accordance with the concepts of the yearly seasons, needless to say, AEON MALL Binh Tan can be considered as not only an ideal location for everyone to take unique photos but also an art space from which AEON MALL Binh Tan would like to convey a meaningful message. On the occasion of 3 – year Anniversary, you will be astounded by the sea's color tone mitigating the summer's hot weather. With the blue whale representing the voice of ocean, AEON MALL Binh Tan is supporting the message of protecting environment, especially marine environment.
With cute and lively decoration including blue whale, coral and sponge, AEON MALL Binh Tan has illustrated the beauty of the ocean and appeals everyone to maintain the nature's pristine beauty.
Celebrating 3rd year birthday party with many special gifts for the customers
Promotion programs from well-known Brand in AEON MALL Binh Tan is a must for this such cheerful atmosphere.
Especially with the Lucky Draw program, you can exchange a bill which is worth from VND 2,000,000 for a Lucky Draw coupon and increase your possibility to achieve one of our valuable prizes from May 24th to June 8th as following:
 01 First prize: 01 TV 55 inch + 01 device PS4 + 03 CD game + speaker Soundbar
 01 Second prize: 01 TV 55 inch
 01 Third prize: device PS4 + 03 CD game
 03 Fourth prizes: each prize 01 OKIA eSlimtone Belly device.
03 Consolation prizes: each prize 01 PS Classic Game device.
Lucky Draw's result will be announced on June 16th 2019. For references, please click here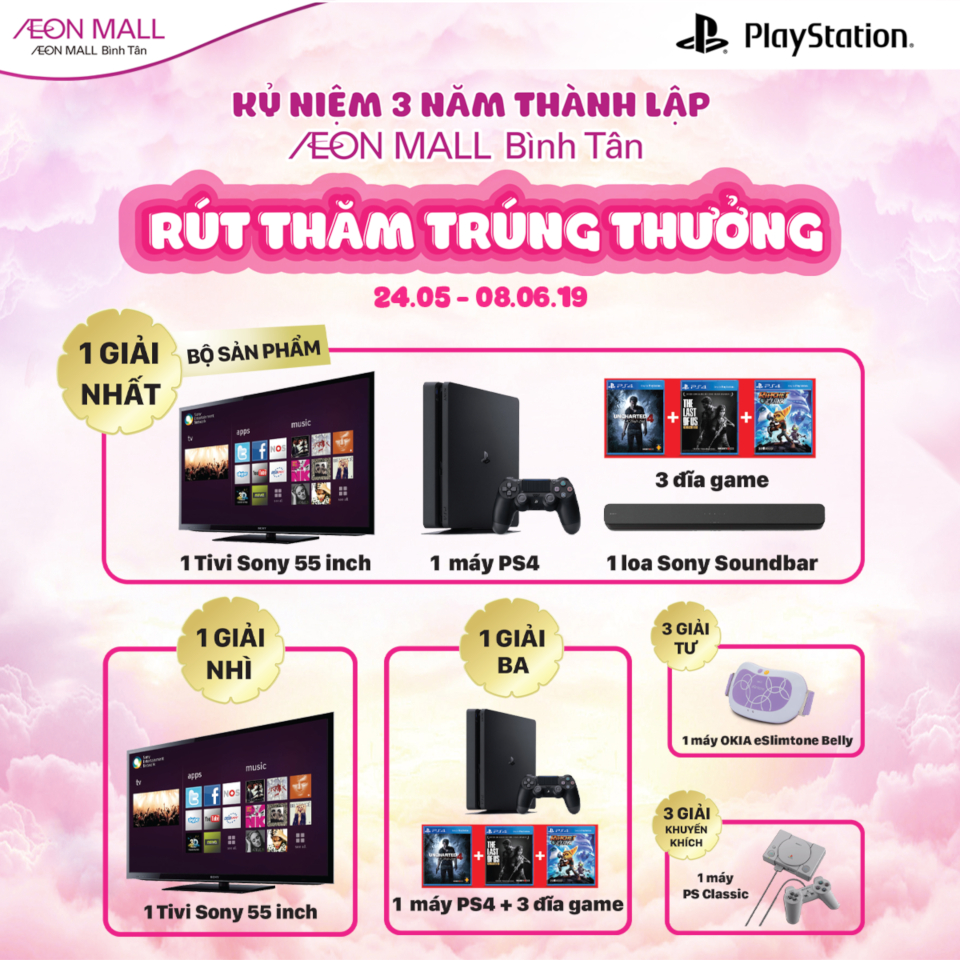 Seeing the customers' satisfying smile is the mission and inspiration of the staff in AEON MALL Binh Tan to work harder and improve the providing service with more professional manners as well as develop coherence relationship with AEON MALL Binh Tan in the upcoming challenges.
Visit AEON MALL Binh Tan this summer to feel hearty 3rd year Anniversary together with cheerful from the summer time in the atmosphere!