Sportive Mall App. – Training right-away when you are shopping
Sports, especially walking activities often bring many benefits to the body such as strengthening the immune system, increasing muscular endurance, preventing cardiovascular and lung diseases, supporting to lose weight, etc. Exercise like walking more while shopping is really a great solution for those who do not have much time to invest in both tasks. However, each person needs to know how to adjust the amount of exercise to suit his condition so as not to become overburden. Therefore, in order to provide customers an effective training method when shopping, AEON MALL Tan Phu Celadon has launched the "Sportive Mall" application.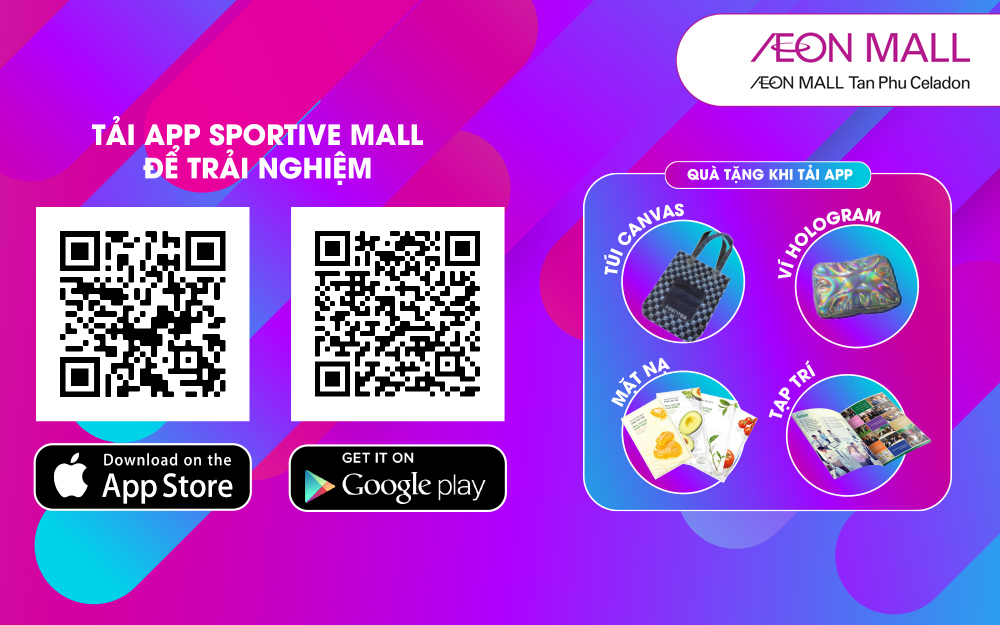 Outstanding features of Sportive Mall App.
Main features that the application can provide including body tracking, daily step counting, diet advice, exercise tips, etc. as well as promotion notifications, e-vouchers and many other benefits. Users can also share exercise stories or join chat groups to discuss a specific workout topic right on the Sportive Mall app.
Main features
Health check/ advice:

Counting daily steps: Provide the record & statistic data of each user's daily steps
Body index: Measure by BMI*
Health advice information: Update exercise tips, clean-eating, etc.
*Body mass index (BMI) is a value derived from the mass (weight) and height of a person. The BMI is defined as the body mass divided by the square of the body height, and is universally expressed in units of kg/m2, resulting from mass in kilograms and height in metres. The BMI may be determined using a table or chart which displays BMI as a function of mass and height using contour lines or colours for different BMI categories, and which may use other units of measurement (converted to metric units for the calculation). (Source: Wikipedia)
Promotion information, updated news:

Announcement/ reminder before each event: Announcement of activities, events organized by AEON MALL Tan Phu Celadon
Special promotions / redeeming points: Track the accumulation / redemption process by counting user's steps to receive gifts from AEON MALL Tan Phu Celadon

Sports stores:

Promotions of stores: Information about seasonal/holiday promotions,… of the store

Community interaction:

Newsfeed: Sharing workout activities, useful articles, interacting with friends on Sportive Mall application
Chat forum: Join the chat group for each specific exercise/ sports topic
Make friends: Add new friends on the application with existing contacts if both users use Sportive Mall application
 Walk regularly – Earn points for exchanging gifts
Earning points to redeem & get gifts is a special feature of Sportive Mall app. Users can accumulate footsteps by downloading the application and carrying the phone when walk daily, go shopping, running, etc. at anywhere. The system will automatically send a notification as soon as users accumulate enough points to exchange gifts. Each user's step data will be accumulated from the time that person started using the application.
The program "Accumulate steps – exchange points to receive gifts" will take place from March 20th to March 29th, 2020.
In particular, customers coming to the Sportive Mall booth area in the Square Center – Grounf floor of AEON MALL Tan Phu Celadon on March 21st – 22nd & 28th – 29th will have the opportunity to receive the following attractive gifts:
Accumulate 10,000 steps: Get 01 UFC Gym voucher when redeeming points
Accumulate 15,000 steps: Get 01 UFC Gym voucher & 01 umbrella when redeeming points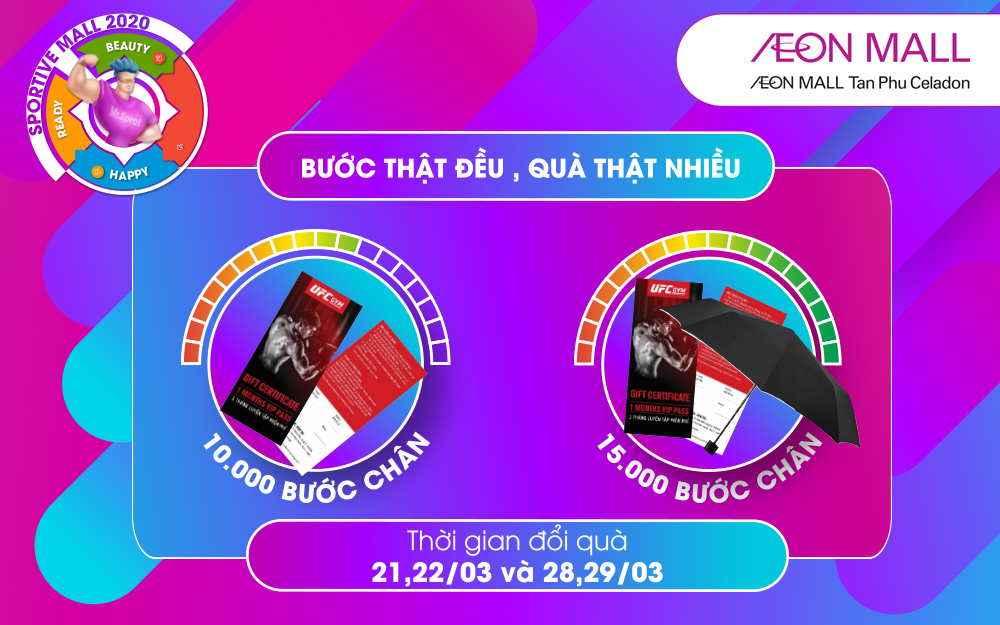 Series of activities to celebrate the launching of Sportive Mall theme at AEON MALL Tan Phu Celadon will officially start from March 20th – 29th, 2020. This is also the stage for the first theme – Beauty – in the journey of transmitting all four main ones to build the Sportive Mall concept at AEON MALL Tan Phu Celadon.
With the desire to spread out the strong & healthy sport spirit as well as convey the message of a completely new Sportive Mall theme, these activities of Beauty theme promise a lot of interesting things for participants.
Heathly and beautiful activities with Mr. Sprot at Square Center – Ground floor:
Running Wheel (from March 20th – 29th):
Test your body's endurance by running in a unique circular frame to reach the highest level on the energy bar & receive gifts right away.
Discover AEON MALL Tour (from March 20th – 29th):
Experience the challenge of exploring many sports stores at AEON MALL Tan Phu Celadon Shopping Center with the super unique "navigation map". Moreover, after completing the challenge, customers can also receive gifts from the organizers.
Inbody Measurements:
March 23rd – 24th: Direct Inbody measurements
March 21st – 22nd – 28th – 29th: Gift voucher of Inbody measurements
Inbody is the only FDA approved Body Composition Analyzer (BCA) brand and is trusted by health professionals, doctors, and hospitals worldwide. Inbody's advantages include measuring body fat, muscle mass and water level in less than a minute; determine body composition to ensure results are individual-based only; use multiple frequencies to accurately measure the amount of body water, etc. (Details at: inbody.com.vn)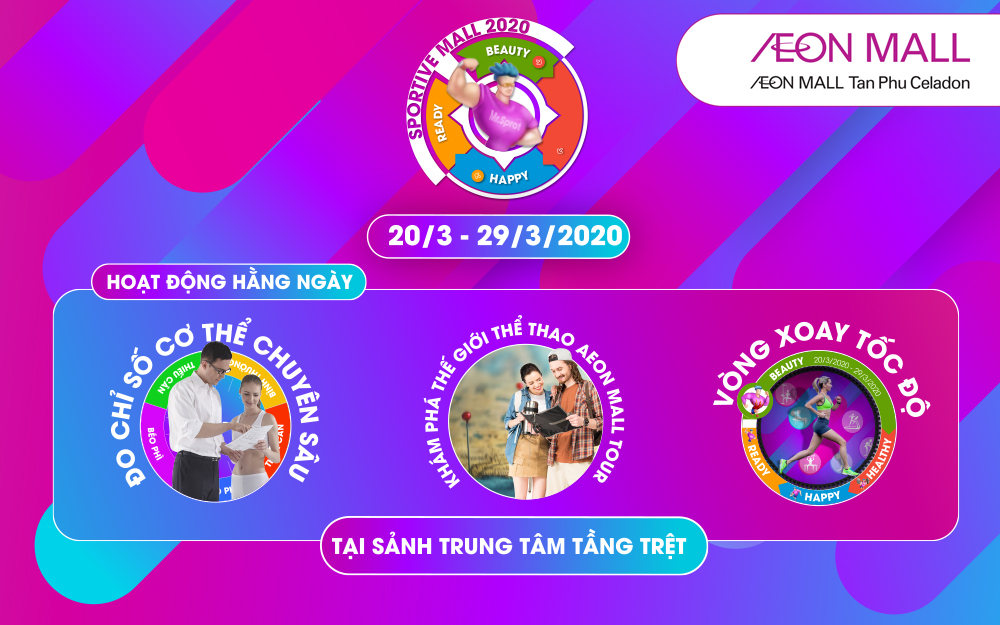 Especially, on March 21st – 22nd & 28th – 29th, customers also have the opportunity to redeem their accumulated points when they come to Sportive Mall booth at AEON MALL Tan Phu Celadon. A lot of attractive gifts are waiting for those true "sports lovers"!
Do not forget that you can also download the Sportive Mall application wherever you are, then walk a lot (visit AEON MALL Tan Phu Celadon is a good idea!) to collect points and receive extremely cool gifts! In particular, the first 1000 customers to come to Sportive Mall booth (Square Center – Ground floor) and download the app will receive 01 limited edition of Sportive Mall magazine.
Will you choose to be healthy and beautiful with AEON MALL Tan Phu Celadon?