What is Sportive Mall?
For a long time, AEON MALL Tan Phu Celadon has successfully built up the image as one of the prominent "one-stop shopping mall" models with many convenient services and a variety of top quality & Japanese standard products. However, society is constantly changing nowdays, especially to focus more on the trends of sports practice and healthcare training. In an effort to bring about appropriate and timely innovations for a better experience to customers, AEON MALL Tan Phu Celadon will introduce a new theme aimed at inspiring images.
Therefore, with the desire to spread the dynamic sport spirit at AEON MALL Tan Phu Celadon, Sportive Mall theme will bring a new breath – youthful and healthy to the whole AEON MALL Tan Phu Celadon.
Why is Sportive Mall?
The trend of caring about health, fitness and healthy lifestyle is getting more and more attention. We will easily find many articles on how to build an eat-clean meal, reasonable living routine, or video clips introducing ways to improve body beauty, etc. Many people are changing their habits and care about their health, body as well as healthier diets.
On the other hand, there are currently nearly 200 stores with diverse industries at AEON MALL Tan Phu Celadon. In particular, sports brands occupy a large number with famous international and domestic names such as Decathlon, Nike, Adidas, Skechers, Reebok, Lining, New Balance & Crocs, Anta, MaxxSport, etc. or international standard gym & bodybuilding brand – UFC GYM.
In addition, the large space after the expansion phase with an area of ​​nearly 70,000m2 of AEON MALL Tan Phu Celadon is indeed a "challenge" for anyone who wants to explore the shopping center with just once for a walk. Many customers have "complain" that how able it is to go all the way without getting tired?
Hence, AEON MALL Tan Phu Celadon is giving to customers the answer that "let's exercise when you go shopping". The Sportive Mall theme was launched to help customers get the opportunity to participate in sports activities, or be instructed on appropriate training right at the place they are shopping: AEON MALL Tan Phu Celadon.
New orientation – New experience
Building a healthy body as well as good habit for the body needs a long process, thus Sportive Mall theme will be continue running throughout the year of 2020. This is an opportunity for everyone, from sports enthusiasts with the opportunity to practice and buy products at the same place, to anyone who wishes to exercise, own a flexible body and a refreshing spirit.
With the desire not only to be a shopping center but also to bring new image and more value to customers, AEON MALL Tan Phu Celadon is confident to accompany with the theme of "Sportive Mall – exercise your body even when you are going shopping" to become an attractive and ideal destination for everyone.
4 main themes of Sportive Mall
Exercising is one of the great ways to help you achieve the best version of your body. Sports can guide you on the path to becoming an "entirely new" person. In particular, in order to find perfection, each of us will often go through 4 below stages after practicing sports regularly:
Beauty: Well-planned and hard-working training will definitely help you first possess an attractive body.
Healthy: Next, you will be able to catch up with the training gradually and become supple, persistent with a healthy body every day.
Happy: Regular training can also enrich your soul towards joy, happiness and a relaxed spirit.
Ready: Once you become comfortable with the training, you will always feel energetic and able to faceoff any new challenge or be ready for whatever would come.
These four stages are also the main elements to build Sportive Mall theme at AEON MALL Tan Phu Celadon throughout this year. We hope to create a suitable playground, as well as convey the message of a healthy body, happy spirit when practicing sports regularly to all customers and contribute more value for the community.
Representative character: Mr. Sprot
On the occasion of launching the new Sportive Mall theme, AEON MALL Tan Phu Celadon also introduces a very special new character: Mr. Sprot – The representative. This is an image built on key characters including strong personalities, intelligent, friendly, humour as well as very trendy.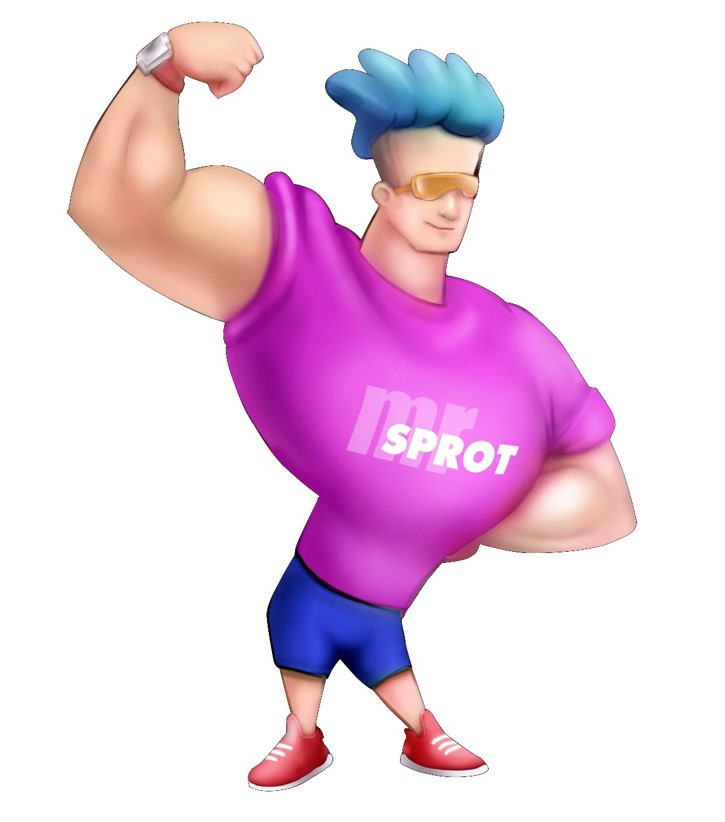 Mr. Sprot will go with AEON MALL Tan Phu Celadon in the whole Sportive Mall theme, promising to bring many new and unique images with refreshing and extremely funny moments to everyone.