The program towards the central Vietnam was conducted by AEONMALL Vietnam from October 25, 2020 to November 1, 2020. As Vietnam's tradition: "The good leaves protect the worn-out leaves", our valued customers, employees, and tenants at AEON MALLs around Vietnam and Aeon group subsidiaries actively participated in the donation "Joining hands for our central region".
After 7 days of processing, we collected and received cash and donations from tenants and donation box as following details:
Cash: 18,255,700 VND
Goods: more than 2600 pieces of clothes, 50 pieces of blankets, and some essential items such as: kitchen tools, socks, books, instant noodles …
On 13rd November, the donation package with the total amount of about 1.6 billion Vietnam dong and utensils were handed over to Center of Supporting Community Development Initiatives (SCDI), accompanied with the local authorities, and followed the hearts of thousand customers, employees, tenants, and Aeon group subsidiaries, AEON 1% Club to support flood-affected people.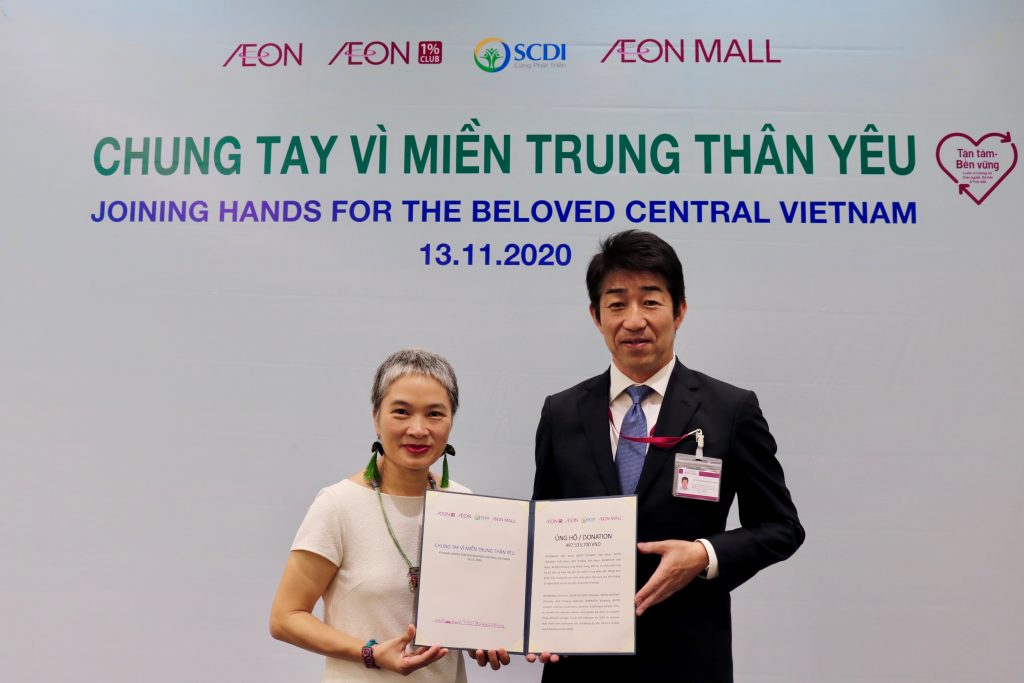 At the Sponsorship hand-over ceremony, Mr. Nakagawa Tetsuyuki – General Director of AEONMALL Vietnam conveyed the message of AEON Group to ease the hardship with people of central Vietnam and hope that they will soon recover from the consequences of natural disasters, stabilize their lives and create a new livelihood for development in the coming time.
Ms. Khuat Thi Hai Oanh – Director of SCDI also expressed her gratitude to the sincere actions of customers, partners, employees, and AEON Group. In the same week, SCDI quickly sent these gifts to people in Quang Nam and Quang Tri province. She also ensured that the donation will be delivered to other flood-affected areas as soon as possible.
AEONMALL Vietnam would like to thank our valued customers and partners for trusting and joining hands with us to share difficulties with people who seriously affected by the disasters.
At the same time, we would like to send our greatest gratitude to the group subsidiaries: Aeon Delight Vietnam, Aeon Fantasy Vietnam, ACS Trading Vietnam, Ministop Vietnam, Aeon Citimart, and our partners: Tutu Train, Akemiuchi, Canifa, Hokkaido Baked Cheese Tart and Chateraise for being eternally supportive for the project so far. We will continue updating information as well as program implementation on AEONMALL Vietnam's media channels.
With best regards.