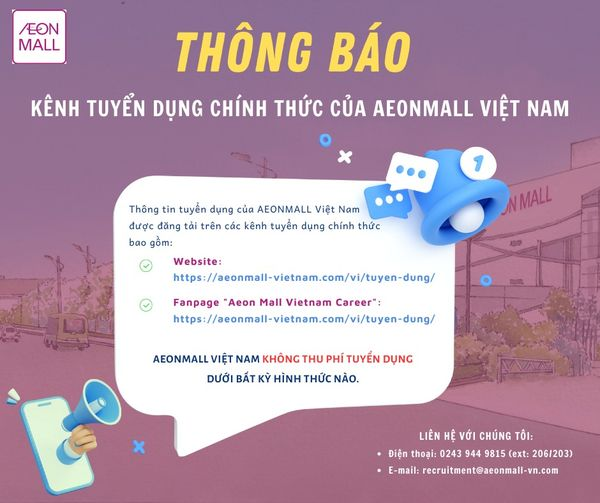 Recently, AEONMALL Vietnam has received feedback about some individuals/organizations taking advantage of AEONMALL Vietnam's reputation to commit fraudulent acts of recruiting workers, collaborators,…
Therefore, we would like to advise everyone to be aware of suspicious job posts and unknown origin offers.
At the same time, all recruitment information of AEONMALL Vietnam will only be posted on official recruitment channels including:
Website: https://aeonmall-vietnam.com/en/tuyen-dung/
Fanpage "Aeon Mall Vietnam Careers": https://www.facebook.com/aeonmall.vietnam.career/
All recruitment activities of AEONMALL Vietnam Co., Ltd. DO NOT REQUIRE ANY FEES under any forms. If you are suspecting any recruitment fraud, please kindly contact us directly via phone number (024) 3944 9815 (ext: 206/203) or e-mail recruitment@aeonmall-vn.com to verify the information.
For cases of unauthorized use and abuse of AEONMALL Vietnam's reputation, we rely on the intervention of legal authorities to handle it as soon as possible.
With best regards!