Enjoy the Black Friday Lucky Draw!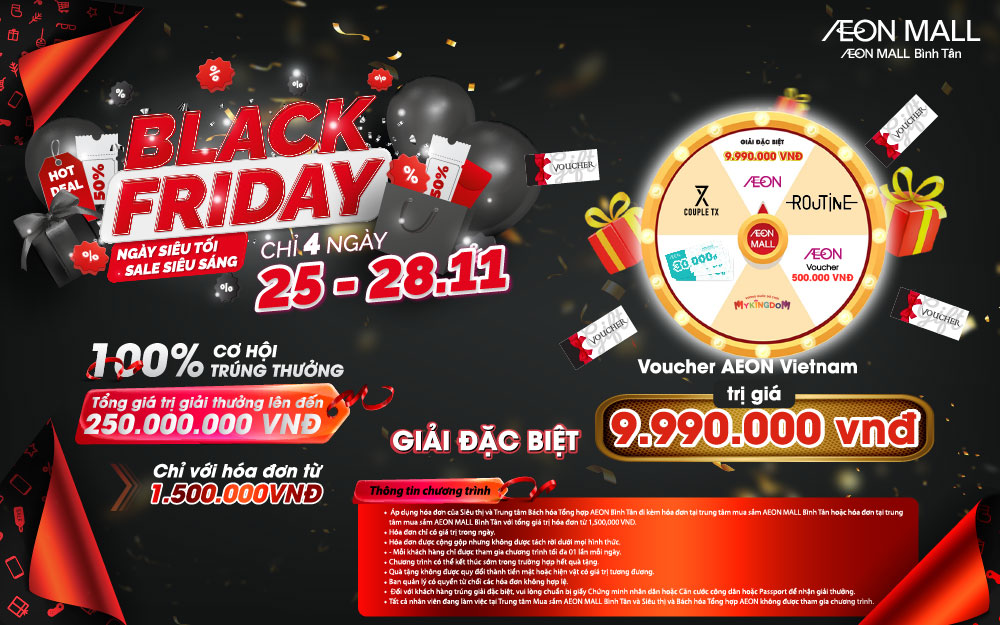 From 19th November  – 24th November, 2021, AEON MALL Binh Tan "plays" Pre-Black Friday super with billions of gifts and genuine prizes with 100% winning rate. With an invoice worth from VND1,500,000, customers will receive 01 turn of spinning the in the 100% lucky draw to win thousands of valuable gifts:
New 7-color Rabbit calendar
School supplies for kids
Or other special prizes:
Air purifier
Air fryer
Multi-function cooker
Blender
Electric cooker
Standing iron
Notice:
Each customer can only receive a maximum of 1 gift per day.
Applies to the accumulation of invoices during the day in AEON MALL Binh Tan, but does not accept bill splitting in any form.
Not applicable for AEON supermarket and Department store shopping bills.
All employees working at AEON MALL Binh Tan are not allowed to participate in the program.
From 25th November – 28th November, 2021, let's hunt more intense sales from famous brands at AEON MALL Binh Tan. You can also receive genuine vouchers. With each shopping bill worth from VND 1,500,000, you will immediately receive 01 lucky spin, including 100% winning vouchers from top brands such as:
Voucher 100K from My Kingdom; TX couple; Routine;
AEON voucher with worth of VND 30,000, VND 50,000, VND 500,000
Special AEON voucher worth up to VNA 9,990,000 (1 voucher per day)
Sales Event of Famous Brands!
In addition, at the Ground floor of AEON MALL Binh Tan fulls of goods from fashion, cosmetics, accessories, and homeware brands:
From 19th November  – 28th November:  Fitflop, Ninh Khuong, Medicare, Naris, Gojoy, Mat Viet, Fahasa, My Kingdom, Adidas SPC, Hnoss, Milvus, Rabity, Shooz, Giordano, Marc, Canifa, OKIA, AU Akemi Uchi, Routine
From 19th November  – 23rd November: Lock&Lock
From 24th November  – 28th November: Lemino, iBasic
Close order on livestream – hunt thousands more of offer up to 70%
Time: 25th November  – 26th November, 2021
Set an alarm now to watch Livestream and take attendance to receive Black Friday deals. Because the livestream only takes place in 2 time frames:
  On 25th November at 12:00 – 13:00: Kohnan, AU Akemi Uchi, L'ang Farm
  On 26th November at 12:00 – 13:00: Lemino, Marc, Rountine, Canifa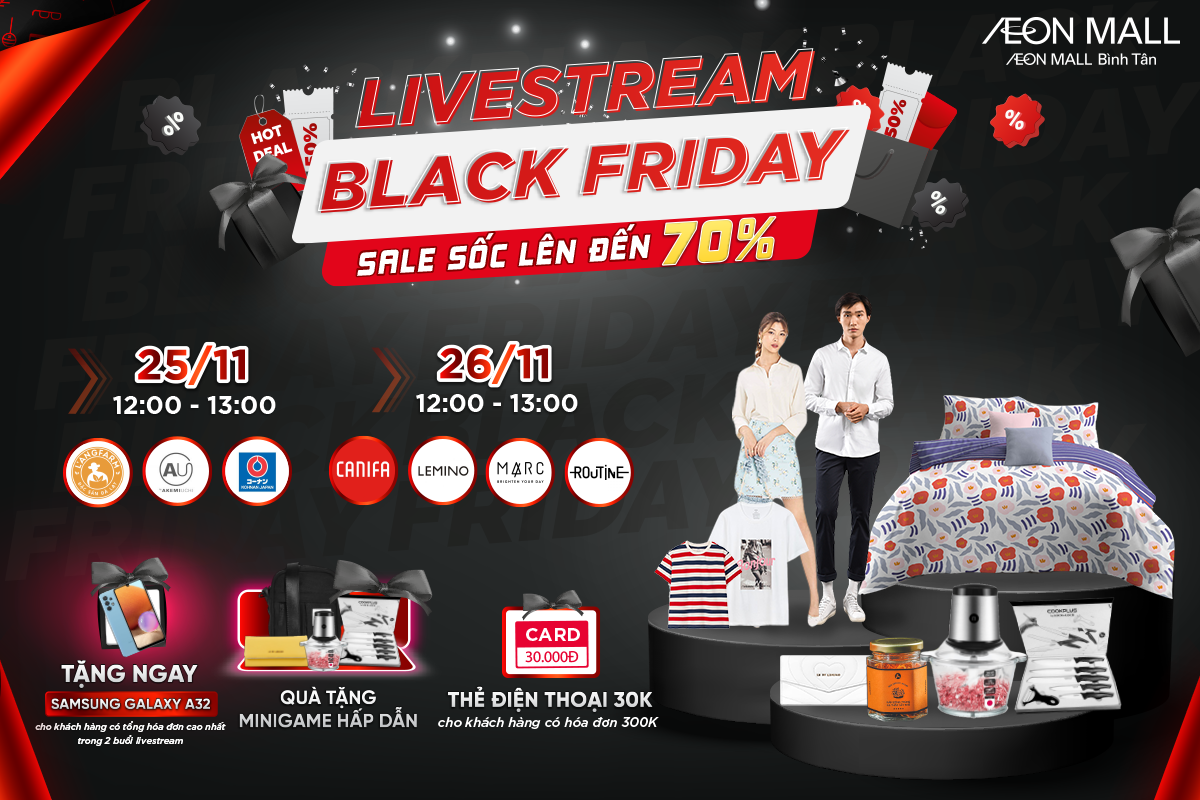 Another special gifts on Black Friday
A cellphone of Samsung A32 for customer who gain the highest total bill from two livestreams. Furthermore, when you closing the order successfully, you will get one phone card worth VND 30,000 immediately. Join the minigame "The price is right" to win many gifts of beautiful household items and fashion bags. Let's join the super sale super discount on the occasion of Black Friday right now! Remember to invite more friends to join the Livestream to Hunt more promotion!