Merry Christmas at the unique "candy town"
You will be able to see the hanging corridors under "The Sweet Path" throughout AEON MALL Tan Phu Celadon (from December 5, 2020 – January 3, 2021) and joining the same road on Santa's journey through Cotton Candy Mountains, Macaron waterfall, Marshmallow maze, Sweets river, etc.
On the other hand, you will also have the opportunity to visit and have fun at the unique "Candy Town":
Location: West Court – Ground floor AEON MALL Tan Phu Celadon
Time: Dec 22nd, 2020 – Jan 3rd, 2021
Weekday activities:

DIY technology Christmas card
Free instant photoshoot
Fun mascot cosplay

Weekend activities:

Make lovely Noel hats
Decorate Christmas tree with wishes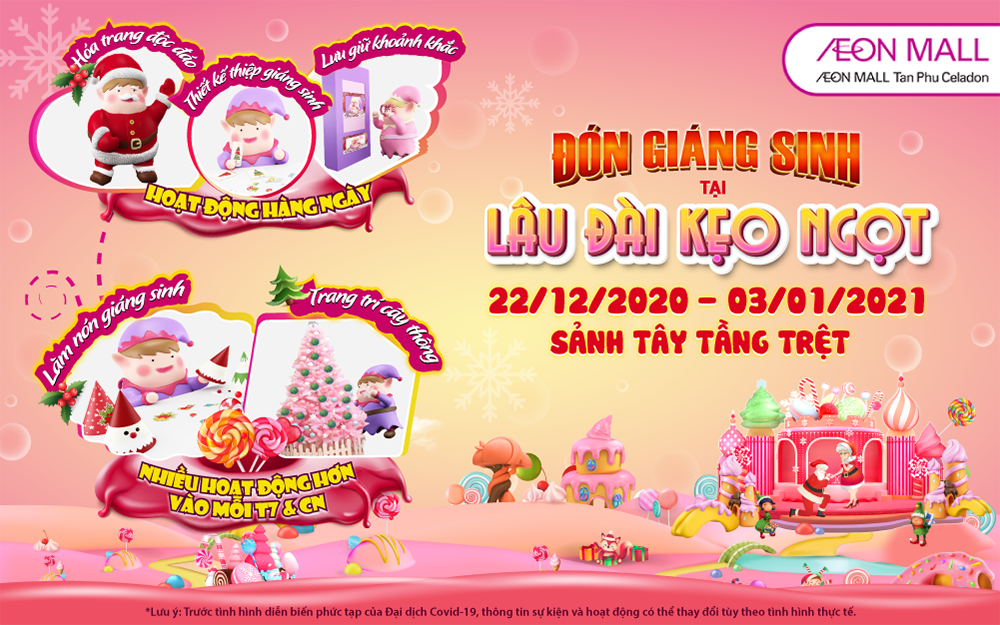 Sweet space at Candy Town with many lively and eye-catching décor booths along with Christmas-inspired activities will surely bring entertainment moments for everyone.
Sparkling sweet candy, Happy Christmas
Have you felt the Christmas atmosphere around? Head to AEON MALL Tan Phu Celadon and celebrate the unique "Candy Town" with your family and friends in a warm and funny holiday season.
Location: West Court – Ground floor AEON MALL Tan Phu Celadon
Time:

Dec 24th, 2020 (18:30-19:30): Merry Xmas Eve together with Isaac singer
Jan 1st, 2021 (18:30-19:30): Welcome the exciting New Year's Eve with Gil Le singer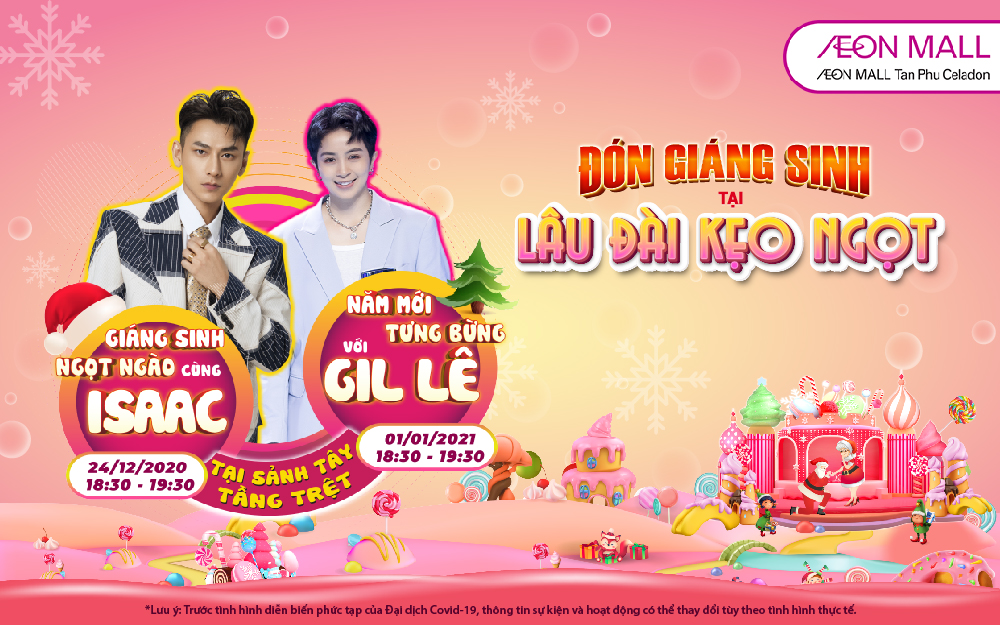 This series of event promises to explode the stage with the appearance of Isaac & Gil Le singers – two extremely hot idols whose voices and charismas that could attract anyone. Not only that, but the events will also bring about exciting flash mob dance, minigame, DJ performances or candy gifts.
Besides, you can also participate in unique and completely free Christmas activities right at the sweet "Candy Town" such as making technology cards, taking instant photos, decorating pine trees, Christmas hats, etc. (For more details on Christmas activities, see here).
What are you waiting for? Forming your Xmas team to go celebrate now!
Explore the sweet path, receive attractive presents
Do you know? This Christmas festival season will not only be fun but also extremely sweet with the special promotion program from AEON MALL Tan Phu Celadon.
Specifically, from December 16th, 2020 to January 3rd, 2021, customers shopping at AEON MALL Tan Phu Celadon will have the opportunity to receive charming gifts:
Receive 01 high-quality ceramic cup for every bill worth from VND 3,000,000
Receive 01 high-quality helmet for every bill worth VND 6,000,000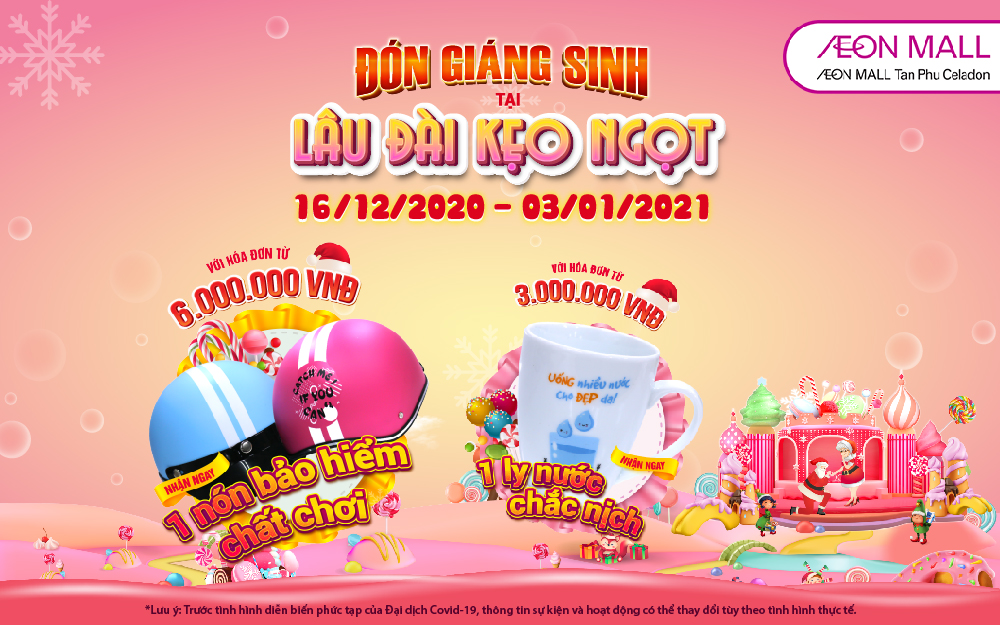 >> See more of other promotion programs here.
Shop for great gifts & have a wonderful Christmas fun, everyone!
*Terms & conditions:
Applicable to cumulative invoices during the day, not applicable to shopping invoices in the AEON Supermarket and Department Store area (including Glam Beautique, Petemo, AEON Bike, Garden Terrace & Daiso).
Do not accept split invoices in any form.
Each customer can only receive up to 01 gift and does not apply to other promotions.
Customers please bring products or receipts/ ID cards for products that are services when exchanging gifts.
Staff working at AEON MALL Tan Phu Celadon are not allowed to join the program.
The management board has the right to refuse invalid invoices.
The number of gifts is limited; thus the program may end sooner than expected.
Any questions please contact Customer Information Counter at Square Center – Ground floor AEON MALL Tan Phu Celadon or hotline 028 6288 77 33 ext 129.
*Note: Due to the complicated developments of Covid-19 pandemic, the event and activity information may change depending on actual situation.