A fascinating adventure beneath the ocean opened up a mysterious, colorful world where every kid wants to see and touch directly. Follow the journey that the other kids have gone through, see the wonders that they discovered, there is a kingdom AEONMALL Long Bien right in your sight under the vast ocean.
Just one step through the huge magic door, a beautiful hidden kingdom under the deep ocean will take any little boys and girls by surprise. It's a tiny coral kingdom of Neptune that is surrounded by many cute creatures and fishes in the sea. Also, there is an adventure for you all exploring every corner of the ocean and not forgetting to stick to the routine problems of the kingdom undersea. And especially, there is the flying fish bubble space in the air that made the ocean as much alive as the real one.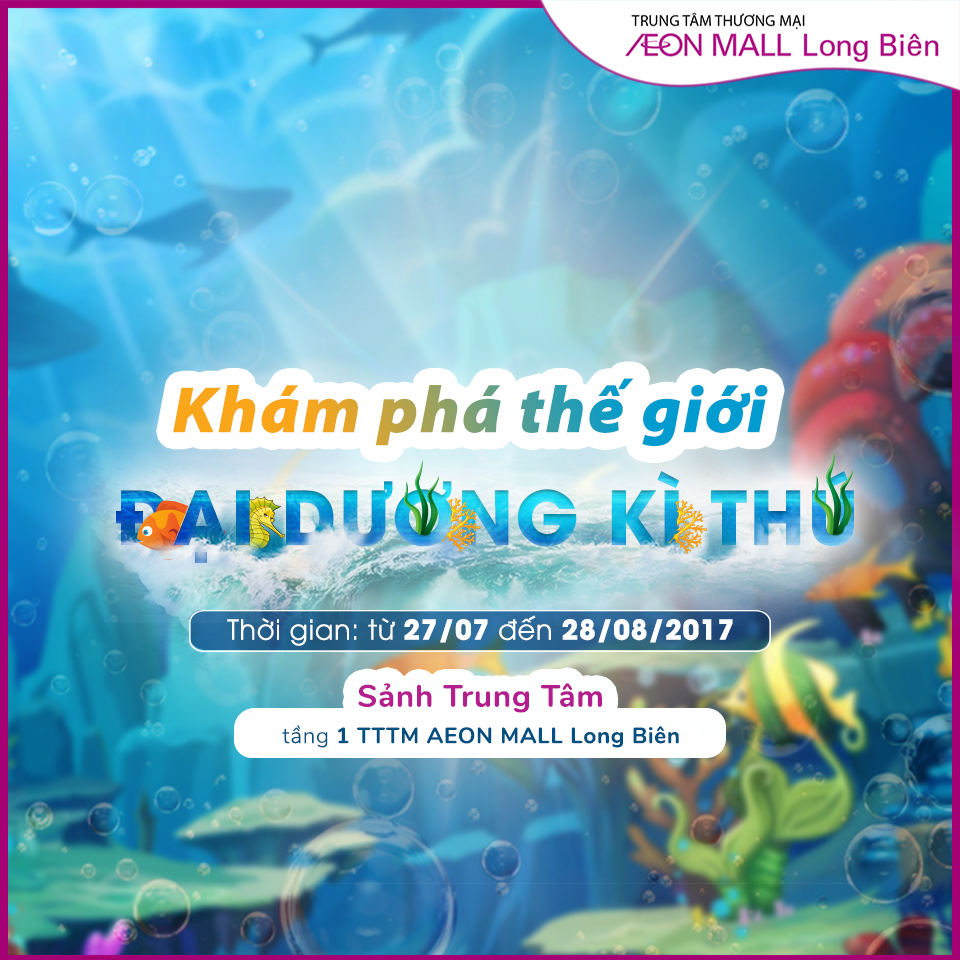 Weekdays: (from 28/07 to 28/08)
+ Joining Painting World: From 10h00 to 13h00 (Only from 28/07 to 11/08)
+ Playing with Flying Fishes and the Vivid Fish Tails: 15h00 – 21h00
Weekend: (Only for Saturday & Sunday: 29 & 30/07; 05 & 06/08; 12 & 13/08; 19 & 20/8; 26 & 27/08)
+ Check-in with Flying Fishes and the Vivid Fish Tails: 9h00 – 22h00
+ A chain of outdoor activities as making a balloon with clowns, or joining magic show: 17h30 – 20h30 (Only for Saturday & Sunday 29 & 30/07; 05 & 06/08; 12 & 13/08)
(*) Conditions:
– Apply for every bills from 300,000 VND at AEON MALL Long Bien Shopping Center.
– Not applicable for torn, incomplete or fuzzy bills;
– Not allow to add-in or split bills
– Applicable for 2 people/1 bill. Each customer is allowed to participate only once in the day
– To play the flying giant fish, customers must enter the picturing area. (Details can be provided by staffs on site).