To become the winners, let's download the AEONMALL Vietnam app, select "HAPPY CHALLENGE" in the "AEONMALL LIFESTYLE" menu, click "Join the challenge" and complete the goals.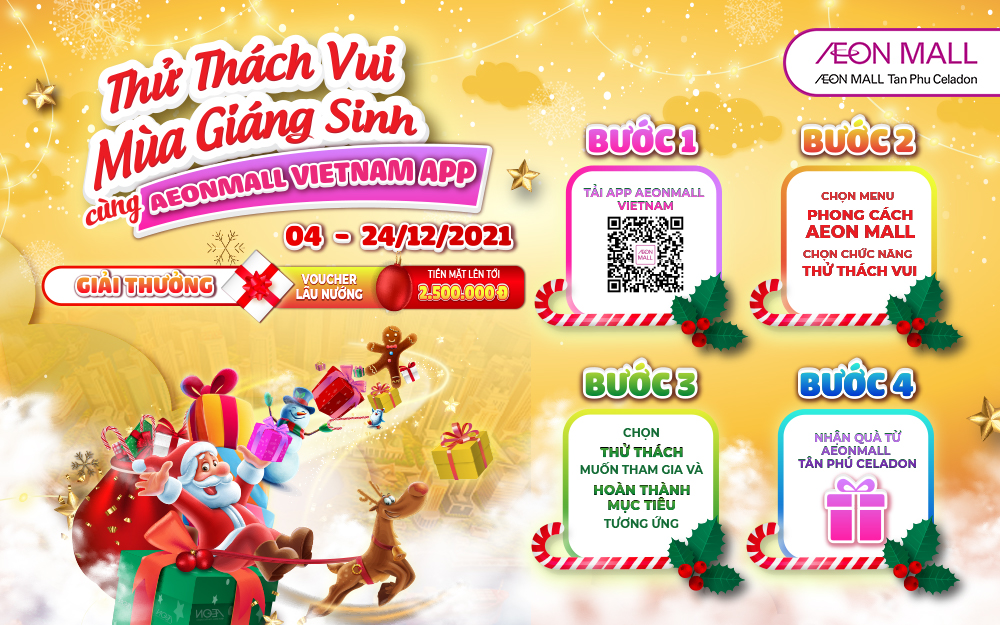 Time: December 4th – December 24th 2021
Challenge #1: Join Check-in for Christmas and win the chance to own a Gyu-Kaku e-voucher worth up to VND 2,000,000
Complete two simple objectives of the challenge:
Take a picture of your check-in at one of the 16 specified stores and upload it to the app
Review the store and took the photo and post on the function "AEON MALL Style" go to "Customer Review" and wait for approval
Prizes:
10 Lucky Prizes: Pair of e-vouchers worth VND 500,000 at Gyu-Kaku restaurant
01 Special Prize: Set of e-vouchers worth VND 2,000,000 at Gyu-Kaku restaurant
Criteria for special prize: Your review must be realistic and meaningful. Please take real pictures, suitable for Christmas theme (photos taken with friends/family is a bonus)
List of stores applying for the challenge:
GF: Kohnan, PNJ, Time Station Neo, Nguyen Kim
1F: Marc, Fahasa, Hoang Phuc, Lime Orange, Mat Viet
2F: JYSK, Rabity, Yamaha, tiNiWorld
3F: CGV, The Pizza Company, Gogi House, Kichi Kichi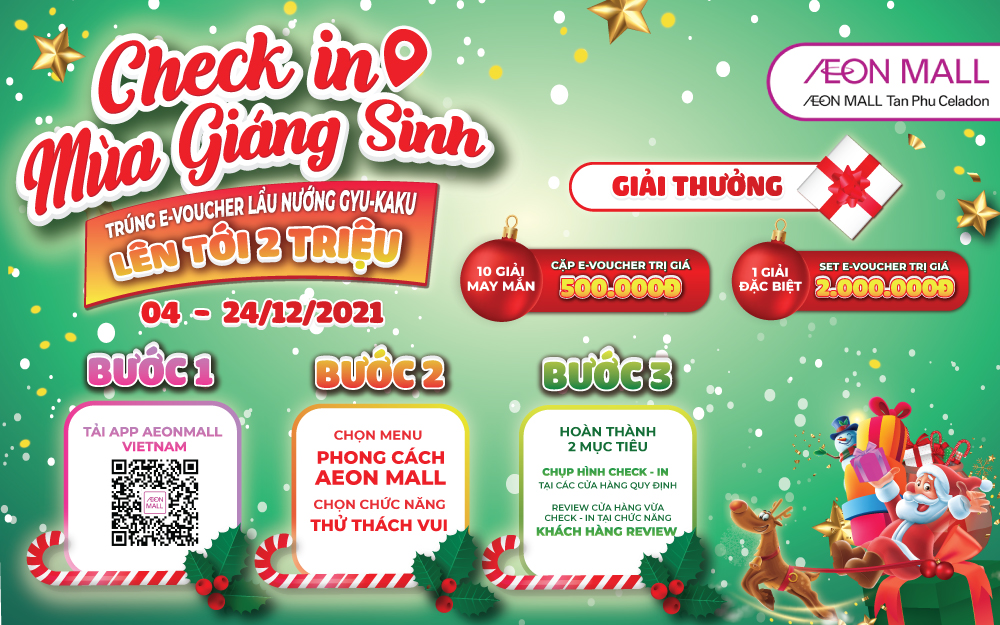 Challenge #2: Gather your Walking Squad and count the steps with lots of laughter and prizes worth up to VND 2,500,000
Ranking Criteria: Total steps of the group
First Prize: Cash worth of VND 2,500,000
Second Prize: Cash worth of VND 2,000,000
Third Prize: Cash worth of VND 1,500,000
Consolation: Cash worth of VND 500,000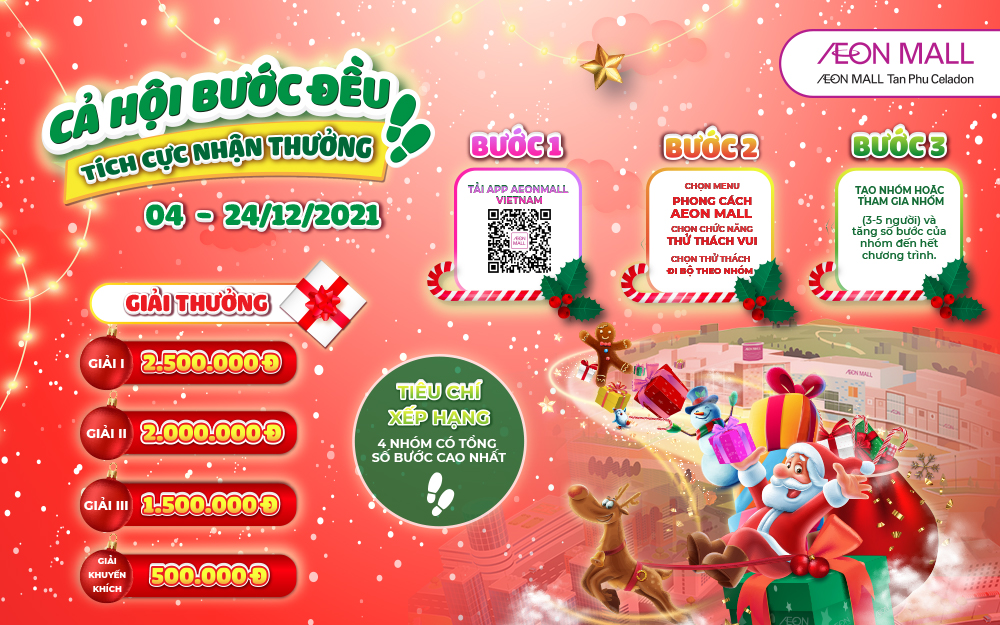 Notice:
Allow the application to record your steps at the "Step Count" function
The number of steps is calculated based on the "AEON MALL LifeStyle" function only in the "Step Counting" section.
Fill in your full name, current phone number & date of birth in the personal profile section for the organizer to contact when winning.
The list of winners will be announced on December 26th, 2021 on AEON MALL Tan Phu Celadon Facebook Fanpage.
Gifts will be given to the list of winners at the Information Counter at Gate D, Ground floor, AEON MALL Tan Phu Celadon. When you come to receive the prize, please bring your ID/Passport and the phone using to participate in the program.
Each account can only participate 1 time only. The organizer reserves the right to refuse fraudulent cases (if any).
Any questions, please contact Fanpage AEON MALL Tan Phu Celadon or Hotline 028 62887733 – press 129
In the event of a dispute, AEON MALL Tan Phu Celadon has the full right to decide for the final result.