1. What is your favorite part about working for AEONMALL Vietnam?
AEONMALL Vietnam is a big and professional cooperation with very clear vision and business strategy. We enjoy working here in AMVN with a belief that all of our effort together with other members in company shall contribute to the prosperity of locals and society.
2. What do you find the most challenging at AEONMALL Vietnam?
The working pace in AEONMALL Vietnam is very, very fast. We must always improve our time management skill to optimize work and ensure target achievement.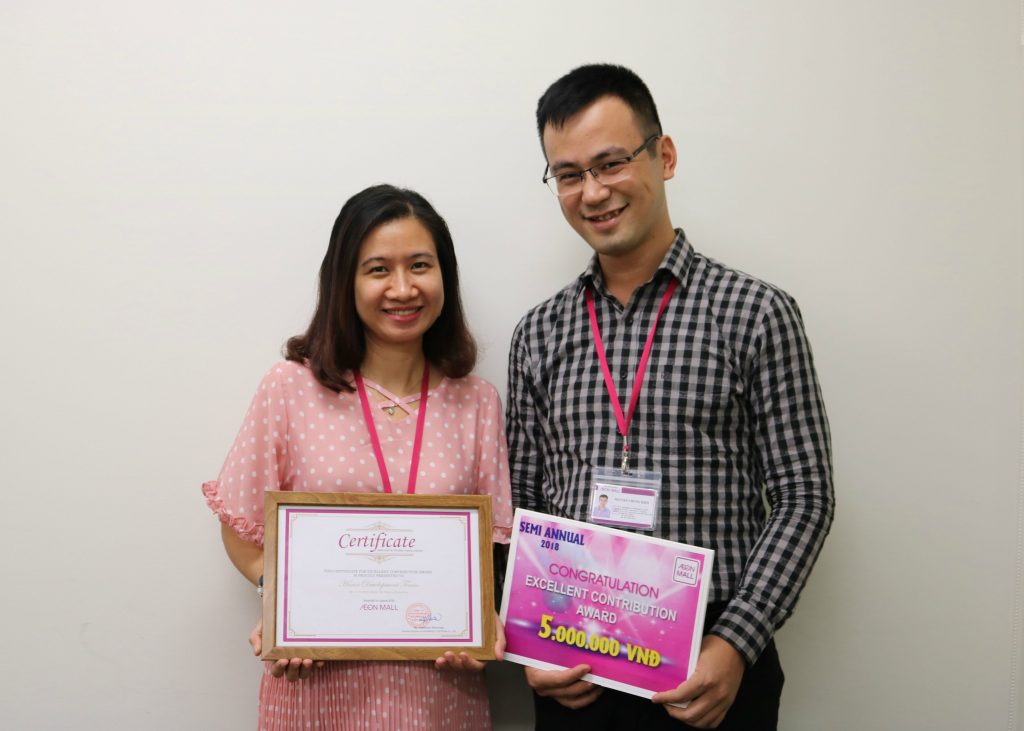 3. What was your biggest job or impressive work that you worked on until now?
Chung Kien: Because we are members of Development Department, we have worked on to announce all new locations of AEONMALL in Vietnam (Ha Dong District, Hai Phong City). And it's very fascinating. Each project has its specifics and bring out emotions in work.
Minh Nguyet: For me, in the beginning of project development, working with partners, stakeholders and reporting to AEONMALL in Japan the possibilities of each project is very interesting. Moreover, each project has different specifics, which is also the highlight that makes my work never become boring.
4. What have you gained from working at AEONMALL Vietnam?
Chung Kien: Cooperation with team and contribution to the decision of AEONMALL Vietnam for 02 new malls in Vietnam are milestones in my career.
Minh Nguyet: Working as a Director's assistant for 4 years has helped me understand the organization, regulations of the company. After working as a member Development Department, me and all members has successfully propose and announce two new AEONMALL projects in Vietnam, which was a great and important achievement in my career.
5. What is on your wish list for the next 3 years with AEONMALL Vietnam?
Chung Kien: I expect AEONMALL Vietnam can expand to at least 05 cities in Vietnam in the next 03 years. By that way, AEONMALL Vietnam can bring joy and happiness to more people in my country.
Minh Nguyet: In the next three years, I will strive to achieve the company's target then keep researching and propose more projects with eco-friendly concepts to contribute to local community and society.