1. What is your favorite part about working for AEONMALL Vietnam?
Thu Hien: Since I started working at AEONMALL Vietnam, I've felt the friendly working atmosphere. Not only my team's members but also other members, they always support and give me the chance for improve myself.
Y My: My favorite part of being a Leasing planning officer is I can support my colleagues and handle documents promptly when they need it.
Khanh Ngan: AEONMALL is a specialist in shopping mall development field. Every lesson and requirement from the company are very meaningful. For me, seeking out and achieving those are the most favorite part.
Kim Ngan: AEONMALL Vietnam has friendly working environment which is my most favorite part.
Mai Linh: AEONMALL is a great working environment that everyone is friendly and supportive. Moreover, the spirit & leadership of BOD inspires every members strongly since the day I started my job here.
2. What do you find the most challenging at AEONMALL Vietnam?
Thu Hien: One of my biggest challenges is trying to set the standard procedures for proceeding leasing documents smoothly. AEONMALL Vietnam is the big corporation, so my team always finds the way to make the procedures become more and more professional.
Y My: One of my big challenges is controlling budget and making useful reports, procedures.
Khanh Ngan: Together with the development of AEONMALL in Vietnam, I think the challenge has also increased by time and we have to upgrade gradually for not only multi-purposes but also for future scenarios. So that, each single simple works from every department have to be more professional and systemized that can be easily applied.
Kim Ngan: Every day, I have to work with a great amount of documents and workload. And as new assignments from Board of Directors, the target of this year is combined and built the strong Leasing Planning team with many diversified missions.
Mai Linh: The most challenging point about working at AEONMALL Vietnam is to create connection to every members, every departments and go forward together.
3. What has been your favorite AEONMALL at AEONMALL Vietnam since the beginning?
Thu Hien: I think for me it's AEON MALL Binh Tan. This is the biggest shopping center I've ever visited in Ho Chi Minh City.  My favorite part about this mall is the large food court area which was designed in the style of ancient streets in Vietnam. In addition, a part of the exterior is covered in green, it brings a sense of freshness to visitors.
Kim Ngan: For me, my favorite project would be AEON MALL Binh Tan because this project has the most systemize procedure of all.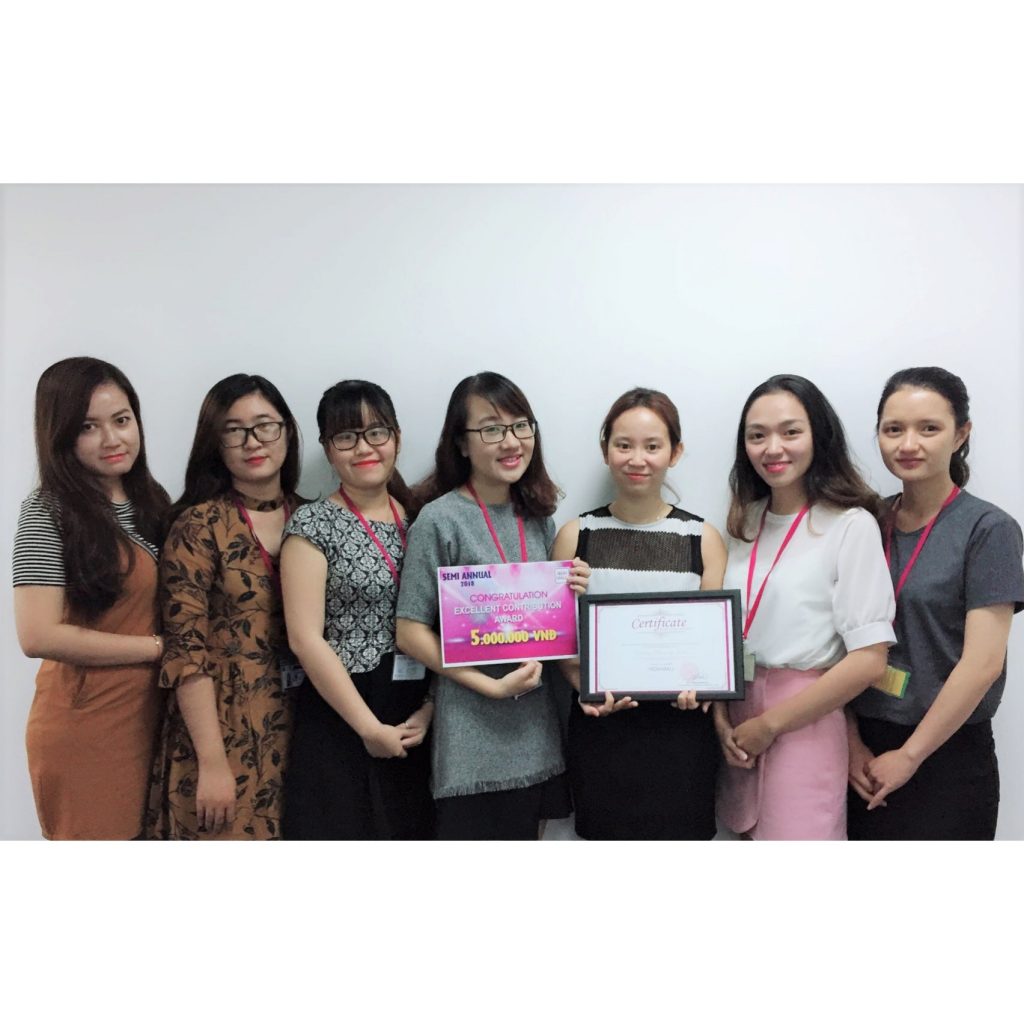 4. What was your biggest job or impressive work that you worked on until now?
Y My: My favorite project since the beginning is AEON MALL Tan Phu Celadon expansion. We are still on the way to complete the project and it is also my first project that I have chance to participate.
Khanh Ngan: I have joined AEONMALL since preparing for AEON MALL Binh Tan. Until now, everything still seems new and exciting for me to learn and work.
Mai Linh: AEON MALL Binh Duong Canary is quite a project that challenged our team the most. We only had 11 months for preparation after the first project, there was the time when the workload was doubled. But through this obstacle, we had the chance to strengthen our teamwork.
5. What have you gained from working at AEONMALL Vietnam?
Thu Hien: I was a newbie in the shopping mall field. After nearly 2 years working at AEONMALL Vietnam, I've learnt a lot. I know that to build up the bustling shopping malls, we need to go through many steps, we need the cooperation with many departments. The dynamic working environment gives me many useful knowledge.
Y My: I have acquired a variety of the new knowledge and skill since I started working at AEONMALL Vietnam, such as: using your initiative, communicating with co-workers and problem-solving.
Khanh Ngan: Inquiries and standards from work seems non-stop that helps me not only enhance my limited knowledge but also acquire more brand-new skills and abilities. Since working here, I have learned how to proceed a leasing contract in shortest time with limited mistakes, how to cooperate with colleague in most appropriate ways, and many other things.
Kim Ngan: Since December 2012, joining AEONMALL as an Officer, I have kept learning and trying my best to contribute to company. Until now, my biggest achievement is the Deputy Manager position. Moreover, from the beginning, the Leasing planning mission has not been clear with only 2 members. And now, with the instructions from Board of Directors, our team have had the remarkable development & improvement in structure and mission.
Mai Linh: I have learned a lot, specially the responsibility in work and getting along with colleagues in the workplace.
6. What is on your wish list for the next 3 years with AEONMALL Vietnam?
Thu Hien: In the next 3 years, I hope AEONMALL Vietnam can achieve the company's target to build up 20 shopping malls until 2025. And I'll try my best to become the outstanding staff who can contribute to the success of company.
Y My: My long-term goal is growing with AEONMALL Vietnam where I can learn, take on additional responsibilities, and contribute as much value as possible to my team. Once I gain more experience, I would like to have the opportunity to move on to be a leader. However, at present, I am very excited about focusing on and applying my skills in my daily task.
Kim Ngan: For next 3 years, I hope AEONMALL Vietnam can improve, satisfy and approach every Vietnamese with the plan to build 20 malls until 2025.
Mai Linh: I wish in next 3 years, AEONMALL Vietnam will come to Vietnamese people's mind as the best life design developer.