1. What is your favorite part about working for AEONMALL Vietnam?
Ngoc Anh: I like the friendly working environment and corporation between departments. Specially, the team building and gala dinner every year is a good chance for all employees enjoy good times together.
Carol Kim: My favorite part of working in AEONMALL is the working attitude of Japanese. They are tough, detailed and dedicate in any circumstances.
Thanh Quyen: My colleagues become close friends and the good advisers. And the friendly working environment brings me comfortable feeling during working hour.
Hoang Tuan: Being the leader of Leading Replacement Team is my most favorite part.
Thao Vy: The young and energetic environment of AEONMALL always cheers me up and encourages me to work properly.
Thanh Nhat: Although I've just spent over 2 years working at AEONMALL Vietnam, the working environment here is my favorite part. My teammates as well as other colleagues from different departments always support me, I can express and raise my opinion with confidence and enjoy learning new things from everyone.
2. What do you find the most challenging at AEONMALL Vietnam?
Ngoc Anh: Personal, the most challenging is when we work together in one project, every team member have to have the teamwork spirit to make everything smoothly to meet the deadline.
Carol Kim: I think the most challenging thing is I always have to improve myself every year to achieve good working result.
Thanh Quyen: I've worked in AEONMALL with officer position and this year I was promoted to Deputy Manager, in charge 2 categories with 5 staffs, with the limit experience about management, it's very challenging to me to become the good leader. I need to study more to improve my skills, especially the management and the leadership skills.
Hoang Tuan: The most challenging at AEONMALL Vietnam to me is completing the first AEONMALL successfully – opening AEON MALL Tan Phu Celadon.
Huynh Anh: I have to enhance self-ability to catch the fast growth of the company and cooperate well with other members, other departments to achieve the indicated target.
Thao Vy: AEONMALL is now developing very fast to build 20 shopping malls until 2025. If I don't continue learning and developing my skills to catch up the speed, I won't be able to contribute new ideas for upcoming projects.
Thanh Nhat: I am working in Leasing department, therefore my work target is to complete all AEONMALL's projects with good-quality tenants, attract a lot of customers coming to our malls. The retail market in Vietnam has limited famous international brands in SSE category, so for me, to bring good quality, popular tenants in SSE category to cooperate with AEONMALL is my challenge.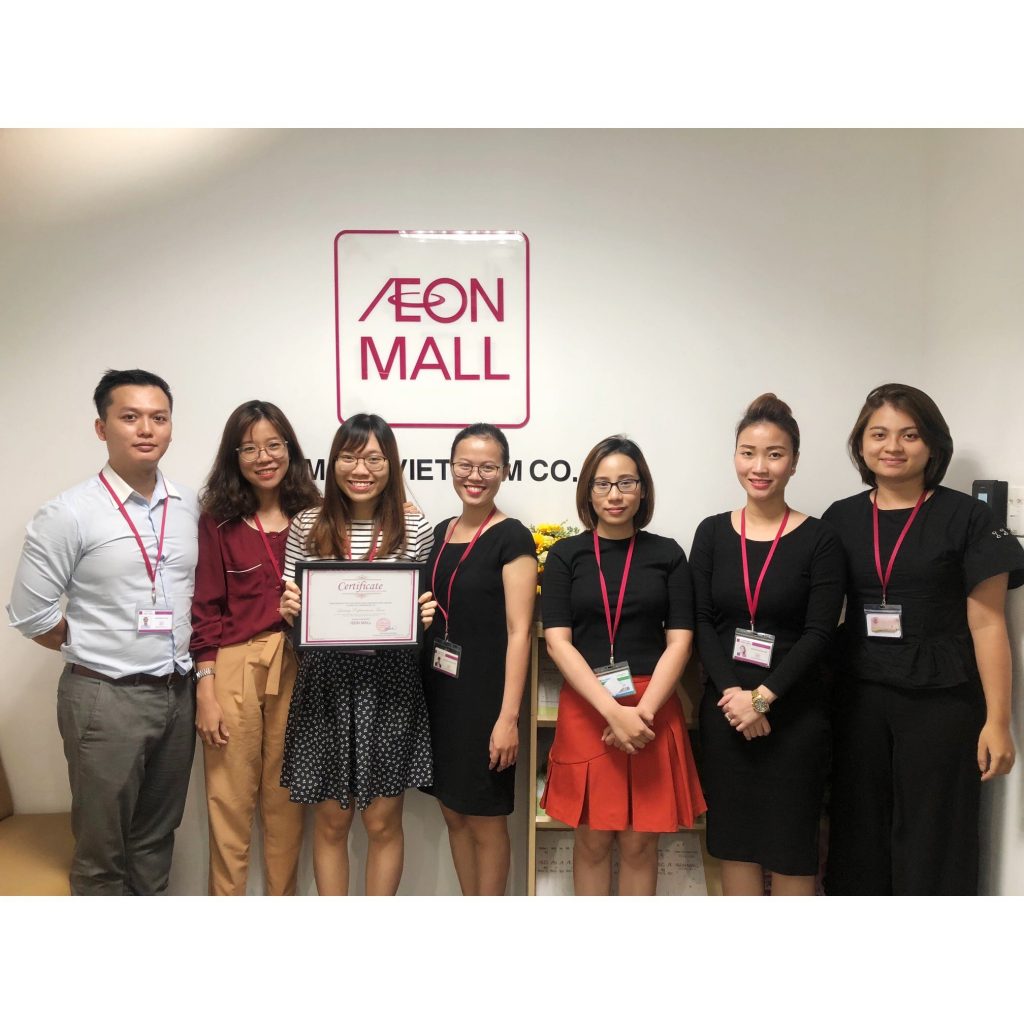 3. What was your biggest job or impressive work that you worked on until now?
Ngoc Anh: I've joined AEONMALL for 1 year, and the project that I have chance to follow up from beginning is AEON MALL Tan Phu Celadon expansion. Re-zoning, relocating tenant to different location is very challenging, and this project will be bring AEONMALL to the next level.
Thanh Quyen: Together with our company, Leasing Team contributed to the successful of opening AEON MALL Tan Phu Celadon, AEON MALL Binh Duong Canary, AEON MALL Binh Tan with the occupied more than 95% during opening period time; get good result in replacement and renovation of AEON MALL Tan Phu Celadon, AEON MALL Binh Duong Canary.
Huynh Anh: I was a part of Sales team in AEON MALL Binh Duong in the beginning, put strong efforts to corporate with other teams to push sales growth rate increased dramatically from 2014 to 2016.
Thanh Nhat: My working history in AEONMALL is not too long, until now, AEON MALL Binh Duong Canary renovation is my impressive work. My team made renovation plan, found new good tenants, negotiated with continued tenants. And the result is impressive increment in sales at AEON MALL Binh Duong Canary.
4. What have you gained from working at AEONMALL Vietnam?
Ngoc Anh: I've learnt how to control pressure, arrange timeline well and improve my teamwork spirit. Furthermore, I have chance to meet and work with many local and international brands.
Carol Kim: After working at AEONMALL Vietnam, I gained more patience and sophistication.
Huynh Anh: Working at AEONMALL Vietnam, I have gained and improved my teamwork spirit, leadership and critical thinking.
Thao Vy: AEONMALL Vietnam gives me a lot of knowledge for my career about leasing progress and retail market. Moreover, I have improved my working skills and professional attitude at work.
Thanh Nhat: Working at AEONMALL helps me to improve myself a lot.  I learn to set "team" goals and it allows people working together in smaller groups to accomplish team tasks. My negotiation skills improved a lot thanks to leasing tasks. Other than that, my job helps me to widen my social networking, and I also get used to making decision which helps me to prepare for management or leadership position in the future.
5. What is on your wish list for the next 3 years with AEONMALL Vietnam?
Ngoc Anh: In the next 3 years, I will continue to develop myself, improve needed skills to adapt with the growth of company. And I hope to have chance to visit many countries to learn and improve my knowledge about shopping mall field.
Carol Kim: I hope I could contribute as much as I can not only in SSE category but also in other categories which enable my knowledge become more diversity.
Thanh Quyen: I hope that I would have a chance to visit AEONMALLs in Asia, especially AEONMALLs in Japan to understand more about the business of AEONMALL.
Thao Vy: For the next 3 years, I plan to gain more experience and have promotion in my career path. I wish AEONMALL would develop more exciting malls and come to many provinces across Vietnam.
Thanh Nhat: For the next 3 years, I would love to see myself have big contribution in more and more AEONMALL projects in Vietnam with Leasing department.