Exciting Tapu Cine activations: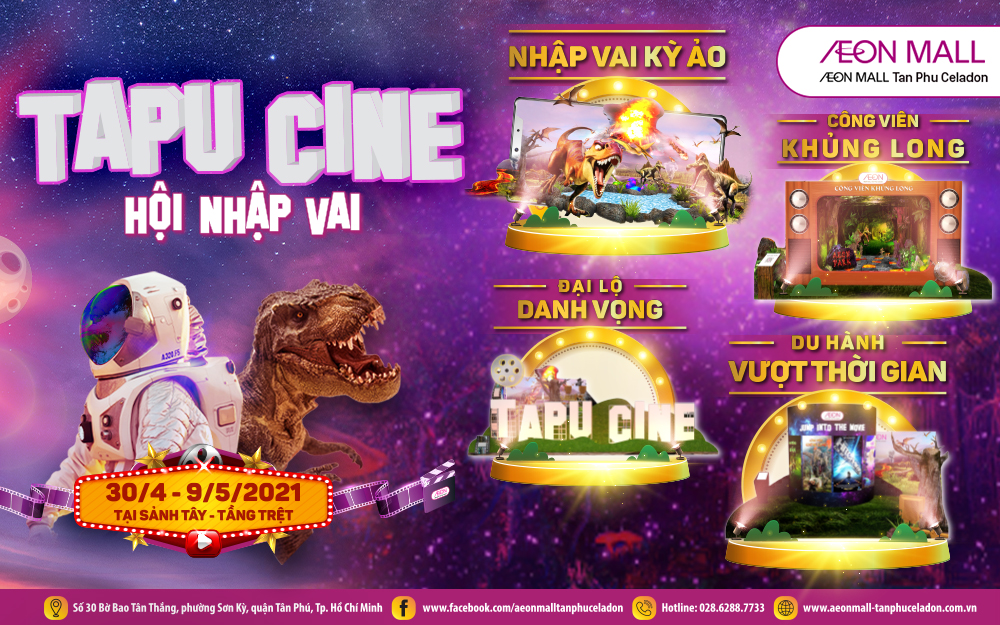 Location: West Court – Ground floor AEON MALL Tan Phu Celadon
Time: 30th April –9th May, 2021
Main activities:

Fantasy role-playing: Experience AR technology for the first time at AEON MALL Tan Phu Celadon with a prehistoric role-playing activity where you can see the multi-dinosaurs firsthand with very vivid dimension.
Dinosaur Park: Explore the space of the famous "Dinosaur Park" with QR code scanning to see dinosaur characters coming out of the Stone Age.
Jump out of the Time Travel: Become the main character in your favorite movie with a jump-and-jump game in front of the chosen movie scene. You will be able to review and select your favorite "acting" moment to print/ save files as a memory.
Avenue of Fame: Feel free to take pictures & keep your photos at the unique 1-0-2 Tapu Cine studio.
Explore the attractive "Starry Tapu Cine" with booming events
Tapu Cine – a completely new & unique movie space – where you can freely play role of a professional and special star in the film themes that you desire. Moreover, it is impossible not to mention the series of special events (taking place every weekend from April 30 to May 9, 2021).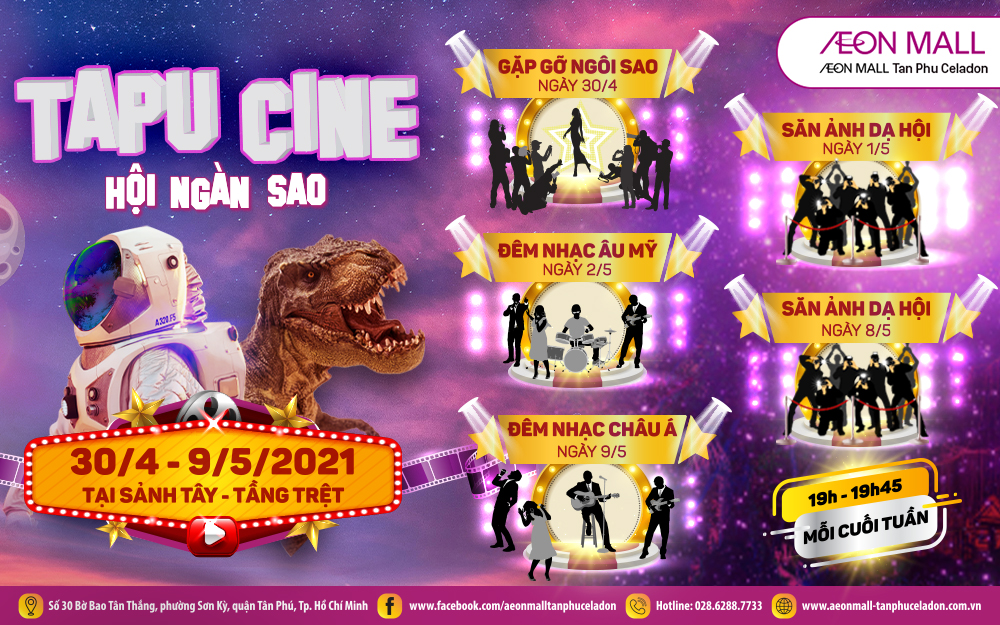 Location: West Court – Ground floor AEON MALL Tan Phu Celadon
Time: 30th April –9th May, 2021
Main agendas:

Big Star Parade (April 30, 2021): Meet the famous Superheroes characters through cosplay and epic parades
Paparazzi dance (May 1, 2021): Enjoy a unique & novel paparazzi dance like a true movie star
US – UK OST (May 2, 2021): Get booming with Fire Band and popular European and American soundtrack songs
Paparazzi prom (May 8, 2021): Moving with the fun & entertaining dance moves from professional paparazzi
Asian OST (May 9, 2021): Immerse yourself in the melodious Asian soundtracks with Lalaband
Pickup your lucky draw and get a chance of superb gift at Tapu Cine
On the occasion of this Tapu Cine launching, AEON MALL Tan Phu Celadon will also bring you the lucky draw program with very attractive prizes.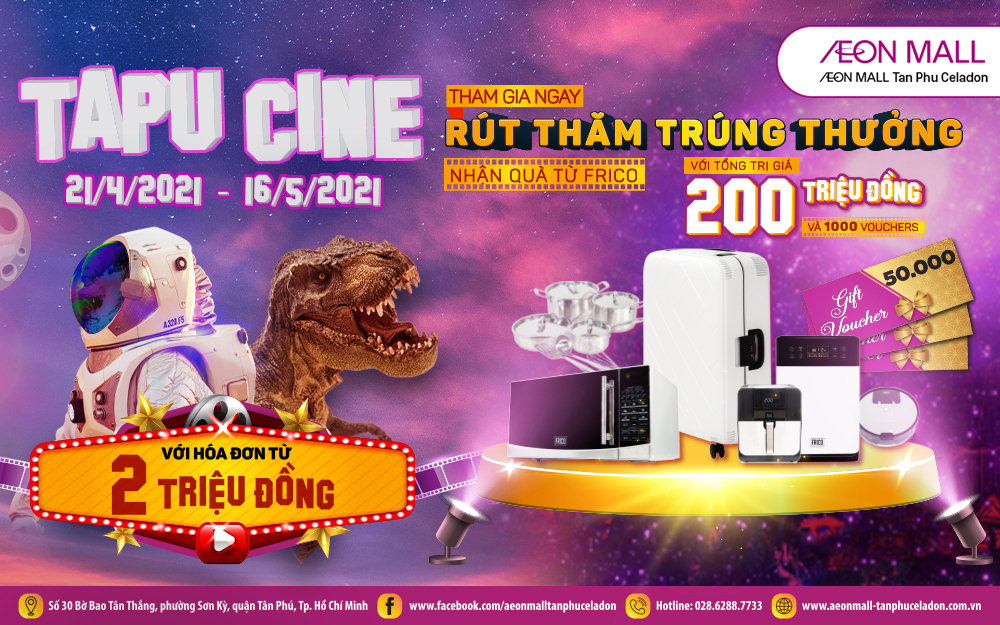 Specifically, from 21st April to 16th May 2021, with each bill worth from VND 2 million when shopping at AEON MALL Tan Phu Celadon, customers will receive 01 lucky draw and chances to win some attractive gifts as follows:
Frico high-end home appliances:

1 Microwave, Model FC – MW131
2 Rococlean, Model FC – VC145
2 Cookware Set, Model MV9201
3 Frico Travel Suitcase
6 Air Purifier, Model FC – AP142
7 Air Fryer

1000 gift vouchers worth VND 50,000 for shopping at AEON Supermarket
The total prize value of the Tapu Cine program will be worth up to 200 million VND, so you definitely will not want to miss it! Let's come to AEON MALL Tan Phu Celadon to see how "exclusive" our Tapu Cine can be.
>>> See more of other promotion programs here.
*Terms and conditions:
From April 21 to May 3: Applied for supermarket invoice only when accompanied with invoice at AEON MALL Tan Phu Celadon or bill at AEON MALL Tan Phu Celadon Shopping Mall
From May 4 – May 16: Applicable to cumulative invoices during the day, not applicable to shopping bills at AEON Supermarket and Department Store (Glam Beautique, Petemo, AEON Bike, Garden Terrace & Daiso).
Do not accept split invoices in any form.
Each customer can only receive up to 01 gift and does not apply to other promotions.
Customers please bring products or receipts/ ID cards for products that are services when exchanging gifts.
Staff working at AEON MALL Tan Phu Celadon are not allowed to join the program.
The management board has the right to refuse invalid invoices.
The number of gifts is limited, thus the program may end sooner than expected.
Any questions please contact Customer Information Counter at D Gate – Ground floor AEON MALL Tan Phu Celadon or hotline 028 6288 77 33 (ext: 129).