In this event, a hundred of brands in AEON MALL Binh Tan (Restaurant, Food, Fashion – Accessories, Entertainment…) are all sale up to 50%++ from 25th April to 1st May.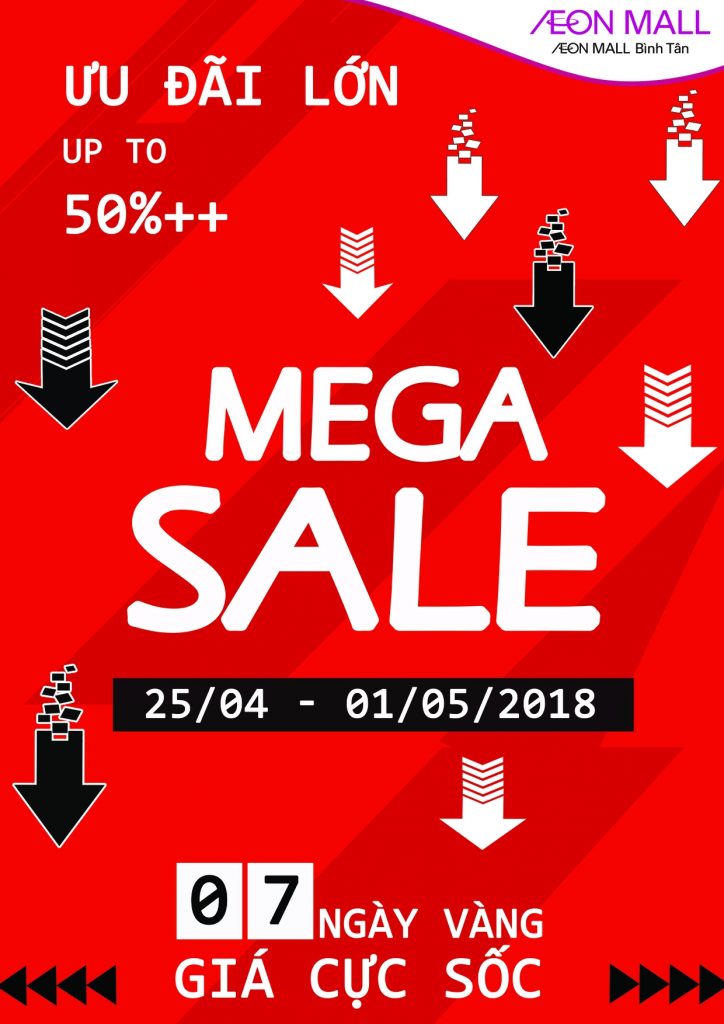 Likewise Black Friday event, Mega Sale is the one of biggest sale events every year that AEON MALL Binh Tan organizes to bring more benefits for customer. Bringing new shopping experience to customer with the best affordable price is the purpose of this event. There are a lot of famous brands join in this big event which promotion sale up to 50% ++ was offered:
Fashion (Canifa, Couple TX, Ninh khương, Giordano, G2000,…);
Accessories (Adidas, Nike, Lemino, Revlon, Samsonite,…);
Restaurant (Alfresco, Hutong, Pizza Hut, ShabuYa, Wrap & Roll,…)
Household appliance (Lock & lock, Modern Life, OKIA, Towel Museum,…)
And the popular playground for kids: tiNi World.
Besides, with every shopping and services bill worth from 1.800.000 VND at AEON MALL Binh Tan during the event, customers will receive a convenient AEON MALL raincoat.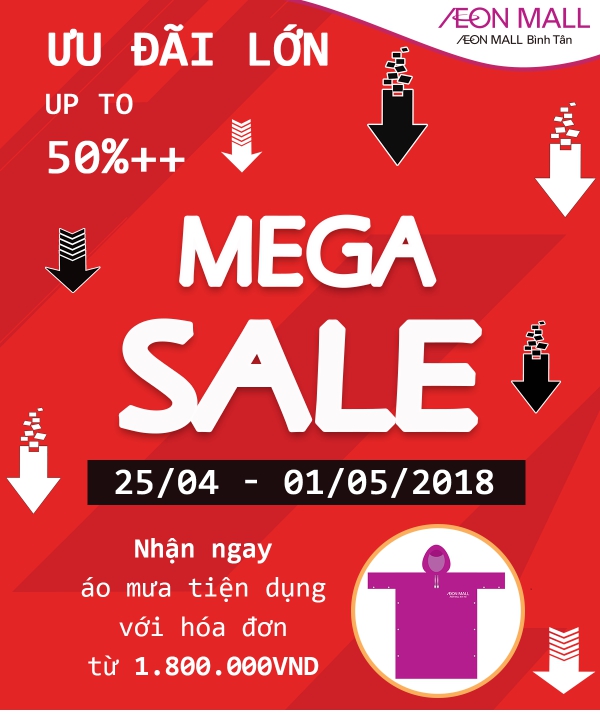 Specially, AEON MALL Binh Tan is going to open from 9:00am to 22:00pm on the holiday (25th April, 30th April and 1st May) to serve all customers.
Don't wait anymore, let's come to AEON MALL Binh Tan and have a great shopping experience with Mega Sale event.
Get more detailed information on our website: http://aeonmall-binhtan.com.vn/ or our official fanpage at: https://www.facebook.com/aeonmallbinhtan.vn/