AEON MALL Binh Duong Canary celebrate Smile Summer Campaign with many exciting and attractive activities and events.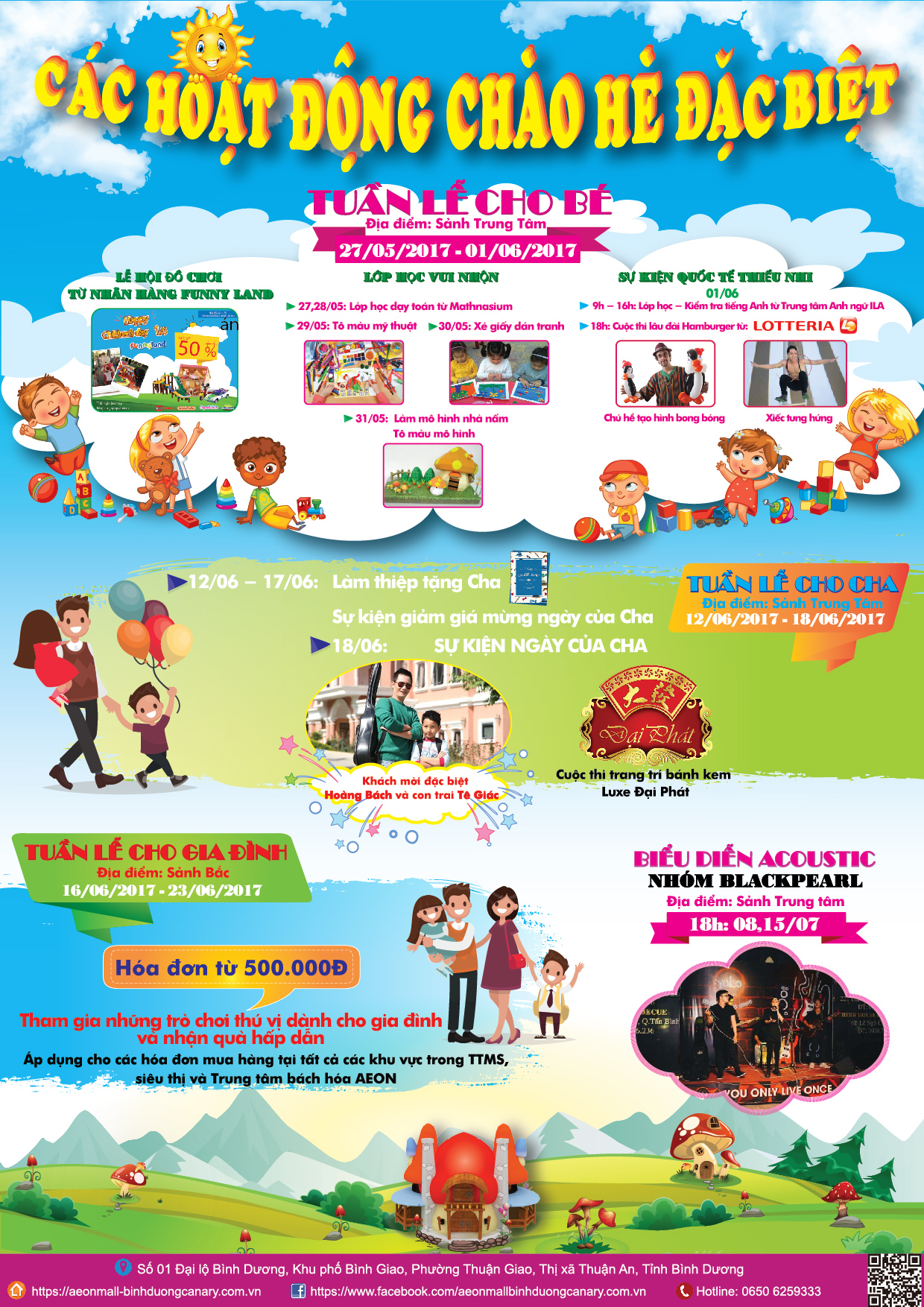 ACTIVITIES FOR KIDS (27 May – 01 Jun)
27/05 – 01/06: FunnyLand Toy Festival with many activities for kids in Amazing Classess
27-28/05: Math class from Mathnasium
29/05: Painting and Art class
30/05: Craft class
31/05: Making and painting Mushroom House
01/06: English Test from ILA English Center
International  Children's Day 1st June: "Hamburger Castle" contest from Lotteria with an attractive show: making shaped balloons by clown, juggling.
ACTIVITIES FOR FATHER (12 Jun – 18 Jun)
12/06 – 18/06: Making gift cards for Father, Sales event in Center court and gifts for customers with bills from VND 500,000
18/06: Celebrate Father's Day event with singer Hoang Bach and his son; join in the cake decoration contest organized by Luxe Dai Phat.
ACTIVITIES FOR FAMILY (16 Jun – 23 Jun)
Exciting game and activities for family at North Court
Special gifts for customers with bills from VND 500,000 – apply for purchased bills at shopping malls, supermarket
ACOUSTIC AT WEEKEND IN JULY
08 and 09 July at 6pm: Mini acoustic show with BlackPearl at Center Court
With many attractive activities and events in Smile Summer campaign, customers can also join a special promotion when shopping at AEON MALL Binh Duong Canary.
From 27 May to 16 July:
with bill from VND 1,200,000 and less than VND 5,000,000, customers will get 01 raincoat or 01 eco-friendly shopping bag.
with bill from VND 5,000,000, customer will get 01 AEON MALL thermo bottle.
On Father's Day event, from 12 June to 18 June, the promotion is applied for tenants in Center Court with bills from VND 500,000, customers have a chance to join the lucky draw to get 01 AEON MALL mug or PNC voucher worth VND 50,000.
Note:
01 customer/01 bill receives maximum 01 gift per day.
Gifts are limited, the promotion can be end earlier than expected if the gifts are out-of-stock.
Bills per day can be combined and the promotion is not applied for the purchase from AEON supermarket and GMSs.
AEON MALL staffs, AEON staffs cannot join the promotion.
Bills that are not followed the requirements can be rejected by AEON MALL's organizers.
For any concerns about the events and promotion, please contact our Information Hall in Central Court or hotline 0650.625.9333 (Ext: 119)