The splendid Christmas decorations at the center court are always a spiritual gift for the whole family when shopping at AEON MALL Binh Tan, you will admire the scene of 3 tall pine trees made stand out with shimmering, sparkling lights running along the trunk of the tree along with the characteristic image of gifts and snowmen placed around. The highlight of the decor this time is the Santa's office in the trunk of the pine tree in the middle – promising unique Christmas shoots. Let's take a look at the decoration's images at AEON MALL Binh Tan!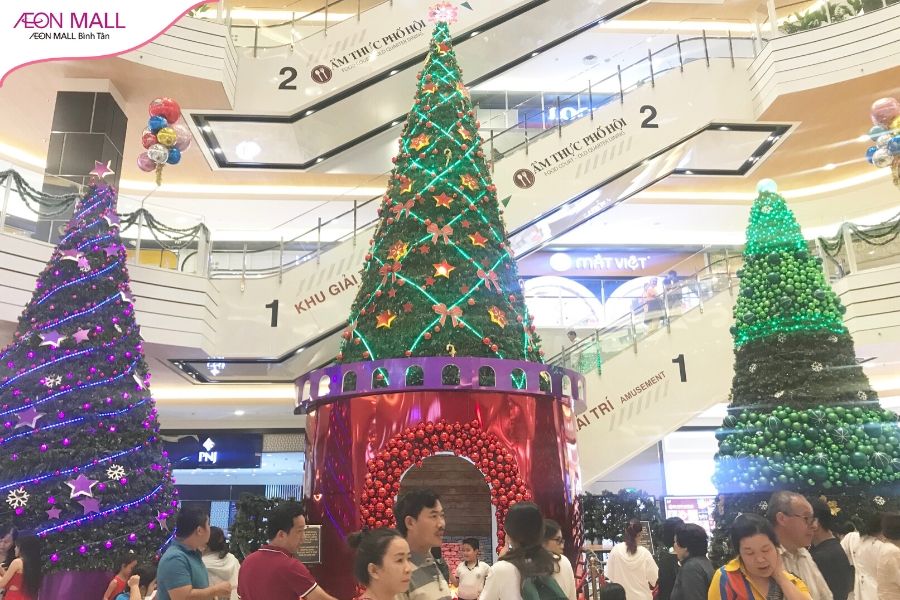 Besides, there are many interesting activities for children as well as an opportunity for the whole family to have lovely memories together at the AEON MALL Binh Tan. What activities are organized for the Christmas season at AEON MALL Binh Tan?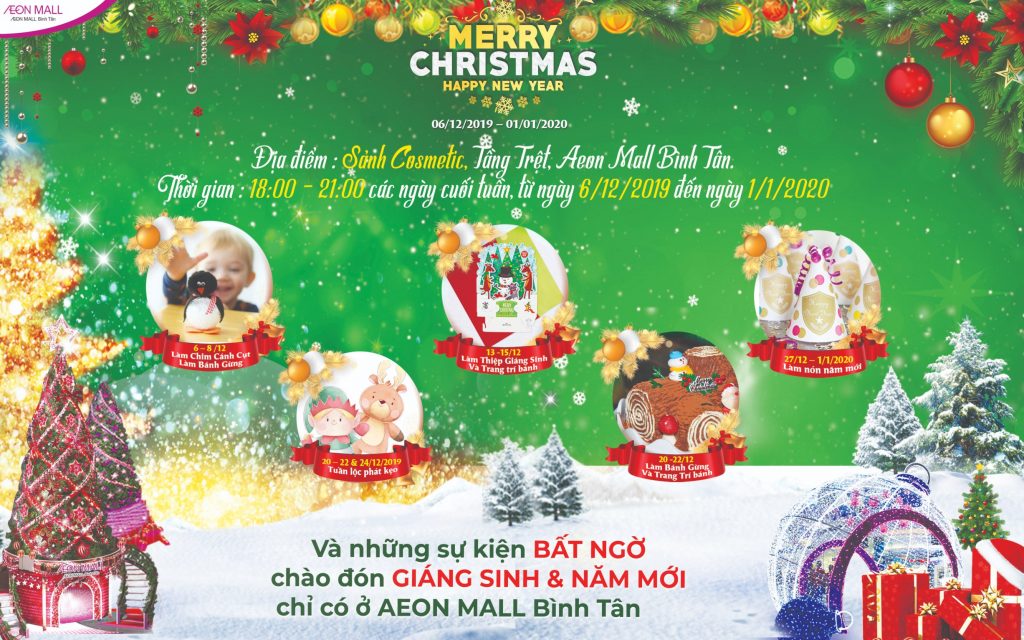 Make penguins & gingerbread from 6th – 8th December.
Christmas card design and cake decoration from 13th – 15th December.
Making gingerbread and decorating cakes from 20th to 22nd December.
Receiving candies from friendly reindeer from December 27 to December 22.
Decorate new year hats from December 22, 2019 – January 1, 2020.
All activities take place at 18:00 at Cosme Court, Ground Floor, AEON MALL Binh Tan.
If you have intention to prepare for the upcoming holidays, the attractive promotions from the store at AEON MALL Binh Tan will be a smart and convenient choice for you. Especially, when shopping at AEON MALL Binh Tan, there happens the gift-giving program and lucky draw for accumulated invoice of VND 2,000,000 from December 2, 2019 to January 5, 2020. Participating in the lucky draw, you will have the opportunity to receive extremely valuable gifts such as:
1 first prize: 1 Yamaha Grande Deluxe motorbike
1 second prize: 1 high-class massage chair
1 third prize: 1 refrigerator Toshiba
1 fourth prize: 1 TV
1 fifth prize: 1 washing machine
1 sixth prize: 1 air purifier
4 consolation prizes: each prize receiving 1 head massage pillow.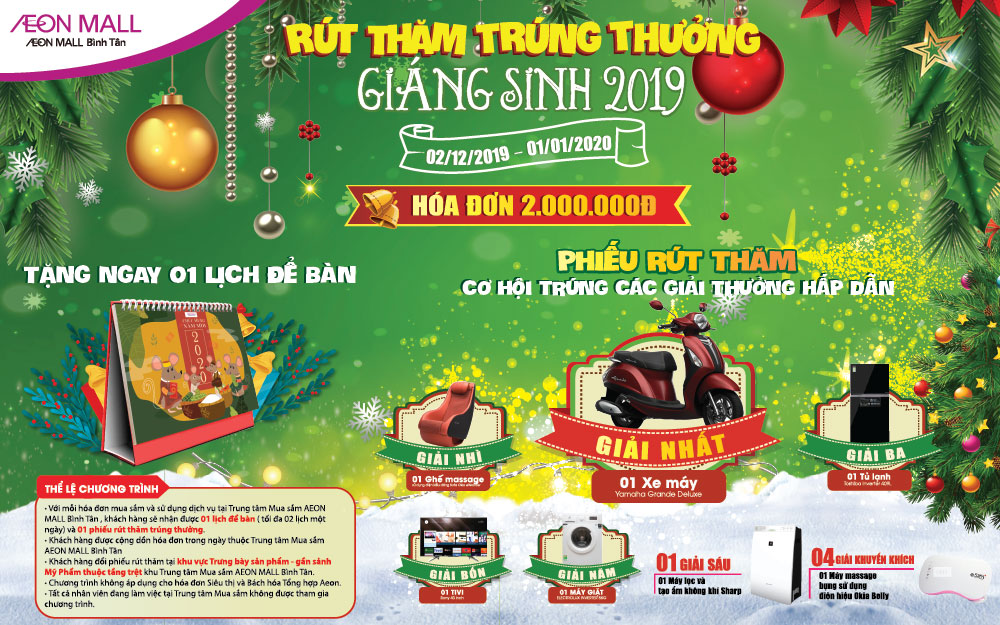 Everyone, please bring the cumulative bill worth VND 2,000,000 to the Gift Exchanging Area at the West Hall of AEON MALL Binh Tan in exchange for a lucky combo of 1 table schedule, 2 voucher from F&B store and 1 lucky draw ticket!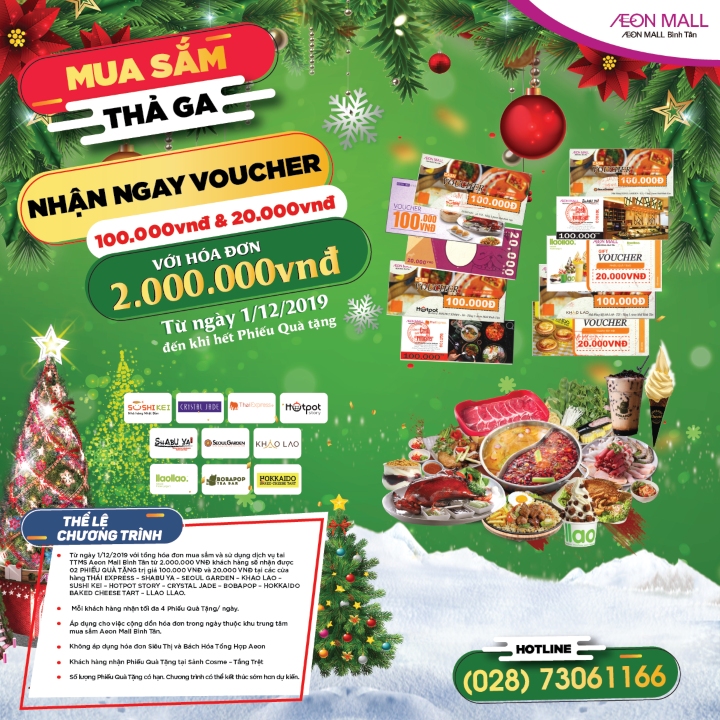 And do not forget to follow Zalo AEON MALL Binh Tan. Many vouchers from famous shops such as Anta Kids, Crocs, New Balance, Huy Thanh Jewelry are waiting for you!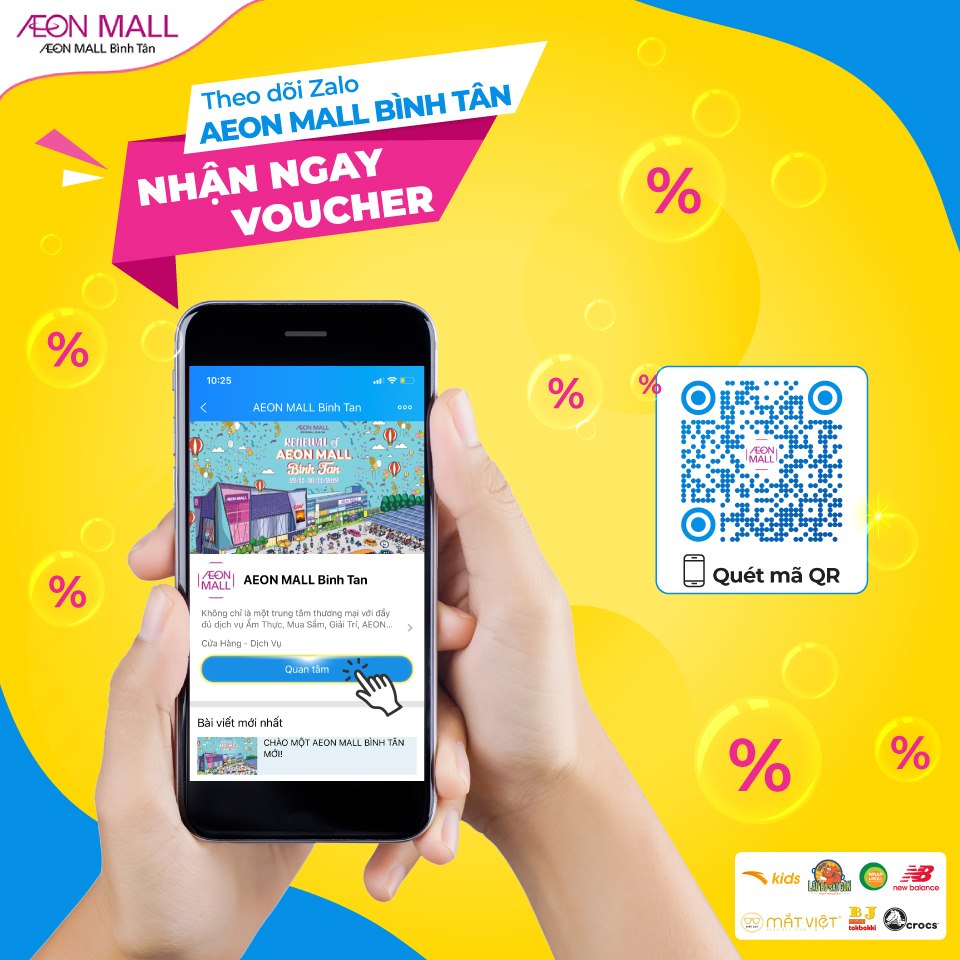 A lot of exciting activities for Christmas 2019 at AEON MALL Binh Tan, your family make a schedule to come to have fun, take pictures with Christmas decorations and together create lots of memorable memories at AEON MALL Binh Tan!