AEONMALL VIETNAM Co., Ltd. would like to send our best regards to customers and partners for your trust and support during the time.
Regarding the incident of aggressive crowd at the parking area of AEON MALL Tan Phu Celadon on Sunday, 6th December 2020, AEONMALL Vietnam would like to send our sincerest apology to customers, especially, to whom were affected directly by the incident in the evening of 6th December for the inconveniences and uncomfortable shopping experience.
AEONMALL Vietnam always strives to fulfill our commitment to ensure customers safety, provide customers with assurance and trust.
We have already enhanced the secureness of the area at AEONMALL Tan Phu Celadon cooperating with related authorities so that the shopping mall is still operated normally with safety.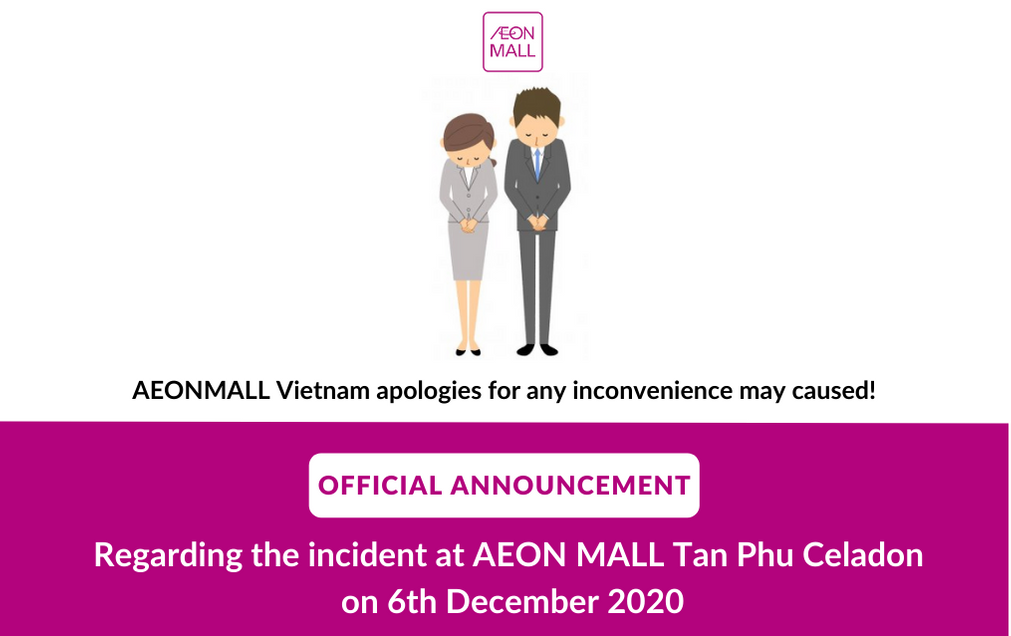 AEONMALL Vietnam Co., Ltd would like to inform widely to our customers and partners about this situation and we look forward to receiving your understanding of this inconvenience. We will continue to act and coordinate with the authorities to ensure the safety for all customers as well as employees working at AEON MALLs and AEONMALL Vietnam.
With best regards.