Childhood summertime associates with sudden rains passed by playing naughtily in a humid evening and gentle raindrops falling on leaves in front of old-time classes. After school, the boys rush straight to the video game store, obviously not forgetting to tease and poke fun at the girls in a small eatery nearby. Into the sunset, students drive bikes back to their houses and their shadows spread across on the familiar road. Those lovely images will be reproduced in the lively decoration by AEON MALL Tan Phu Celadon. Of course, there's also an indispensable memory at the kitchen where Mom put chopsticks in the "holy" wooden plate-rack, the knock-knock sound when Dad on the top of the TV put in the middle of the living room, and even the image of the little sister running home to us, excitingly showing some comic books she has just rented out from the bookstore…
Let's come to AEON MALL Tan Phu Celadon with your family from April 20 to May 13, 2018, taking some photos with familiar objects and tell your children stories about the "tough childhood" of you!
Many attractive activities reminding you of your childhood
From April 25 to May 01, with every shopping bill worth from 500,000VND, customers will have chance to get 01 childhood candy or 01 ticket to play a familiar game.
Memory Tree at SC01 space from April 25 to May 01 is like a special childhood story book that makes from your pictures. Let's join us by commenting your picture on our official facebook fanpage AEON MALL Tan Phu Celadon.
On Mother's Day, there will be a photo booth that reminds Mom about her childhood, when she was a little lovely girl. Take photo and follow our PG's guides to get gift voucher from Belle Lumiere Spa. This activity takes place on 04 – 06/05 and 11 – 13/05 at F02 space.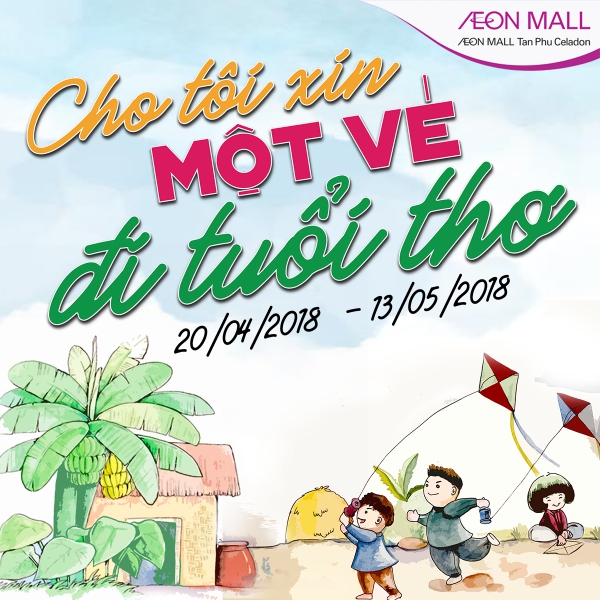 Sale off up tp 50%++ and many other promotions
From April 25 to May 01, 2018, Mega Sale Fair takes place at SC01 and SC04 space.
From April 20 to May 13,
– With every shopping bill worth from 2,000,000 VND, you will get 01 colorful passport cover.
– With every shopping bill worth from 6,000,000 VND, you will get 01 personal travel bag.
Special gift from 24 – 26/04:
– Sale upto 50%++ off on many brands.
– You will get 01 bonus gift – a highlighter pen for every shopping bill worth from 2,000,000 VND.
*** Terms and condition:
Applied for accumulated bills in the same day. Do not apply for purchased bills at AEON supermarket and AEON GMS area.
Each customer get maximum 01 gift per day and do not apply to other promotions.
Please kindly present the products (or ID card with service product) to receive promotion gift.
AEON, AEONMALL staffs, tenants' staffs cannot participate this promotion.
AEON MALL Tan Phu Celadon management has the right to refuse invalid invoices.
The amount of gifts is limited so the program may end earlier than estimated.
For more information, please contact the Information Counter.
Operation hours for Hung King commemoration day, Liberation day (30/04) & International labor day (01/05) in 2018 at AEON MALL Tan Phu Celadon is from 9:00 to 22:00.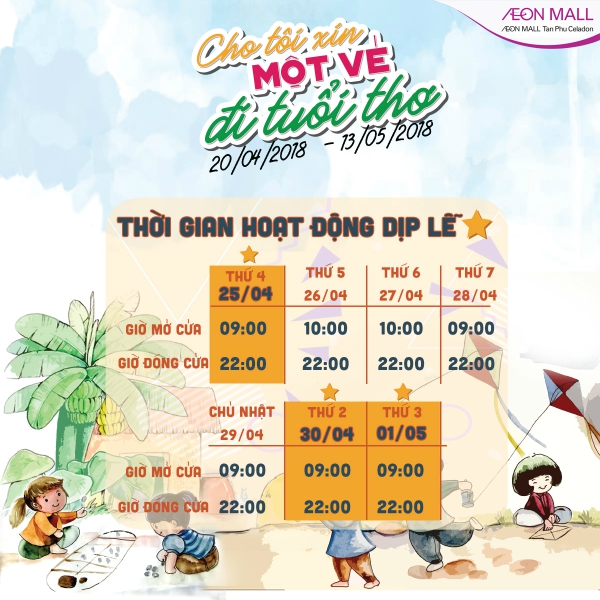 Get more detailed information on our website: http://aeonmall-tanphuceladon.com.vn/ or our official fanpage at: https://www.facebook.com/aeonmalltanphuceladon/