Shocking sale, rocking "Black Friday" season
Only three days from November 27th – 29th, 2020, there is the Jackpot Lucky draw program taking place at Square Center – Ground floor. With every shopping bill worth from VND 2,000,000 in both Supermarket and Shopping Mall areas, customers will be able to participate in the program with a 100% chance to win one of these below valuable presents:
AEON vouchers worth VND 9,900,000
Philips HR1836 Fruit juicer
Magic 6L AC-110 Air fryer
Xiaomi Robotic Vacuum Cleaner
Toshiba 1.8L RC-18NMFVN(WT) Cooker
Philips 1L HD3030 Cooker
Panasonic MX-GS1WRA Hand Blender
Philips GC2676 Steam Iron
Goldsun Induction Cooker GPI-T83
AEON vouchers shopping at Supermarket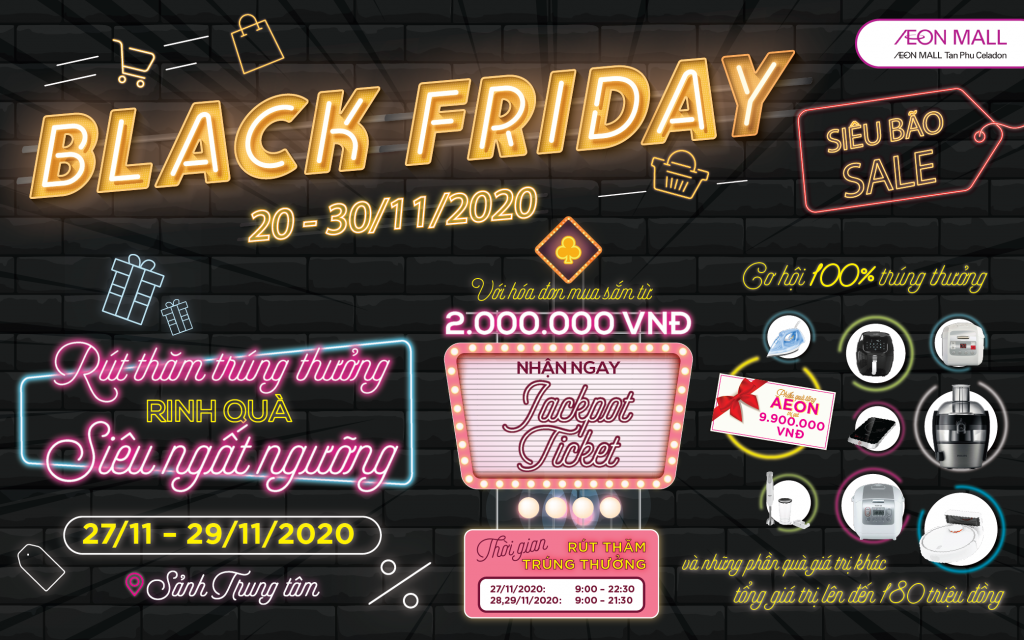 Time for Jackpot Lucky draw program:
November 27th, 2020: From 09:00 – 22:30
November 28-29th, 2020: From 09:00 – 21:30
Total prize value of this year's Black Friday season at AEON MALL Tan Phu Celadon will be up to VND 180 million. What are you waiting for? Let's explore all stores at AEON MALL Tan Phu Celadon!
>>> See more promotions during Black Friday season here.
 *Terms & conditions:
Applicable to cumulative invoices which are from Shopping Mall area or Supermarket combined with Shopping Mall areas during the day.
Do not accept splitting invoices in any form.
Each customer can only participate in the lucky draw program once a day.
Customers please bring products or receipts/ ID cards for products that are services when exchanging gifts.
Staff working at AEON MALL Tan Phu Celadon are not allowed to join the program.
The management board has the right to refuse invalid invoices.
Any questions please contact Customer Information Counter at Center Court – Ground floor AEON MALL Tan Phu Celadon or hotline 028 6288 77 33 ext 129.
Unbelievable deals from "Super Sale Storm"
Countless shocking promotion programs will boom during November 20th – 30th, let's activate your "shopping mode" from today!
The "Super Sale Storm" event: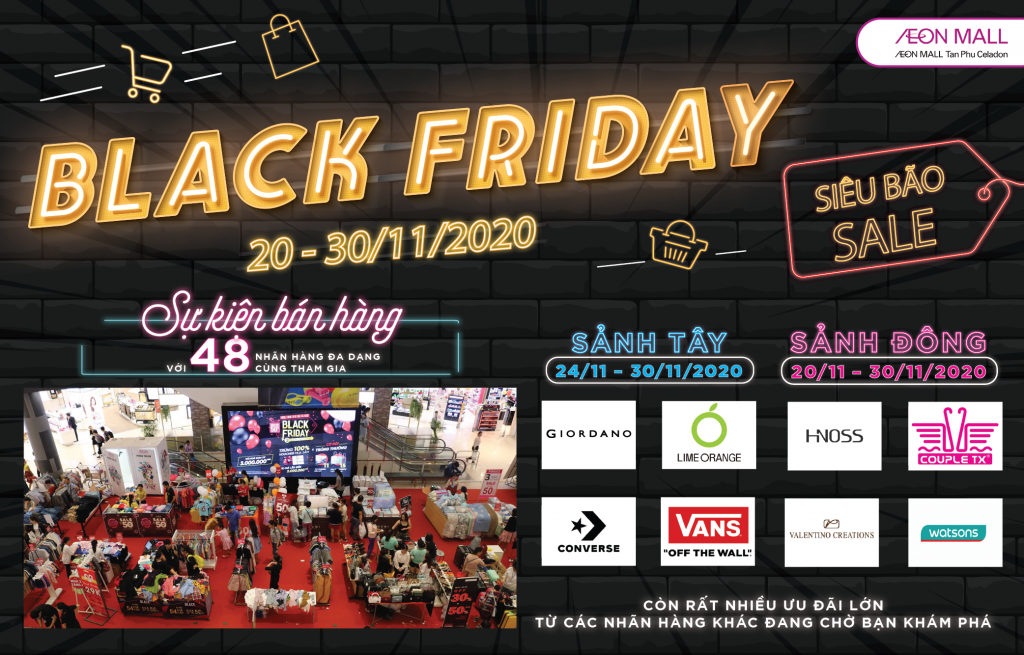 Time & location:
November 20th – 30th, 2020: East Court – Ground floor
November 24th – 30th, 2020: West Court – Ground floor
The shocking discount program comes from nearly 50 brands at AEON MALL Tan Phu Celadon. Moreover, customers also have the opportunity to participate in the Jackpot Lucky draw and receive super amazing gifts!
(See details of program at https://aeonmall-tanphuceladon-en.com/event/shocking-sale-rocking-black-friday-season/ )
The new "Cyber Monday" hot sale:
Especially, for the first time at AEON MALL Tan Phu Celadon, the super new promotion program – Cyber Monday will appear on November 30th, 2020. There are many great deals offered in just a single day, do not miss this!!!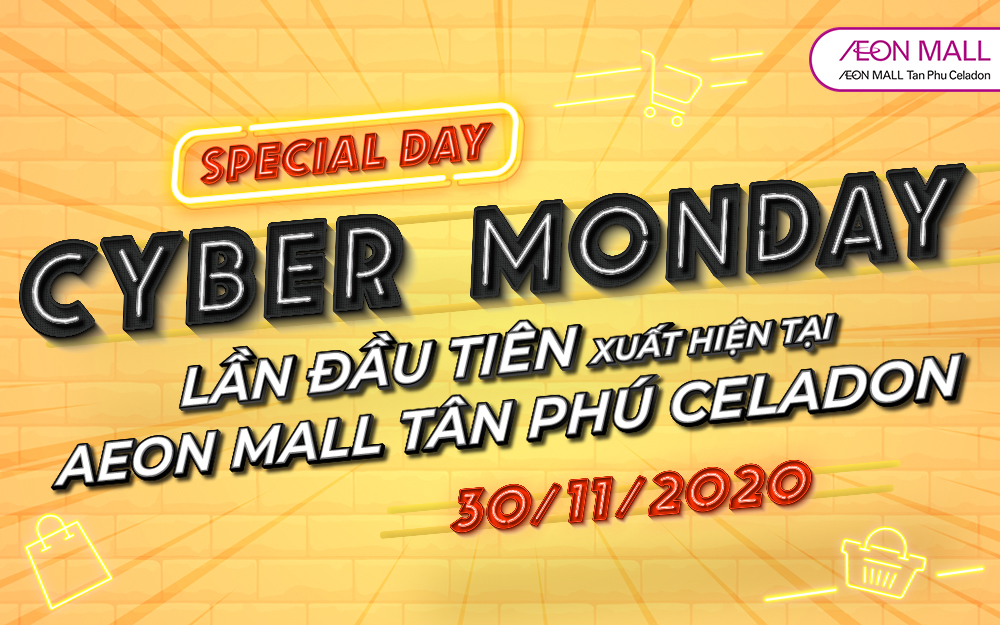 Grab your shocking deals at AEON MALL Tan Phu Celadon now!