Let's join hand AEON MALL Tan Phu Celadon to respond to EARTH HOUR 2020 through the program "Turn off the lights – Turn on the green planet" to contribute to environmental protection with 2 very meaningful activities:
Turn off unnecessary lights and electrical appliances for 120 minutes on 26th March, 2022.
Green wardrobe donation activity from 26th March, 2022 to 3rd April, 2022.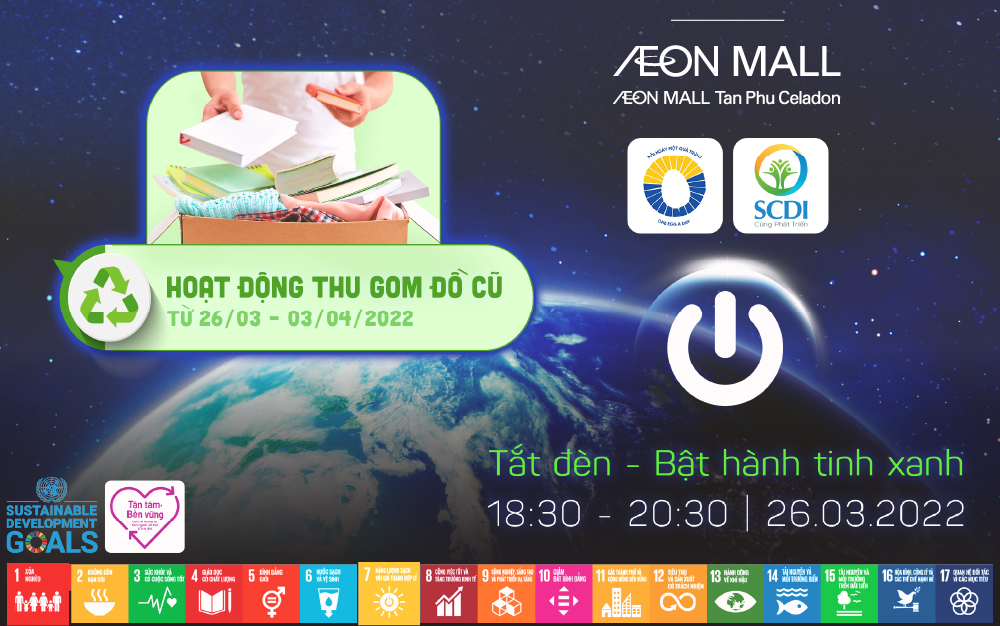 AEON MALL Tan Phu Celadon wish to spread the message, calling on everyone to be more concerned about the environment. From there, we can take actions to save energy, reduce emissions and limit the consumption of plastic products to contribute to building a greener future!​
Enjoy the Earth Day with "Green Clothing" Wardrobe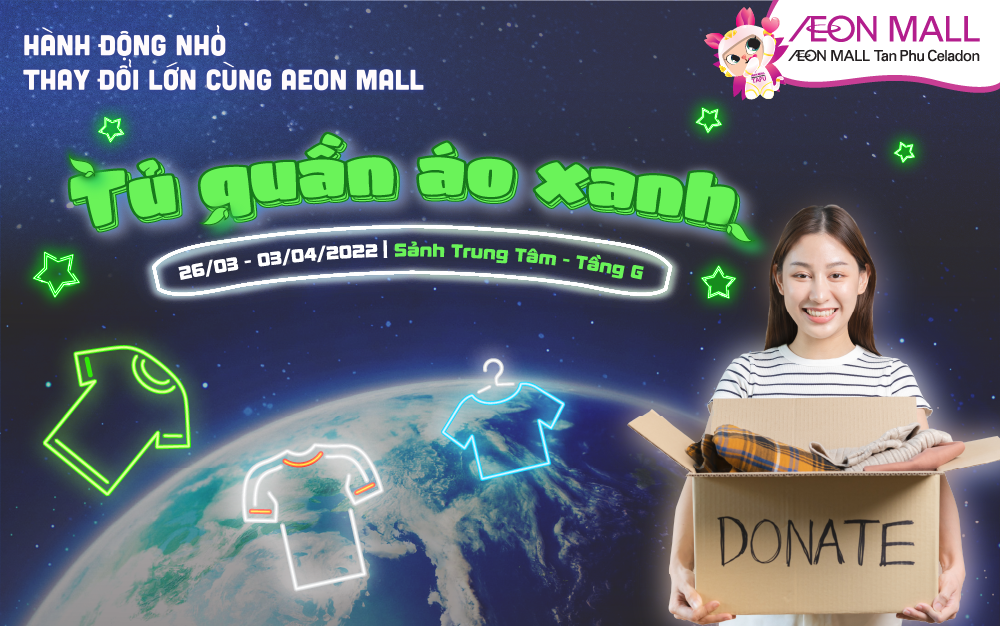 AEON MALL Tan Phu Celadon organizes a donation program called "Green Clothing" wardrobe in response to Earth Hour 2022. At the same time, it is also an activity to help underprivilege people in life.
With only used clothes or books, we can also contribute significantly to help many people. Let's join hands to donate used clothes and books that are still clean and beautiful!
Time: 26th March 26th, 2022 to 3rd April, 2022
Donation Location: Square Center – Ground Floor, AEON MALL Tan Phu Celadon​
In particular, AEON MALL Tan Phu Celadon will have gifts to give to those who have donated to the "Green Clothing" Wardrobe activity as thanks for accompanying the program as follows:
When donating more than 3kg, you will receive 1 CGV movie ticket or 1 F&B Voucher (popcorn + drink).
When donating under 3kg, you will receive 1 Tote bag or 1 Tapu doll.
NOTE:
Criteria of receiving clothes:

Do not accept fitness clothes, short skirts, fashion shorts, rated pants, sleeveless t-shirts, t-shirts, underwear, swimwear, old shocks, etc.
The clothes should be new, not torn/punctured/stretched or moldy, no color stains; good fabric
Appropriate clothing should be in a simple form, suitable for the needs of high-area people.
Criteria of receiving books:

Do not accept books, stories with sensitive content such as: violation, gender inequality, sexual encouragement, etc.
Books should be used to hand to children and adolescents (under 18 years old) such as story books, illustrated story books, Vietnamese dictionary, Vietnamese – English/English – Vietnamese dictionary, comic books (manga).
Educational story books, foster personality, etc. is preferred
The book cover should be good, not too old or be torn, missing pages or moldy.
Let's share this meaningful activity with loved ones, to spread warmth to difficult situations!
Link to download AEONMALL Vietnam App:
iOS: http://bit.ly/AMTPCios
Android: http://bit.ly/AMTPCandroid