Spring decoration in many AEON MALL Binh Tan corners
Flowers will be at the central hall, Mannequin hall, West hall and on the 3rd floor of AEON MALL Binh Tan to spread the scent and thus creating a lively and colorful atmosphere of Tet holiday. Standing in front of the brilliant flower forest with radiantly arranged arrangements, do not refrain from taking right away a picture to celebrate the New Year!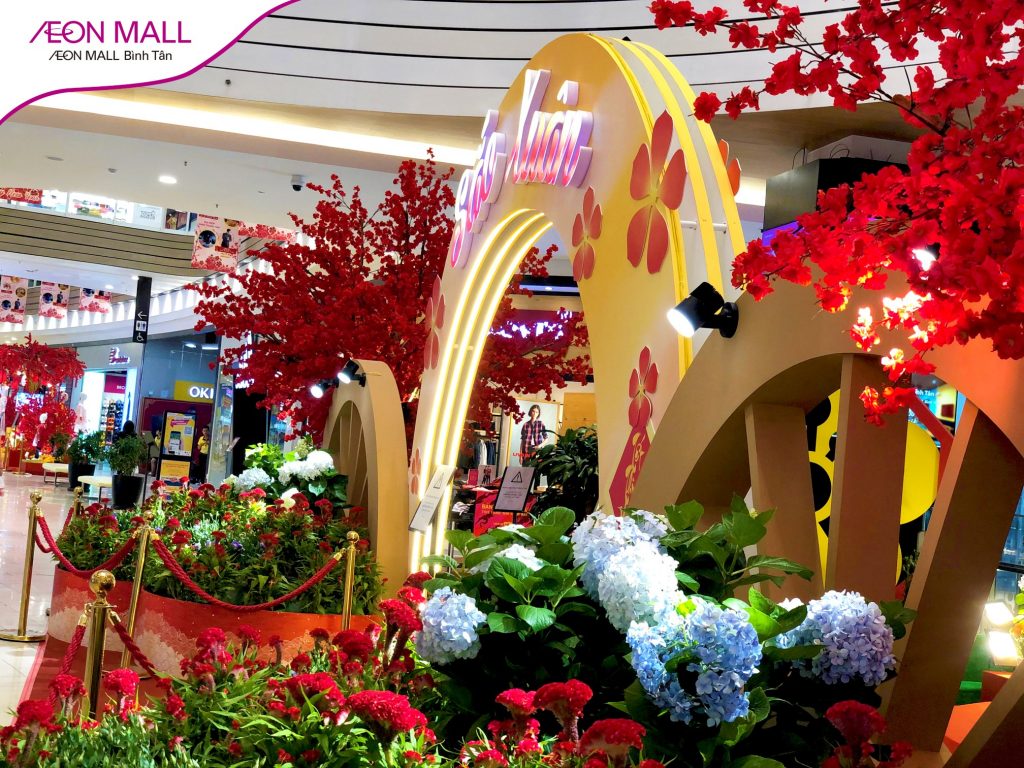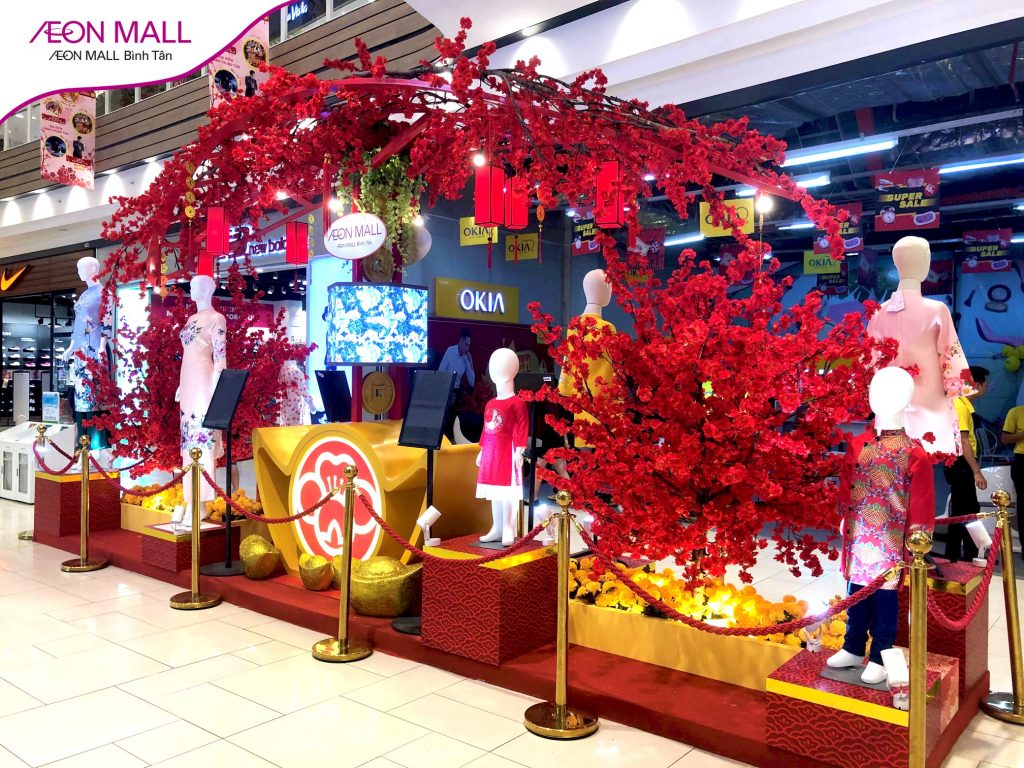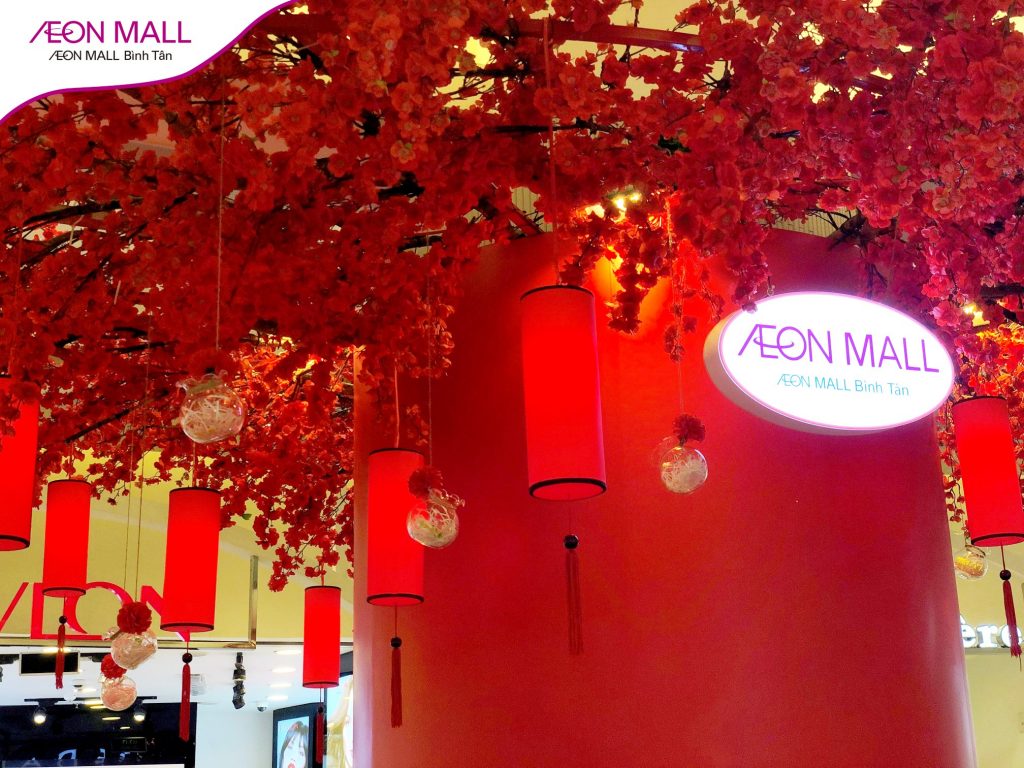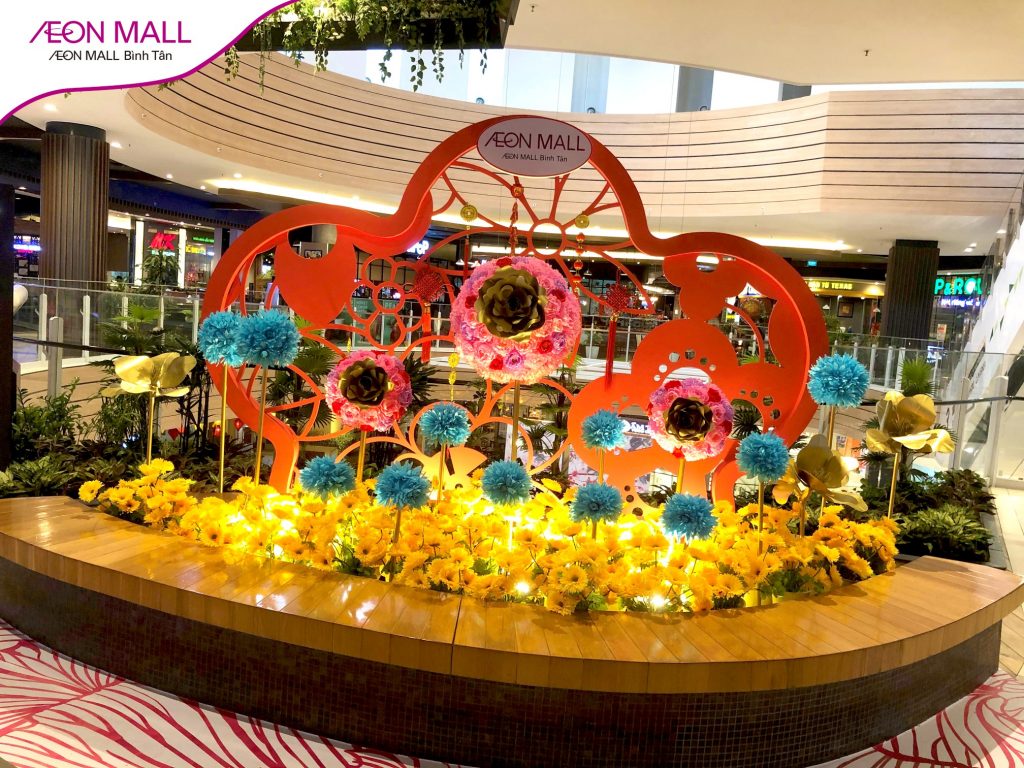 With the colorful Tet decorations with fresh flowers, AEON MALL Binh Tan hopes to bring joy to the guests upon Tet 2020!
Activities to welcome the traditional Tet at AEON MALL Binh Tan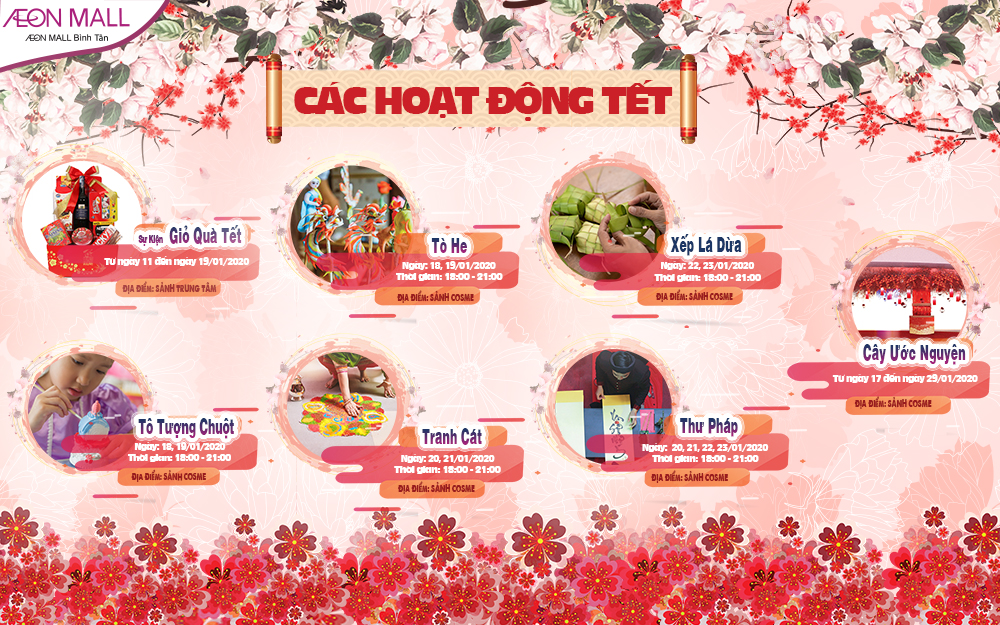 At AEON MALL Binh Tan, you will not only go shopping to prepare for the holiday, but also participate in many traditional Tet activities, which are:
Tet gift wrapping event at Central court from 11/1 – 19/1/2020.
Making To He at Cosme court for 2 days 18 & 19/1/2020.
Wrapping the pineapple leaves in the Cosme court in 2 days 22 & 23/1/2020.
Hanging wishes on the prayer tree in the Cosme court from 17 – 29 January 2020.
Statue of baby mouse in Cosme court in 2 days 18.19 / 1/2020
Bowl of sand paintings in Cosme court in 2 days January 20 & 21, 2020
Writing Calligraphy in Cosme court in 4 days 20,21,22,23 / 1/2020
Lucky Draw Program for Tet Holiday 2020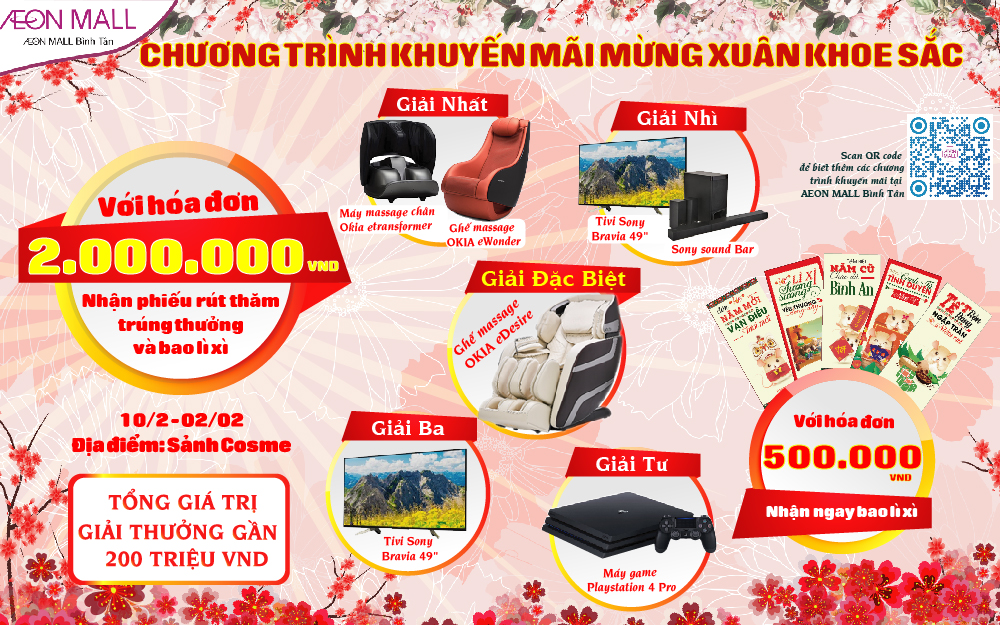 If you are planning a shopping trip for Tet preparation, many shops at AEON MALL Binh Tan will welcome the whole family with lots of special promotions updated weekly on Fanpage ( https://www.facebook.com/aeonmallbinhtan.vn/) and Zalo (zalo.me/467160257318028721). Not only going shopping to assure sufficient condition for the family means many luckys happening in the new year, but  the whole family also has the opportunity to participate in the lucky draw program and receive lovely lucky money with a shopping bill of VND 2,000,000 from January 10 – 2/2/2020.
* Only with the shopping bill of VND 500,000, you will immediately receive lucky money from envelope from AEON MALL Binh Tan.
Especially the attractive gifts from the Lucky Draw program with a total value of nearly 200 million VND, please receive extremely good gifts from the program such as:
Special Prize: Okia eDesign Massage Chair
First Prize: Okia etransformer foot massage chair and eWonder Massage Chair
Second Prize: Sony Bravia 49 "TV and Sony Sound Bar
Third Prize: Sony Bravia 49 TV"
Fourth Prize: Playstation 4 Pro Game Machine
Going shopping for Tet Holiday but also has a great chance of winning. Let's schedule to AEON MALL Binh Tan, Tet is knocking at the door!
Special event for the Lunar New Year 2020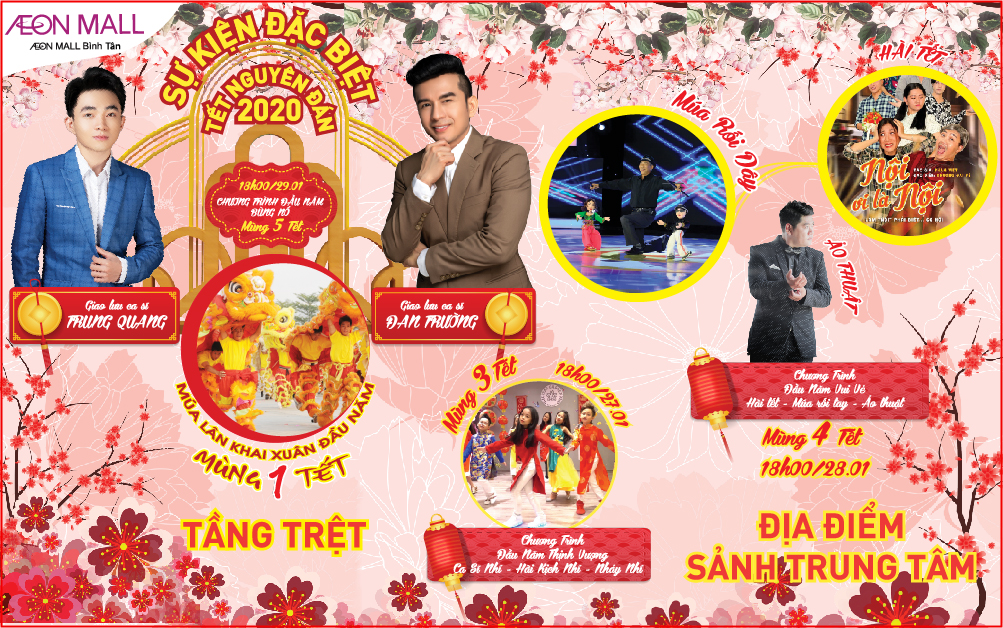 The whole family will have the opportunity to enjoy the joyfull atmosphere at the beginning of the year with entertainment programs such as:
On the first day of the Lunar New Year (January 25, 2020): Spring lion dance
The third day of Tet (January 27, 2020): With the participation of child singers – Child comedy – Child dance.
The fourth day of Tet (January 28, 2020):  New Year Comedy – Puppet – Magic Show.
Lunar New Year (January 29, 2020): The program at the beginning of the year boomed with special participation from Dan Truong, Trung Quang and a female singer.
Are you thinking of choosing a place for your family to enjoy all the Tet atmosphere? Or should you go to somewhere for both shopping and eating? All, let AEON MALL Binh Tan take care for you!
Let's go to AEON MALL Binh Tan to celebrate Tet, everyone!