Receiving Balloons from the clowns
Those who are fans of the clown character recently, this will be an opportunity for you to take photos and receive lovely gifts from friendly clowns, which will happen from 4 to 5 pm on 25th, 26th, 27th October.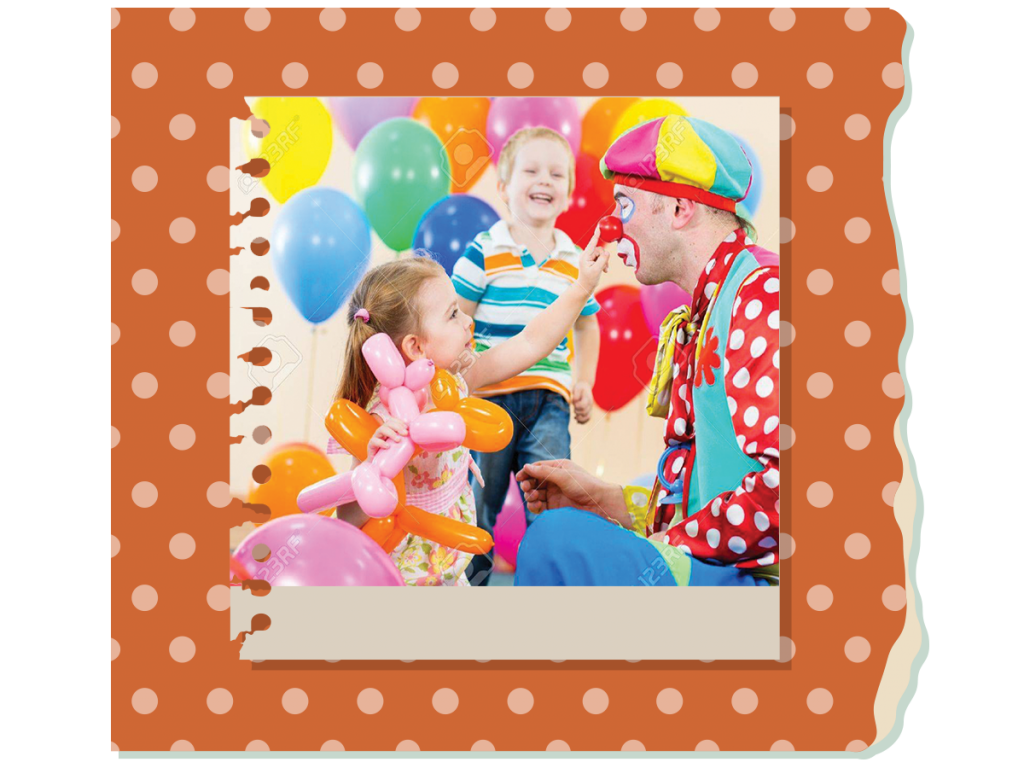 Facial Makeup in Halloween topic.
Which would be your favorite characters or even do you scare most? Spiderman, Clown, Annabell, batman, etc. you will have the opportunity to dress your face into the characters you want with the theme of freedom from 5 to 7 pm at Cosme Hall on 25th, 26th, 27th October.  Promisingly this will be an interesting experience for you!
Halloween costumes.
Experiencing taking photos in Halloween costumes is indispensable to create memorable memories for Halloween. From 5 to 7 pm at the Cosmes court AEON MALL Binh Tan, remember to drop by to choose your favorite outfit!
Ideal check-in location
After going through the above activities, you have a new look which catches up with Halloween trend. Then, come to the magic gate at Mannequin court to take beautiful photos!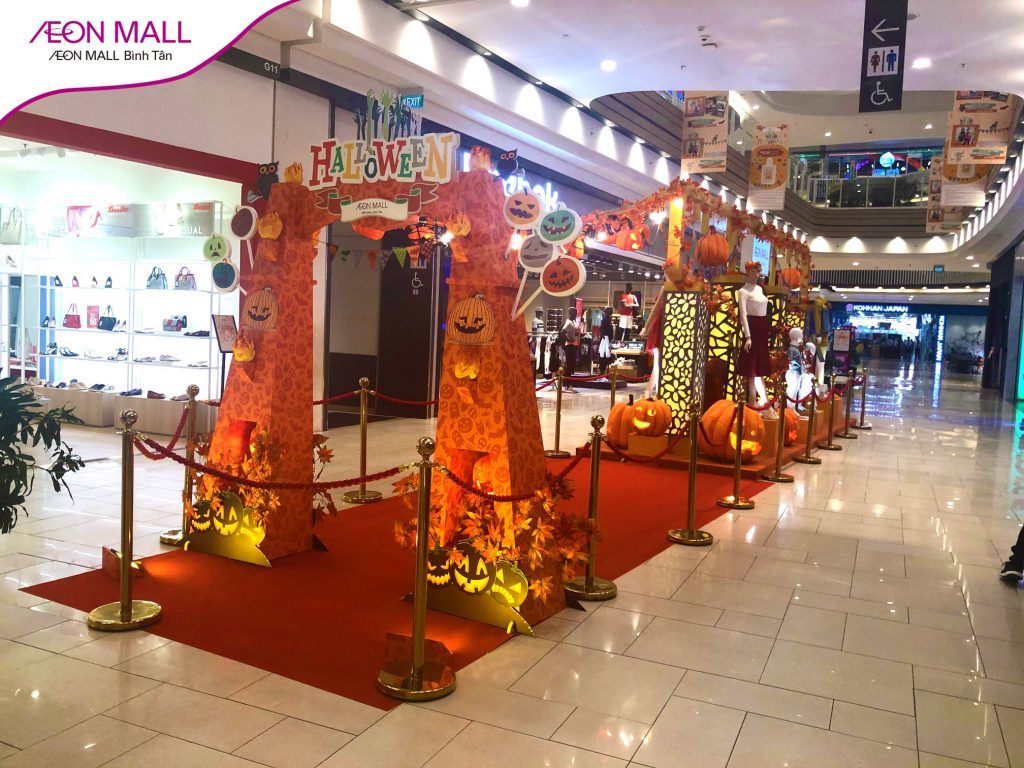 Trick or Treat
Trick or Treat is a typical activity of Halloween when children dressed up in their favorite characters parade the streets and knock on the door of each house to ask for candies with the saying "Trick or Treat".
At AEON MALL Binh Tan, the candy-giving activity for children will take place in the form of the children will go parade and receive candy from our cute and friendly Monster characters.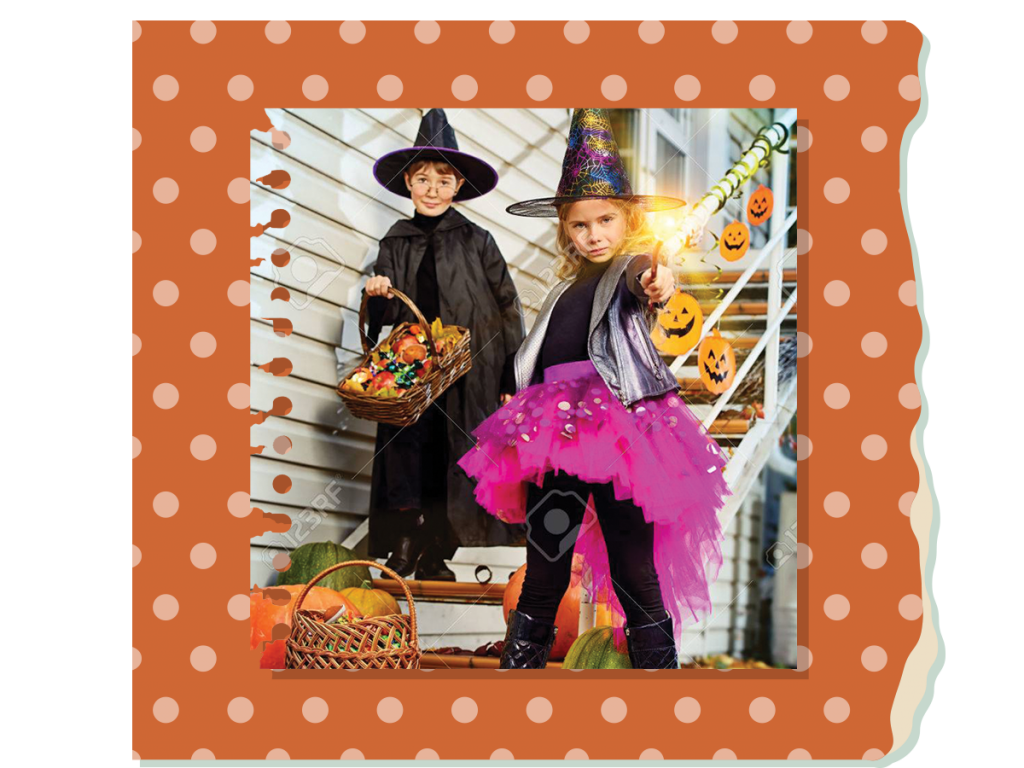 Receiving Halloween gifts at AEON MALL Binh Tan
From October 10 to October 17 and October 21 to October 30, with every bill of VND 1,000,000, you will receive an eco-friendly bag!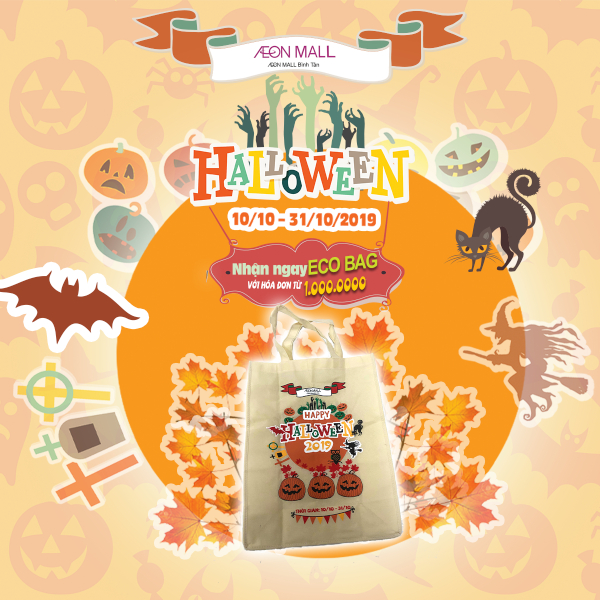 Apply for shopping and service bills which is worth from 1,000,000 VND
For every shopping bill which is worth from 1,000,000 VND customers will receive 01 ECO non-woven bag (01 piece)
Each customer will only receive a maximum of 2 ECO non-woven bags (2 pieces) in 1 day
Apply for accumulated bill of the day in AEON MALL Binh Tan area.
Not applicable for shopping bill at AEON Supermarket.
All employees working at AEON MALL Binh Tan are are not allowed to participate in the program.
Enjoy your shopping time but not afraid of heaviness as well as does not release more plastics into the environment.
All activities for Halloween 2019 created by AEON MALL Binh Tan with the wishes that not only you can experience shopping in an enchanting Halloween space, but also have a lot of funny memories. This October, many more new memories at AEON MALL Binh Tan.
Take note of the list of activities, and last but not least complete your Halloween journey with AEON MALL Binh Tan by sharing your unique photos to AEON MALL Binh Tan's Fanpage: https://www.facebook.com/aeonmallbinhtan.