NEW LOOK, NEW EXPERIENCE
Presenting the new look on April 25th, 2019, with the goal of becoming a shopping center which brings out the best experience to customers, AEON MALL Tan Phu Celadon has a lot of significant changes:
Double size: Total leasing area is over 84,000m2
New brands: There is a total of more than 200 famous domestic and international brands such as Mango, Lime Orange, Canifa, Innisfree, Reebok, Skechers, Pizza Hut, Uraetei BBQ, Paris Baguette, etc.
Extended parking lot: Total capacity of 2,000 cars, 10,000 motorbikes
New services and utilities:

Fashion Zone #OOTD: The area gathers many fashion stores for young people, which makes it easier for customers to choose among the brands when they need to buy clothes.
Garden Dining area: Expanding with a total area of ​​2,100 m2 with 18 booths and 1,000 seats, providing clean and airy space for customers to enjoy the dishes.
PETEMO area: A new area which is designed exclusively for customers and their pets with pet care and beauty services as well as a space for customers to play with them.
AEON HALL area: New conference hall with total acreage of ​​542.8m2 and capacity of up to 400 guests. This is a suitable place to organize conferences, exhibitions, congresses, press conferences, etc.
Rest area: Many new resting chairs are located along the corridor in the Shopping Center.
New information counter: There is a new customer information counter to assist customers in finding information/ lost items, etc. more easily and quickly.
Other utilities: Room for mother and infant, free wifi system & bus routes, separate smoking room and convenient ATM area.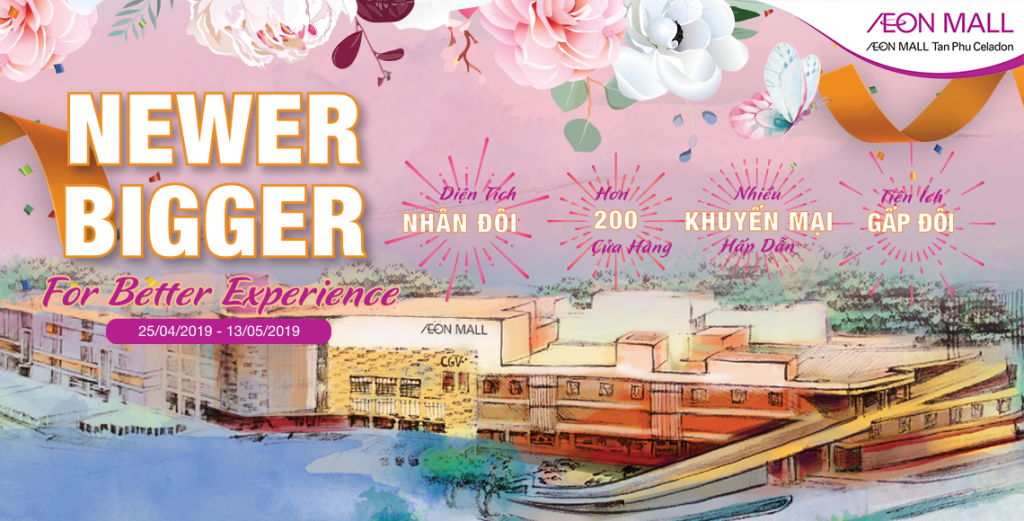 With the desire to create a completely new shopping space for customers, AEON MALL Tan Phu Celadon promises to bring customers high quality products as well as the most dedicated service, such as a variety of entertainment and educational areas with brands from CGV, Dream Games – place for young people to relax after school or Fanpekka – a brand-new European-style entertainment center with fun games to help children build up their life skills, along with ILA English centers and Kumon Center for Mathematics & English will also provide top quality services.
Large space with specialized areas at AEON MALL Tan Phu Celadon will help it meet the diverse shopping needs of customers, creating an "all in one" shopping environment for everyone.
In addition, AEON MALL Tan Phu Celadon also offers many attractive promotion programs as well as special events and activities to serve customers.
 A SERIES OF EXCITING ACTIVITIES
Time: Thursday, April 25th, 2019
Location: West Court – Ground floor – AEON MALL Tan Phu Celadon (new area)
09:00 – 10:00: Celebration the new look of AEON MALL Tan Phu Celadon
19:00 – 20:00: Enjoy the eye-catching Art Dance with interactive screen performance & exciting atmosphere with Noo Phuoc Thinh and Phuong Ly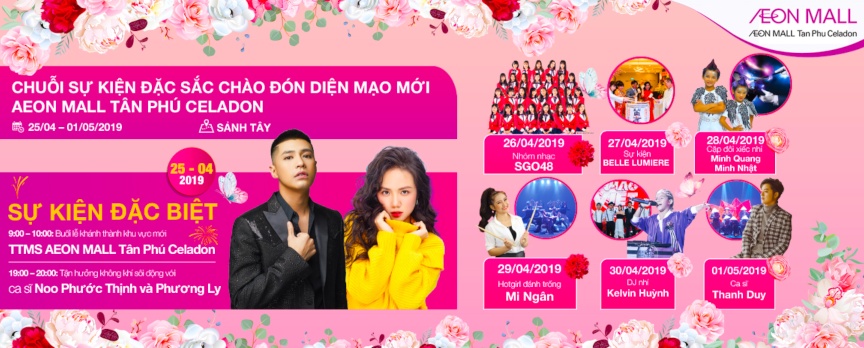 In addition, along with the exciting atmosphere of this occasion, from April 26th to May 1st, 2019 at West Court – Ground floor AEON MALL Tan Phu Celadon, there will be more special events to welcome the new look:
Apr 26th, 2019: 19:00 – 20:00: Special performance from SGO48 – the biggest girl group in Vietnam
Apr 27th, 2019: 18:00 – 19:00: Excellent music & dance program from Belle Lumiere brand
Apr 28th, 2019: 18:00 – 19:00: Attractive children's circus performance with Minh Quang, Minh Nhat & spectacular magic show from Minh Hieu magician
Apr 29th, 2019: 18:00 – 19:00: Special performances of Hover Board Dance & Farmer Dance along with lively drumming show from Mi Ngan musical artist
Apr 30th, 2019: 18:00 – 19:00: Gentle acoustic songs from Nhung nam 90 group, funky performance with young DJ Kelvin Huynh & modern dance ACB Kid group.
May 1st, 2019: 18:00 – 19:00: Musical Taekwondo dance program & engaging atmosphere with Thanh Duy singer
NEWER LOOK, BIGGER PROMOTION
On the occasion of celebration new look this time, in addition to a series of special welcoming events, AEON MALL Tan Phu Celadon also offers the promotion & Lucky Draw program with the opportunity to win 01 valuable Suzuki Celerio car:
With bills which are worth from VND 2,000,000: Get 01 lucky ticket
With bills which are worth from VND 4,000,000: Get 1 fashion handbag & 02 lucky tickets
With bills which are worth from VND 6,000,000: Get 1 high-class thermos bottle & 03 lucky tickets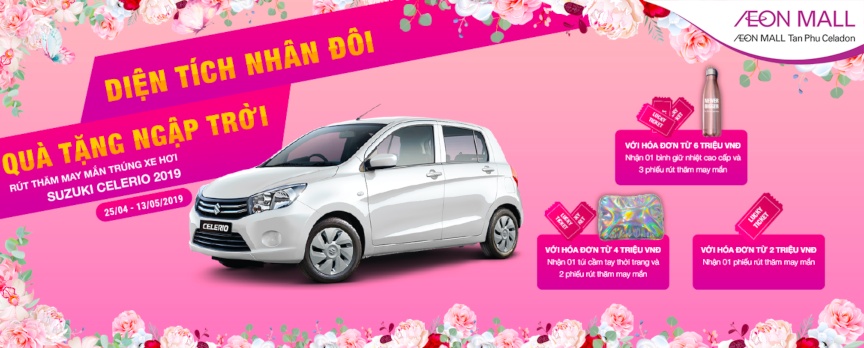 The promotion program will take place from April 25th to May 13th, 2019 at AEON MALL Tan Phu Celadon. All customers joining the program and owning the tickets will have the opportunity to win the most precious prize – the Suzuki Celerio car as well as other gifts.
>>> See more promotions here.
*Terms & conditions:
Apply for accumulated bills in a day and do not apply for shopping bills at AEON supermarket and AEON GMS area.
Do not apply for separate bill in any form.
Each customer will only receive 1 gift and do not apply with other promotion.
Please kindly present the products or receipts / ID cards for products that are services when exchanging gifts.
Staff working at AEON MALL Tan Phu Celadon cannot join the promotion program.
AEON MALL Tan Phu Celadon management has the right to refuse invalid invoices.
The number of gifts is limited, thus the program may end sooner than expected.
For more information, please contact the Information Counter at Ground floor, AEON MALL Tan Phu Celadon or hotline 028 6288 77 33 (ext: 120)
Let's come to AEON MALL Tan Phu Celadon to experience a new area with immense utility services and many special events as well as activities to celebrate our new look!