With the message "Millions of moons look forward to Autumn", Mid-Autumn Festival 2019 AEON MALL Long Bien will bring you back to your childhood in ancient Mid-Autumn Stories through traditional and eco-friendly activities such as Decorating paper lanterns, Folding coconut leaves, Making toy figurine (Tò He figurine), etc. These folk games that seemed to be in memories will be vividly recreated to recall the peaceful childhood memories.
In particular, at the Center Court, the Giant Quilling lamp, an interesting highlight will tell fantasy fairy tales in each rotation. This decorative cluster promises to become the ideal check – in place for the whole family this Mid-Autumn season.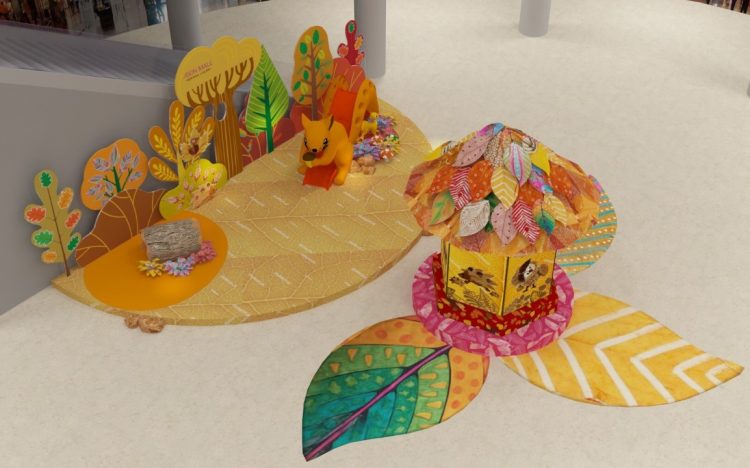 From August 30 to September 15:
Daily activities: Making masks & Wearing costumes of The Moon Lady (Chi Hang) and The Moon Boy (Chu Cuoi). (Organizer: Tan Phu Kids booth)
Weekend activities: Decorating paper lanterns, Folding coconut leaves, Making Tò He figurine,… applied to all customers who have shopping bills which is worth from VND 500,000*.
From August 31 to September 2: Free pinwheel gifts for all children at the MALL.
On September 13th: Mid-Autumn Festival (6.30 PM): Lion dance and musical show including storytelling & acting with Quilling lamp) and many free gifts for children to attend.
* Note:
– Each bill from VND 500,000 will correspond to one chance to join a game.
– Shopping bills are allowed to accumulate but not separated.
– Not applicable for shopping bills at AEON Supermarket and Department store.
In addition, with the desire to bring a happy Mid-Autumn Festival for underprivileged children in mountainous areas, AEON MALL Long Bien, Tini Store and Tu Thien That Charity organize the charity program named Mid-Autumn Festival Sharing (Trung Thu Sẻ Chia). The goal of this program is to call for donations of brand new or second-hand toys and clothes (in good use). The program takes places from August 17 to September 9.