How do you feel when working as a team?
When working as a team, team leader has to be bold to lead all team members work together and collaborate well with each others. If the team is strong and connected, tasks will run more smoothly and problems will be resolved faster. Therefore, strong and effective collaboration and proper lead from the leader would make everything become easier.
What makes your teamwork successful?
Our team members always work hard and corporate together closely. We are able to adapt if any changes are happened or more requirements are raised. On the other hand, the leader must also strictly follow the tasks, especially in the peak period to make decisions if needed to change the plan and guide the team to right direction.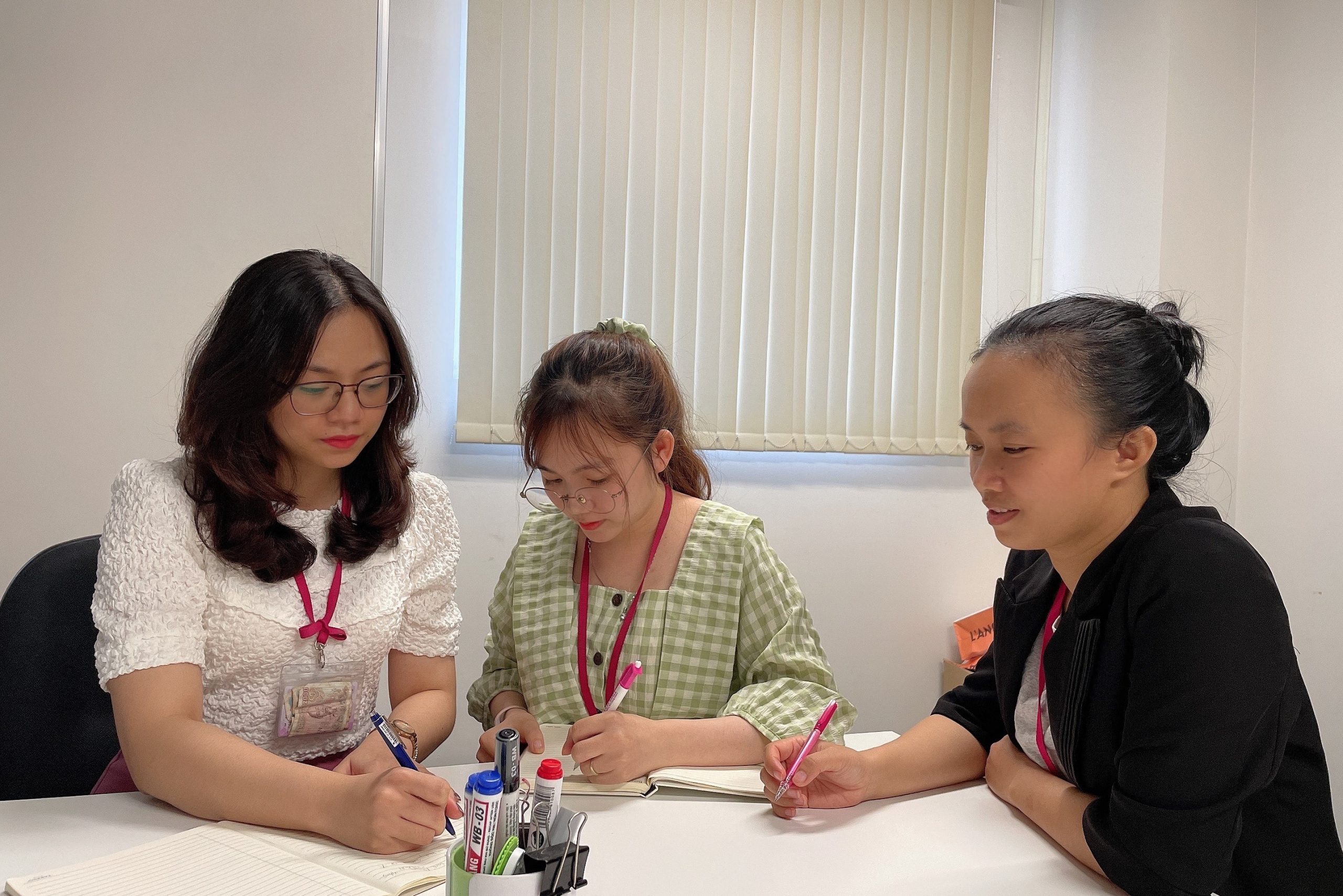 What did you enjoy the most while working at AEONMALL Vietnam?
Ms. Khanh Nhi: Apart from a workplace where every task must be fulfilled, I enjoy sharing moments together with my beloved colleagues whenever we throw small birthday parties at office. These are such a stress-relief minutes after hard working hours and we also become closer after joining these bonding activities.
Ms. Huyen Trang: When we first entered the company, we learned about company's strategy clearly. Since then, we follow it and build our own working spirit. In addition, during my working time at AEONMALL Vietnam, I see a strong bond among all employees. We always try to understand each others and make friendship while together develop company cultures.
Ms. Dieu Em: At AEONMALL Vietnam, I receive guidance from my supervisors and friendly colleagues. Besides, the professional working environment is one of the things I like when working here.
What do you find the most challenging at AEONMALL Vietnam?
Ms. Nhi: I remember the time when my team was lacking personnel, we still tried our best to cover well and completed all the tasks. That was the toughest time for us but also a good chance to improve ourselves.
Huyen Trang: Improving and learning new things every day to adapt all the trends and changes in order to serve customers and create the real value of AEON MALL are the most challenging thing I must face up and overcome.
Dieu Em: The most challenging for me is quickly adapting to new tasks, as well as learning more things of other teams. However, it is not only a challenge but also an opportunity for me to learn and have more experiences in operating AEON MALL.
What has been your most memorable work results at AEONMALL Vietnam since the beginning?
Ms. Khanh Nhi: I remember myself being so overwhelmed when my team was announced to receive the semi-annual award in 2020. I think this is the result of hard work for all team members after such a tough year like 2020. I am so proud of my team.
Ms. Huyen Trang: I must say through all the time I've worked at AEONMALL Vietnam, the most memorable work results are counted from 2014. At that time, my role is to lead Accounting team to prepare for opening of AEON MALL Binh Duong Canary and build a strong Accounting team. It was a huge challenge as well as a big opportunity for me.
Ms. Dieu Em: Being a member of Accounting team since the beginning, I'm very happy when all cashiers participating in the training class organized by our team know how to use Payoo machine smoothly and fluently. That is the work result that I'm satisfied the most.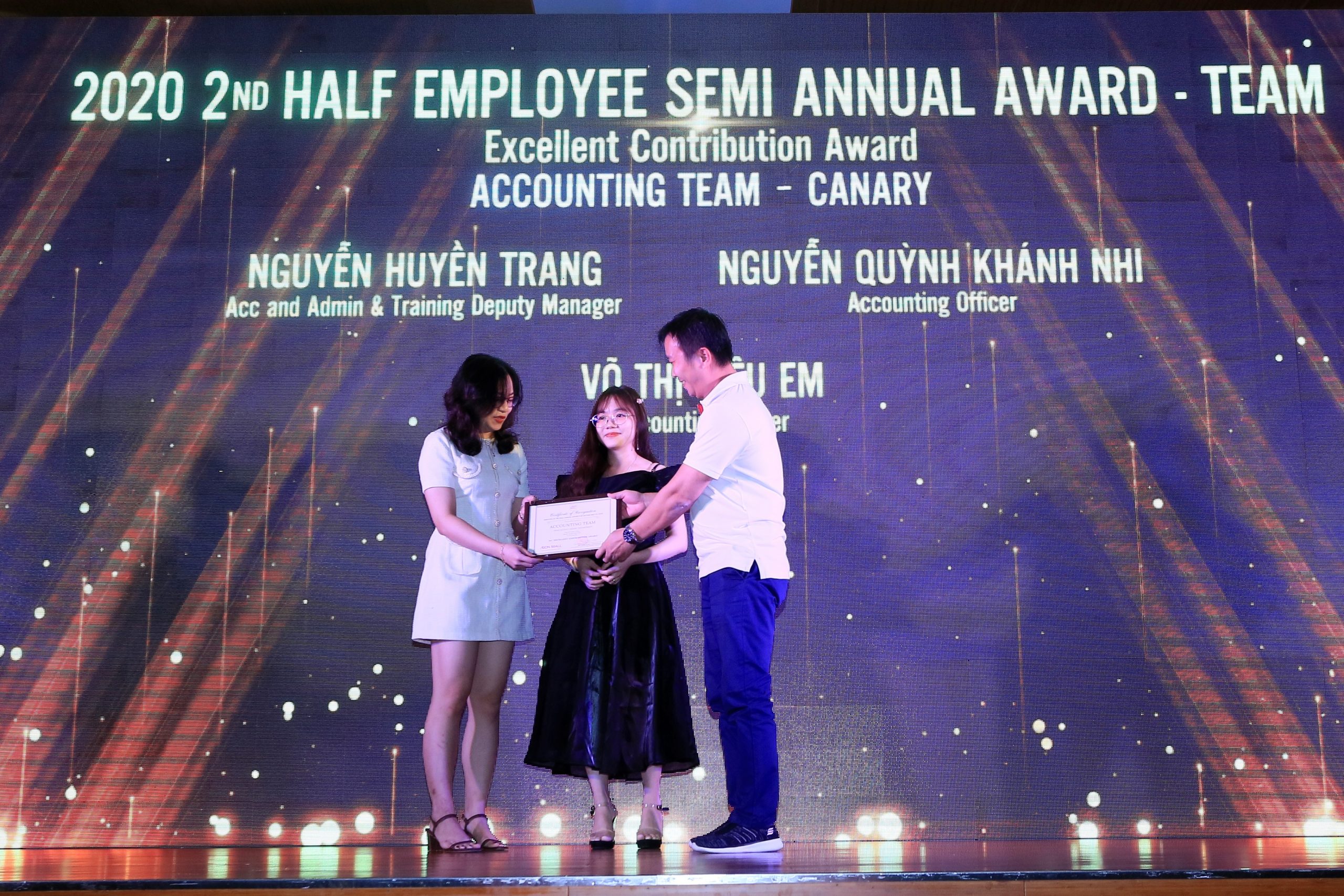 What have you gained from working at AEONMALL Vietnam?
Ms. Khanh Nhi: I have gained more knowledge, experience, and important skills then apply them while working.
Ms. Huyen Trang: Working at AEONMALL Vietnam really changes my mind-set about the outside world. I strive myself to figure out how to bring better services to customers and make them satisfied whenever they visit our shopping mall.
Ms. Dieu Em: While working at AEON MALL Binh Duong Canary, I have learned many valuable lessons, from how to calculate the rental fee as well as how to operate shopping mall, to build good relationships with colleagues.
What is on your wish list for the next 3 years with AEONMALL Vietnam?
Ms. Khanh Nhi: In the next 3 year, I will keep completing myself with more challenges, more experience and hopefully to get my next promotion to contribute to company.
Ms. Huyen Trang: We are heading to the target of operating 20 shopping malls in Vietnam. Therefore, in the near future, I really look forward to observing more and more wonderful new concepts of AEON MALLs in Vietnam.
Ms. Dieu Em: For the next 3 years at AEONMALL Viet Nam, I hope to improve and enhance the skill of a professional accountant. In addition, I want to study and know more about the work of other teams so that I'll be able to support when needed, and above all, I wish AEON MALL will grow steadily, create further development, and become the No. 1 shopping mall in Vietnam.