How do you feel when working as a team?
We enjoy working with the team. Different team members contribute different perspectives but the synergy between team members still produces creative and productive results. Moreover, all members always work with supportive and trustworthy spirit. This experience has made us grow up a lot.
What makes your teamwork successful?
We think it is the effective communication. Interactions among team members as well as between staffs and leaders, managers are very essential. We closely share our ideas and discuss with each others in our monthly meeting, but there's any crisis or brainstorm arise, discussion should not wait until a team meeting takes place. This method has made our goals completed with the highest quality.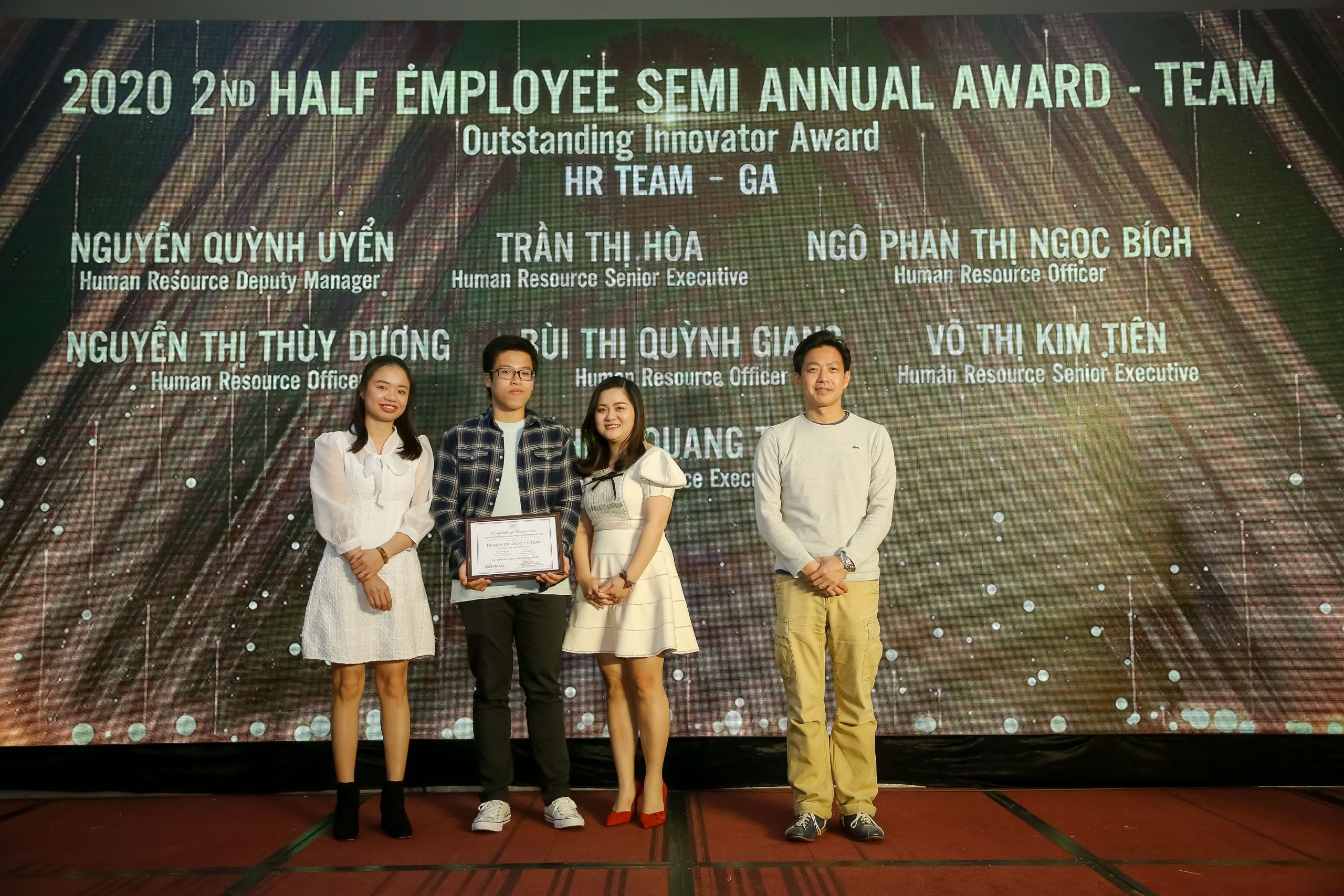 What did you enjoy the most while working at AEONMALL Vietnam?
Ms. Quynh Giang: I enjoy the Japanese working culture here which are politeness, respect, and teamwork spirit.
Ms. Ngoc Bich: I love the family atmosphere here, where everyone shares the same vision, commit to finish all the given tasks, and always take care and support each others.
What do you find the most challenging at AEONMALL Vietnam?
Ms. Quynh Uyen: Humans resources managing has always been complex. Especially the workforce is continually expanding and becoming more diverse, it is increasingly important to understand the differences of employees. As our business principle is respecting people, I always lend an ear and try to provide the best solution to our employees whenever they have any struggles at work. I believe that a great workplace is created by the listening and understanding.
Ms. Tran Hoa: I believe the most challenging issue nowadays is technology. Technology in the workplace changes so fast. At AEONMALL Vietnam, in order to bring convenience to employees and create highest capacity at work, Human Resources team must constantly apply new technologies by building up the e-HR systems. We also need to train all employees on the new technology that is brought into the company as well as be proficient ourselves.
What has been your most memorable work results at AEONMALL Vietnam since the beginning?
Ms. Quynh Giang: For me, recruiting staffs for AEON MALL Hai Phong Le Chan before the opening time is the memorable time that I never forget. Our responsibility is finding the best candidates who can work under high pressure in this time and after. My teammates and I tried our best to complete Hai Phong project's recruitment on time successfully.
Mr. Quang Tri: For me, my most memorable work result in 2020 must be the launching of new e-HR system. It not only contributed to the company's development but also became very proficient for HR Team to manage AEONMALL Vietnam's manpower.
What have you gained from working at AEONMALL Vietnam?
Ms. Kim Tien: Working in a team where my colleagues vary drastically in terms of age and experience has significantly altered my perceptions and allowed me to see things differently. With that point of view, I have learned how to manage and develop the team efficiently.
Ms. Thuy Duong: A grasp of professional and business etiquette is something that I was taught for 3 years working at AEONMALL Vietnam. We have to balance high knowledge and skills with high integrity, empowerment with responsibility. We were trained about not only expertise but also good manner – to be a kind and professional person.
What is on your wish list for the next 3 years with AEONMALL Vietnam?
Ms. Quynh Giang: I wish AEONMALL Vietnam will become the best working place where each staff become a true "happy employee".
Mr. Quang Tri: My desire is to gain more experience and knowledge here and make a great contribution to the company, play a part to develop AEONMALL Vietnam on the way to be the best shopping mall developer in Vietnam.