From 2022 until quarter 1, 2023, in order to meet the changes of the retail market in Vietnam, the increasing demand for shopping with the services and products qualifications of customers, AEON MALL Tan Phu Celadon implements a new project to create a new look with the goal to diverse products, high quality and the appearance of a series of new specialized stores, satisfying the various needs of customers.
"Change the future – Beyond the MALL", AEON MALL Tan Phu Celadon is going to have more than 20 new stores at different categories such as fashion, accessories, goods from famous domestic and international brands. Besides, customers will have more shopping experiences with new services and variety of high-quality products when coming to the stores have been upgraded and more ideal.
Highlights of AEON MALL Tan Phu Celadon after renovating
New Stores – More fun, more experiences
With more than 20 new stores from many different categories, AEON MALL Tan Phu Celadon will bring interesting shopping experiences for customers.
Everything on AEONMALL Vietnam App – Better shopping day
Customers will find everything at AEONMALL Vietnam App as hot promotion, special vouchers and many attractive events, activities only at AEON MALL Tan Phu Celadon.
"Give and Receive room" – A place to spread happiness
With the goal of becoming a "MALL of health and smile", eliminating tobacco smoke in the shopping area, AEON MALL Tan Phu Celadon closed all smoking rooms and gradually changed into better purposes. Our first action is "Give and Receive Room", next to Gate K, in order to spread happiness through the criterion of giving and receiving.
E- Locker – Save time and get safety
E-locker will help customers have comfortable shopping day by keeping the belongings with automatic technology.
>> Announcement: In order to raise the community awareness, protect the surrounding environment and everyone's health, all smoking rooms are closed, if customers have a need to smoke, please move to the outdoor area. Thank you!
>> AEON MALL Tan Phu Celadon "Change the future – Beyond the MALL" <<
Aiming to build a shopping mall for the Community – Healthy – Lifestyle Designer, AEON MALL Tan Phu Celadon is a meeting point for entertainment, fashion and cuisine for all ages in Ho Chi Minh City.
With the goal to design a new lifestyle for the community, we offer more fashion, accessories choices from work, party to street style when shopping at new and famous stores such as Routine, BOO, Dong Hai, Loc Phuc Jewelry, etc.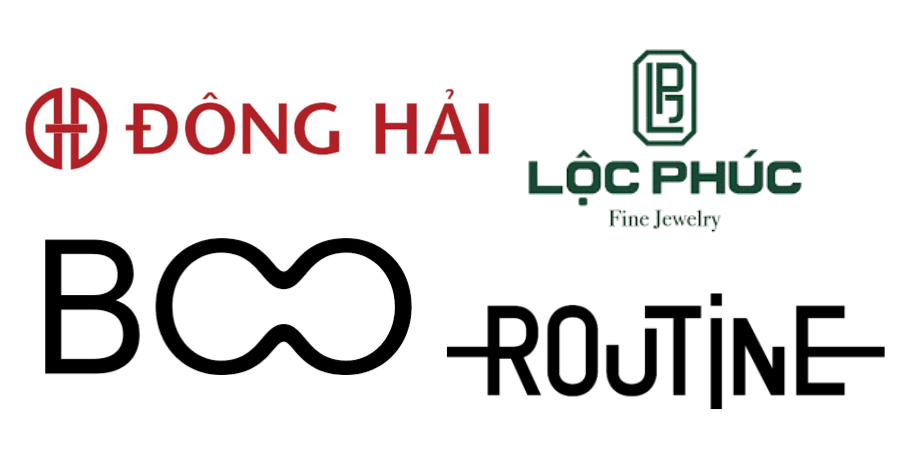 ELECTRONICS, HOME APPLIANCES AND INTERIOR DECORATION
| | |
| --- | --- |
| Invested, displayed, and installed according to Apple's design language, Digibox fully distributes all Apple products such as iPhone, iPad, MacBook, Apple Watch, and genuine accessories. Digibox store space is likened to a miniature Apple Store when using a spacious and scientific layout to provide the most comfortable shopping experience for customers. | |
| | |
| --- | --- |
| | Inochi is a high-end household plastic brand with products made from high-quality, beautifully-designed and convenient virgin plastic that will bring customers safe and comfortable life experiences. |
| | |
| --- | --- |
| Wundertute is a long-standing enterprise operating in the field of import and distribute high quality products from Germany and Europe countries at good prices for consumers. | |
| | |
| --- | --- |
| Isushi belongs to the Golden Gate – one of the largest restaurant systems in Vietnam- serve customers attractive Japanese dishes with the designed in traditional style. | |
| | As a famous hot pot brand from Taiwan – Manwah offers customers a journey to discover unique cuisine with Taiwanese flavors. |
| Kpub – Korean street grill restaurant will lead customers to taste the street grill style of Kimchi land with delicious and diverse dishes. | |
| | All Starbucks drinks will be served directly to customers at the bar. Starbucks is committed to this relationship that comes from our respect – we are committed to serving the best quality coffee, creating a connection with each customer, and fulfilling our responsibility to the community and society where Starbucks does business. |
ENTERTAINMENT, RELAX AND SHOPPING ALL DAY
| | |
| --- | --- |
| As the gathering place of the most expensive Western cat breeds in a space of up to 30m2 designed in Nordic style, CATFE – AEON MALL Tan Phu Celadon will bring customers interesting moments. Here, customers can enjoy a snack buffet while having fun with different cat breeds in an extremely clean, air-conditioned space without cat fur to ensure health. | |
| | Glam Beautique officially launched a new look with many different areas providing comprehensive health and beauty care solutions for customers of all ages. The Natural & Organic area offers vegan health and beauty products with natural ingredients, not tested on animals. Not only that a variety of beauty technology products such as facial cleansers, essence machines, etc. was also released here |
| Immerged in a space designed with Japanese architecture, Tokyo Relax Beauty & Healthy Spa provides beauty and mental health care with relaxing facial massage, shiatsu hot stone massage, nourishing shampoo, etc performed by professional technicians with high expertise. | |
| | |
| --- | --- |
| Walking with the times without losing the traditional echoes, OLV has created a lot of beautiful designs, diverse styles, rich in genres from light dresses, elegant business suits, or gorgeous outfits. | |
| | iBasic Vietnam has and always gives consumers the most new, comfortable and effective experience when shopping and using underwear. The iBasic – World Underwear is invested in smart and convenient design, with a wide range of products from design, style to material. |
| LIMEORANGE brings up personality, confidence, comes with unique style combined with well-thought-out people to create a more beautiful world. "LIMEORANGE" is a beautiful, standing name at the height of the creation of a culture. | |
| | From the first days, Chang Kang Kung – Steamed Seafood has "launched" and impressed the Vietnamese culinary market from special processing methods to interesting dining experiences. With the advantage of hydrothermal steaming model with the advantage of preserving the freshness and nutrients of the ingredients, Chang Kang Kung catches the trend of "Good food – Good health". |
AEONMALL VIETNAM APP – ECONOMICAL, SAFE, CONVENIENT
AEON MALL Tan Phu Celadon aims to a green lifestyle, protecting the environment. That's why we apply e-vouchers instead of the paper vouchers that were often used in the past.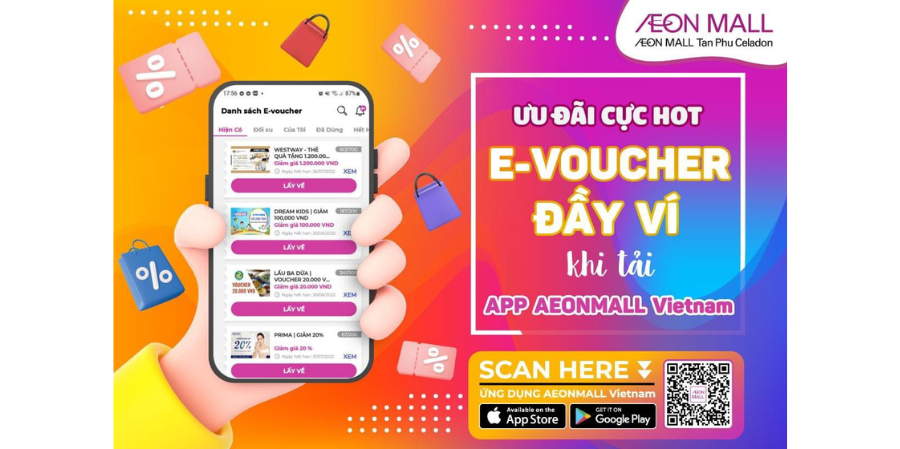 "AEONMALL Vietnam Reward" program
To enhance shopping experiences for customers at AEON MALL Tan Phu Celadon, the "AEONMALL Vietnam Reward" Program offer exclusive benefits, extreme incentives as well as the opportunity to participate in special events via coin accumulation and gift redemption at one and only AEONMALL Vietnam App.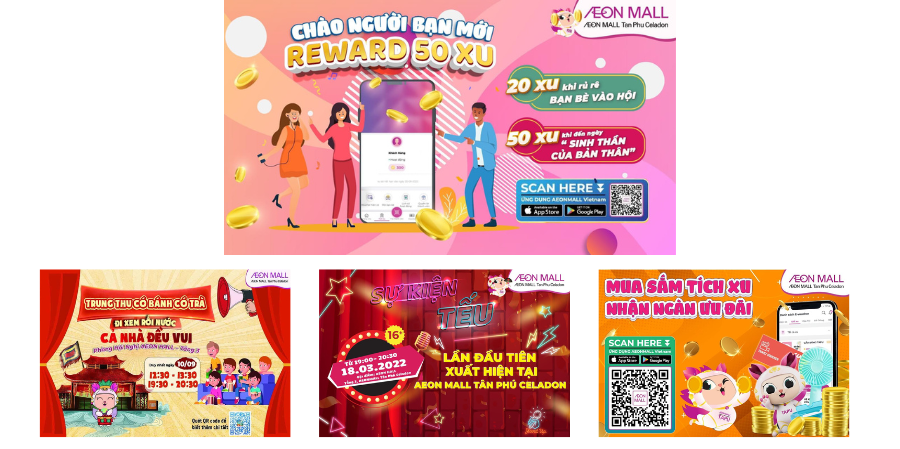 GIVE AND RECEIVE ROOM – A PLACE TO SPREAD HAPPINESS
| | |
| --- | --- |
| With the desire to spread happiness through giving and receiving as well as becoming a MALL for smiles and health, AEON MALL Tan Phu Celadon opened the first "Give and Receive" room in the system of AEON MALL by replaced smoking rooms for customers. Here, customers can give away unused items to those in need and shop comfortably in a smoke-free environment. | |
E-LOCKER – MORE CONVENIENCE, MORE SAFETY
| | |
| --- | --- |
| | E-Locker are arranged in ground floor of AEON MALL Tan Phu Celadon with modern technology to meet the needs for fast and convenient storage of belongings for all customers. |
| | | | |
| --- | --- | --- | --- |
| | NEW STORES | RENEWED STORES | TOTAL |
| Opened | 13 | 8 | 21 |
| Operating until the end of this year | 9 | 4 | 13 |
| Opening in the spring of 2023 | 1 | 0 | 1 |
For more information, please kindly visit: https://aeonmall-tanphuceladon-en.com/aeon-mall-tan-phu-celadon-change-the-future-beyond-the-mall/