AEON MALL Hai Phong Le Chan located at 10 Vo Nguyen Giap, Le Chan district which is one of the most prime locations in the city is scheduled to welcome its first customers at 10:00 Monday, December 14, 2020. The reason one of the world's largest retail groups chooses Hai Phong to develop its first shopping mall is because Hai Phong is an area with great potential including economic growth and commercial development expected in the future. Hai Phong is located about 100 km east of Hanoi capital in Northern Vietnam. It is the third centrally controlled city in the country after Hanoi and Ho Chi Minh with a population of about 2 million. Hai Phong is also one of the most important industrial cities in Vietnam, the largest port city in Northern Vietnam, and has developed as one of leading logistics bases since early times. About 5 km from the mall, there is also Cat Bi International Airport, the main gateway to the world from the surrounding area.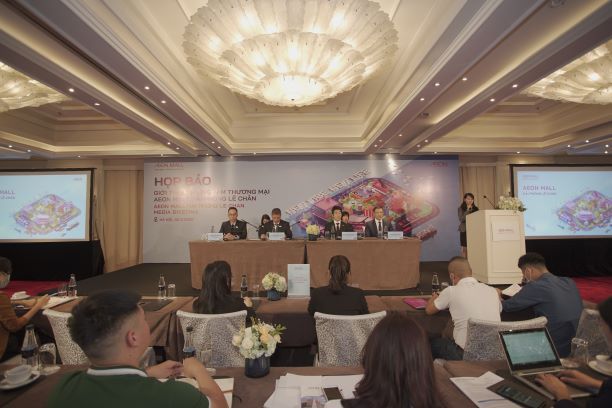 Speaking at the ceremony, General Director of AEONMALL Nakagawa Tetsuyuki shared: "AEON MALL Hai Phong Le Chan has been the result of our experience in Vietnam so far. It is our most modern shopping mall; emphasizes our concern: "What new values must AEON MALL bring to the locality?" and our eagerness of offering brand new shopping experiences to customers in Hai Phong city"
"In addition, the opening of this shopping mall also contributes to creating more than 3,000 jobs, contributing to economic development, as well as increasing the local budget revenue" – Mr. Nakagawa Tetsuyuki added."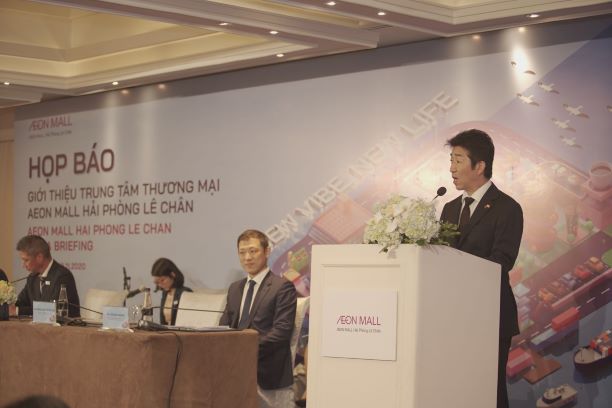 With the slogan "New vibe – New life", AEON MALL Hai Phong Le Chan will bring to the city of red flamboyant an one-stop-shopping mall with state-of-the-art facilities offering an abundance of new and interesting experience, many well-known brands coming to Hai Phong for the first time including AEON supermarket and general merchandise store and 90 other brands to meet all shopping, dining and entertainment needs of customers. AEON MALL Hai Phong Le Chan is awaited to raise shopping and entertainment standards to the next level and to change people's habits. This ultimately leads to a more vibrant lifestyle for residents of Hai Phong and even surrounding areas.
The overall design concept of AEON MALL Hai Phong Le Chan is VIBRANT- the blend of a Dynamic Industrial city and beautiful Nature of a Coastal city, which brings customers a familiar yet unique experience when visiting.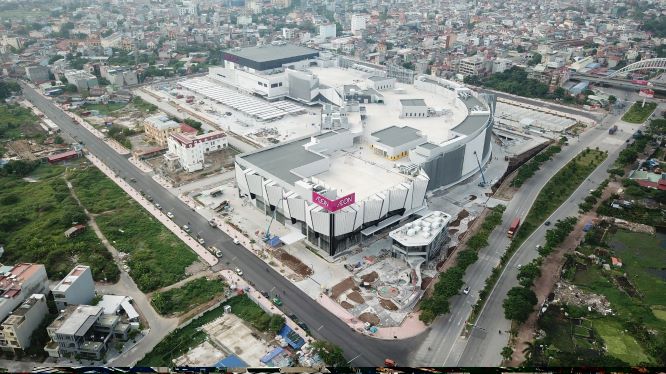 The mall has five zones with five different colors and design concepts: The Red as Flamboyant flower of Hai Phong, The Yellow as Industrial container, The Green as Cat Ba national park, The Blue as water in the sea, The Vibrant- central part of the mall, is where the nature and the city meet.
With 190 tenants in a gross leasable area of 70,000 m2, parking capacity up to 1,700 cars and 7,000 motorbikes, AEON MALL Hai Phong Le Chan promises to be a new landmark of Hai Phong and surrounding provinces. With the desire to bring customers interesting and impressive experience with digital technology, more than 100 touch and non-touched digital signages are installed in the shopping center. The most prominent ones are the outdoor wall mounted and the indoor at Lighthouse court with the size of 12.7m x 7.04m and 9m x 5m respectively. Digital technology is also applied in many events with interactive, AR, VR games and a user-friendly mobile application. In addition to events and seasonal decorations, the mall is enhanced with high-quality comfortable services and convenience such as free parking, free Wi-Fi, mobile phone charging station, electric vehicle charging stations, baby rooms, baby carts, wheelchairs, rest areas. Besides, AEON MALL Hai Phong Le Chan is proud to have great green spaces with 10,000 trees around and a large flower garden in front of the mall. The seasonal flowers and greenery provide a relaxing time for customers to the mall.
Furthermore, the mall constantly participates in environmental protection activities. A reduce plastic campaign are being planned by AEON MALL Hai Phong Le Chan and responded by over 80% tenants to reduce plastic waste into the environment. In addition, energy-saving equipment systems aimed at reducing CO2 by about 1,100 tons /year such as LED fixtures, solar panels, etc. are installed to contribute to reduce greenhouse effect.
AEONMALL VIETNAM has positively launched new malls in addition to existing malls management and renovation to keep up with the vision of "Becoming a company that will touch the hearts of 5 billion visitors throughout Asia". To achieve this, AEON MALL shopping centers are constantly striving to bring the best value to customers, as its philosophy ""Customers First", " of AEON Group throughout many years.